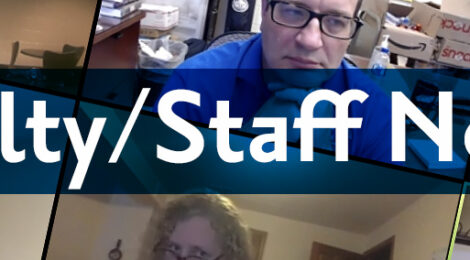 Staff
Barbara Amato, academic coach for the Institute of Academic Excellence, scored essays for American Mensa. This was her ninth year as a national judge for the Mensa Foundation's U.S. Scholarship Program. Amato also had a letter to the editor published in the March 2023 issue of Mensa Bulletin. Editor's Note: Mensa is a worldwide organization in which the qualification for membership is scoring within the upper 2% of the general population on an approved intelligence test.
Kelly Bilz, reference and instructional librarian, as a member of the American Library Association (ALA) Emerging Leaders Program, presented the poster "Library Communities Vote!" at the annual ALA national conference held in June 2023. Bilz and her team built an app that produce posters that libraries can display with auto-generated local-specific information for voters. Great job representing Thomas More University!
Joseph L. Chillo, LP.D., president, joined the BE NKY Growth Partnership's Board of Directors (previously Northern Kentucky Tri-ED) in summer 2023. BE NKY is governed by a 23-member board of directors comprised of business and community leaders, who are unpaid volunteers. To read more about the role of BE NKY Growth Partnership in the community and other board appointments, CLICK HERE.
Andrew Cole, director of Campus Ministry, was officially reappointed in spring 2023 to Serve Kentucky for a second three-year term by Governor Andrew Beshear's Office of Boards and Commissions. This state service commission seeks to engage Kentuckians in volunteerism and service to positively impact local communities. To read the full release of appointments in the Lane Report, CLICK HERE.
Terry Connor '92, director of athletics, now also serves the University in a vice president role, beginning in June 2023. In addition to serving on the President's Cabinet, Connor oversees more than 30 highly competitive sports teams and the Saints band program. To read the press release, CLICK HERE. Connor was also honored at the Northern Kentucky Sports Hall of Fame in August 2023 with the Dr. James Claypool Pioneer Award. To read the press release for that event, CLICK HERE.
John Ernst, Ph.D., director of Benedictine Library and the Center for Teaching, Learning, & Scholarship, was presented with the Mary Schwab Employee Service Award at the University for 2023. This honor has been awarded to an outstanding employee since 1982, via a nomination process and honors (posthumously) long-time assistant to the registrar, Mary Schwab, who was always cheerful, helpful, patient, and welcoming. The recipient exhibits these same qualities as well as a dedication to serve others.
Jeff Hans, women's basketball coach, was interviewed in May 2023 by Marc Hardin of LINK NKY regarding Hans' fantastically successful career coaching the Saints. Coach talked about his time in basketball before and highlights about his 12 years with Thomas More. To read this Q&A, CLICK HERE.
Mark Messingschlager, FAAC® (Thomas More University), along with Tara Verrico (Geneva College), and Jessica Flogaites, FAAC® (University of Pittsburgh), as members of National Association of Student Financial Aid Administrators (NASFAA), were hosted for in-person meetings on Capitol Hill as part of April's Advocacy Pipeline. During these meetings, NASFAA members spoke as advocates to congressional staffers from Pennsylvania and Kentucky about financial aid topics affecting college eligible students. Read the full article CLICK HERE.
Kevin Reynolds, Ed.D., vice president for Institutional Advancement, took on a larger role within the University as senior vice president for mission and university advancement beginning June 1, 2023. In addition to Institutional Advancement, Reynolds now oversees the Center for Faith, Mission & Catholic Education, Campus Ministry, and the Wm. T (Bill) Robinson III '67 Institute for Religious Liberty. Reynolds has been with the University since 2014, and has served in a variety of leadership roles in both student affairs and institutional advancement. To read the press release, CLICK HERE. Reynolds was also awarded the Exceptional Service Award for 2022-2023 by For College For Life, an organization which he has been associated with for nine years. This group provides a diverse group of speakers on a wide range of topics which have relevance for colleges, universities, and organizations focused on students and professionals.
Robert W. Plaster College of Business
Jeni Al Bahrani '05, professor of practice and director of the Dr. Anthony '65 & Geraldine '66 Zembrodt Center for Entrepreneurship and Innovation, is named as a new board member of the Kentucky Science and Technology Corporation (KSTC). Al Bahrani joins four fellow newcomers to the board, all volunteers comprised of leaders from Kentucky's business, education, innovation, and economic development communities. For the official press release, CLICK HERE.
Carrie Jaeger, Ph.D., associate professor, business administration and economics, was named a regional recipient of the 2023 ACBSP Teaching Excellence Award. The Accreditation Council for Business Schools and Programs (ACBSP) recognizes individuals each year who exemplify teaching excellence in the classroom. For the official press release, CLICK HERE.
Malcolm Robinson, Ph.D., professor, business administration and economics, served as an expert on the best loans for people who suffer from bad credit in a moneygeek.com article published in March. To read the article, CLICK HERE. Moneygeek.com also featured Professor Robinson in two summer 2023 reports, entitled Best 0% APR Credit Cards in 2023 and Best Debt Consolidation Loans in July 2023. Robinson also participated in a WalletHub piece about How to Lower Your Car Insurance Premiums. To find out if his advice works for you, CLICK HERE.
Bruce Rosenthal, Ph.D., dean, was elected to the board of the Japan America Society of Greater Cincinnati (JASGC). The JASGC celebrates 35 years of collaboration with other organizations producing high-quality business, cultural, social, and educational programs.
John D. (Jack) Rudnick, Ed.D., professor, Carrie Jaeger, Ph.D., associate professor, and Nicole Modafari, adjunct professor, business administration and economics, along with Jyoti Saraswat, Ph.D., associate professor, mathematics and physics and Brandi Kenly, biologics program manager for OneBlood, had a book chapter published in the Handbook of Research on Quality and Competitiveness in the Healthcare Services Sector. The book chapter is entitled: Evaluation Cases Frame Healthcare Quality Improvement.
College of Language Arts and Social Studies
Maria C. (Cari) Garriga, Ph.D., professor, foreign languages, wrote The Dean as Supporter-in-Chief: Spreading Joy in Academic Communities, included as a chapter in "The Resource Handbook for Academic Deans, Fourth Edition," solicited by the American Conference of Academic Deans and edited by Andrew Adams. Johns Hopkins University Press (2023)
Steve Oldfield, assistant professor, creative media: art, communication, music, and theatre, had articles published on Spectrum News 1. In the spring, his article covered environmental attorney Robert Bilott's visit to campus in March 2023. Bilott is an Cincinnati, Ohio lawyer whose battle with Dupont over deadly contamination in West Virginia inspired the movie "Dark Waters." CLICK HERE, to read and watch the article. Oldfield's second article was a story about alumnus artist Michael Thompson '22 and featured Thompson's newest work which appears in the Freedom Center. To read and watch this August article, CLICK HERE.
Christy Petroze, Ed.D., associate professor and chair of the School of Education, and Katie Boruske, principal at St. Therese School in the Diocese of Covington, presented an action research project at the National Catholic Education Association in Dallas, Texas in April 2023. Sharing their research on "The Professional Impacts of a Professional Learning Community Model in Small Schools" provided a wonderful opportunity to highlight the collaborative partnership between the University and the Diocese of Covington schools.
John T. Spence, Ph.D., AICP, professor, philosophy, political science & interdisciplinary study, Maria Mitchell, professor and department chair, accountancy, and Amy Thistlethwaite, Ph.D., professor, sociology & criminal justice, took part in the Hunger Walk and 5K Run, an event held each year on the banks of downtown Cincinnati, Ohio. This year, the walk was held on Memorial Day, May 29, 2023. Since its inception in 2004, supporters of the Hunger Walk and 5K Run have raised more than $2 million, the equivalent of six million meals, for Freestore Foodbank community partners like The Healing Center.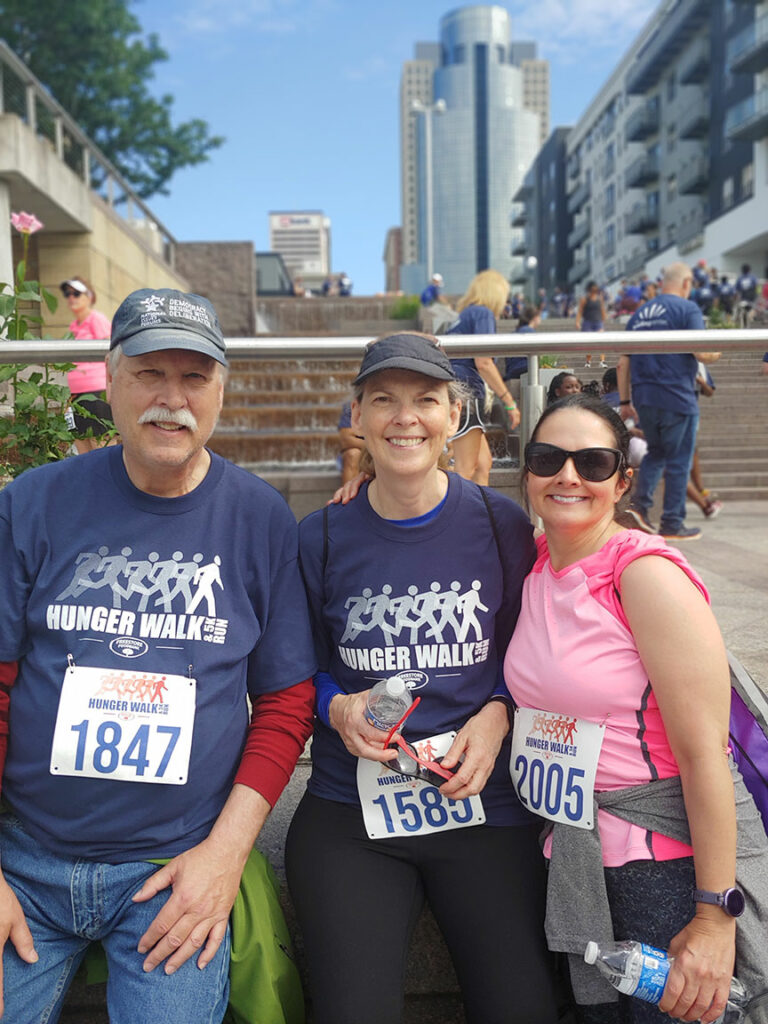 Professors Spence, Mitchell, and Thistlethwaite at the Hunger Walk and 5K Run.
St. Elizabeth College of Natural and Health Sciences
Austin Hinkel, Ph.D., assistant professor, physics, was awarded a Kentucky Space Grant / NASA EPSCoR grant for $21,300 in external funding to develop a new, introductory-level, data-driven astronomy course and kickstart a research program at Thomas More. In particular, the proposed course will leverage the vast amount of data and inspiration available in astronomy in order to prepare first- and second-year students for high impact undergraduate research. The grant also supports sophomore physics and mathematics double major Josephine Roach with a research stipend and conference travel funds.
Christopher Lorentz, Ph.D., professor, biological sciences and director of the Biology Field Station, wrote the lead article about the Ohio River featured in spring 2023 in the Midwest Traveler, a subsidiary of Cincy magazine which distributes to a readership of approximately 30,000 in communities along the River. To read the article online, CLICK HERE and flip to page 4.
Wes Ryle, Ph.D., professor, physics, was awarded two research experience for undergraduate grants to support student research at the Thomas More University Observatory. The grants provide research stipends to support senior physics and mathematics double major Ash Coleman's continuing work on binary stars and senior physics major Lindsay Dawson's work with cataclysmic variables. The grants also provide travel funds for the students to attend the American Astronomical Society meeting in New Orleans, La., in January 2024. This marks the third year of funded support for these students, totaling over $40,000. Wes Ryle was also recently named president-elect for the Kentucky Area Astronomical Society (KAAS). He will serve a two-year term as president-elect before serving a two-year term as president of the group.