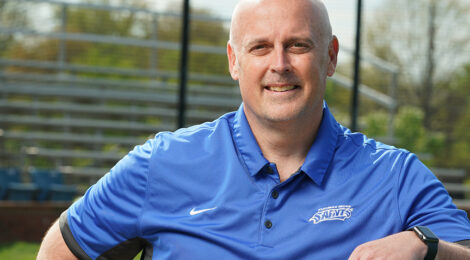 CRESTVIEW HILLS, Ky. (April 18, 2023) — Thomas More announces that Terry Connor '92, director of athletics, will now also serve the University in a vice president role beginning June 1, 2023. In addition to serving on the President's Cabinet, Connor continues to oversee 30 highly competitive sports teams which currently participate in the National Association of Intercollegiate Athletics (NAIA), as well as the Saints band program. Roughly 700 student athletes take part in these programs. "I would like to thank President Chillo for his trust and this opportunity," says Connor. "I look forward to continuing to serve Thomas More University."
Connor has been a member of the University community for more than 25 years and dedicates himself to the success of the University's student-athletes, who achieve success in the classroom as well as on the field of competition, and in life after graduation. In addition to their athletic prowess, over 400 Thomas More student-athletes achieved a GPA of 3.0 or higher for the 2022 fall semester. Connor has been instrumental in facility upgrades in support of student athletes including the partnership with the Florence Y'alls baseball team which secured Thomas More Stadium, the new home of the Saint's baseball team, upcoming softball facility upgrades, and improvements to Republic Bank Field, home of Saints football, soccer, lacrosse, rugby, and track & field.
Connor's impressive tenure as the director of athletics includes 130 regular season and tournament championships combined, 86 national tournament appearances, and 5 national championships to date. "Terry has been instrumental in the success of our University and this recognition is certainly well deserved as we prepare for competition in the National Collegiate Athletic Association (NCAA) in fall 2023," says Thomas More University President Joseph L. Chillo, LP.D. "Since my arrival in June 2019, I have been impressed by Terry's leadership, commitment to mission, and his hard work. I am pleased to make this appointment, and I know that our student-athletes and the entire athletic program, along with our University community, will continue to benefit from his leadership."
Thomas More announced a major comprehensive fundraising campaign in Fall 2021 in support of a five-year strategic plan that includes enhanced athletic facilities for many of the Saints sports programs. The University also announced in 2022 that they have been granted provisional membership to the NCAA Division II, making them the only Division II university in the Northern Kentucky/greater Cincinnati region. Thomas More currently competes in the Mid-South Conference of the NAIA. The Saints have been in the NAIA for the past four academic years and will retain NAIA membership until completion of the 2022-23 academic year.
For more information about Thomas More University, visit www.thomasmore.edu.
###
About Thomas More University
For 100 years, Thomas More has created a university for the student who wants to Be More, Do More, Seek More, Win More, Achieve More, and Create More. Since its founding in 1921, Thomas More has provided a mission-driven, liberal arts education that is based in the Catholic Intellectual Tradition. Students learn to harness the power of human reason to solve problems and discover truth, which allows them to begin the journey to become the person they were created to be. Entering into the second century, it's time for More. Serving more than 2,000 students, Thomas More aspires to be the premier Catholic university in the Cincinnati/Northern Kentucky region, build upon its excellent return on investment (ranked #1 among private universities/colleges in Kentucky by MSN Money in 2021 and ranked #2 for long term gain in Kentucky by a 2022 Georgetown University study) and share with this generation the transformative power of the Thomas More experience. To find out more, visit thomasmore.edu.
MEDIA CONTACT: Lyna Kelley, director of communications and PR, kelleyl@thomasmore.edu, 859.344.3309