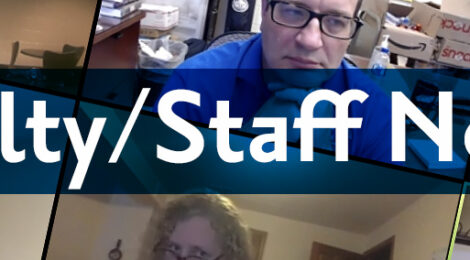 KUDOS TO THOMAS MORE FACULTY AND STAFF ON THEIR ACCOLADES, PRESENTATIONS, AND PUBLISHED WORKS 
Leadership in the News
In fall 2022, Cincinnati Magazine named President Joseph L. Chillo, LP.D., as one of the region's 300 most powerful business leaders for the third consecutive year in a row. Cincinnati 300's fourth annual edition echoed the two previous years by highlighting leadership that guided public, private, and non-profit organizations that successfully navigated the pandemic. The special edition recognized Chillo's 2022 accomplishments with the groundbreaking of the new Thomas More University academic center and athletic victories such as the partnership with the Florence Y'alls to introduce Thomas More Stadium. "We continue to be a mission-driven institution, but we've changed how we support our students and community by being more agile and intentional," says Chillo. "We have created an exciting and ambitious vision for the future. With the Second Century Campaign, we plan to continue to expand the University and elevate our institution as the region's premier Catholic Liberal Arts University. This is an exciting time as we grow the size of our campus and augment our academic space for teaching, learning, and innovation."
Staff
Kelly Bilz, reference librarian, was selected through a national competition for the American Library Association's (ALA) Emerging Leader Program. In addition, Bilz was chosen by the highest national academic library association, the Association of College and Research Libraries, for sponsorship to the ALA Emerging Leadership program.
Judy Crist, executive director of communications and creative services, interviewed in fall 2022 with Kentucky Educational Television for a segment that covers the history of the Monte Casino Chapel which resides on Thomas More's campus. The short segment is due for release in April 2023.
Robert W. Plaster College of Business
Malcolm Robinson, Ph.D., professor, business administration & economics, was featured as an expert by WalletHub.com in an article about Debt Consolidation Loans. To read the article and Malcolm's expert opinion, visit tmuky.us/robinson6. WalletHub also featured Robinson in their study entitled "Cities Where Inflation is Growing the Most." To read Robinson's input on what is driving inflation and thoughts on what can be done to slow it down, visit tmuky.us/robinson7. Robinson also shared his expert advice on two topics with MoneyGeek.com. The first is their November 2022 inflation study. To see what Robinson has to say about protecting your purchasing power, visit tmuky.us/robinson8. The second is about balance transfer credit cards. You can find this recent contribution by visiting tmuky.us/robinson9. 
College of Liberal Arts and Social Sciences
Maria C. Garriga, Ph.D., professor, foreign languages, contributed a chapter to the fourth edition of Resource Handbook for Academic Deans: The Essential Guide for College and University Leaders, edited by Andrew Adams, and published by Johns Hopkins University Press (2023) in cooperation with the American Conference of Academic Deans (ACAD). The chapter Garriga authored is titled: "The Dean as Supporter in Chief: Spreading Joy in Academic Communities" (pp. 215-224). 
Raymond G. Hebert, Ph.D., professor and executive director of the Wm. T. (Bill) Robinson III '67 Institute for Religious Liberty (IRL), was named by The Northern Kentucky Tribune as a 2022 NewsMaker. This recognition is bestowed on high-achieving community servants in recognition of the significant role they play in the Northern Kentucky community. The Tribune recognizes five leaders as NewsMakers, each diverse in their regional impact. To read the story the Tribune posted honoring Hebert, visit tmuky.us/hebert. 
Kirk Mayhew, assistant professor, creative media, took part in the 57th Conference of the National Council on Education for the Ceramic Arts held March 13-18, 2023, in Cincinnati, Ohio. 
Christy Petroze, Ed.D., associate professor and chair, education, and John T. Spence, Ph.D., AICP, professor, philosophy, political science & interdisciplinary study, presented research at the Lilly Conference of College Teaching held at Miami University (Ohio) in November 2022 on their efforts to improve civics education. "A Conceptual Framework Informing Thoughtful Student Engagement with Democracy" presents a framework for high school instructors to use to more easily explain and critically examine the processes and structures of democratic governance, preparing students for an analysis of democratic citizenship that includes appreciating decisional processes and outcomes.
Christy Petroze, Ed.D., associate professor and chair, education, joins the re-established Diocese of Covington School Board, being appointed by Bishop John C. Iffert. According to its official mission statement, the board seeks to promote Catholic education in a way that spreads the Catholic faith, through acting "as a consultant to the bishop of Covington, the superintendent of Catholic schools, and the director of catechesis and evangelization" for educational programs of "Catholic schools and parish school of religion programs." 
Luis Sierra, Ph.D., associate professor and chair, history & legal studies, had material published from his new research project in the Journal of Urban History. The new research is focused on cemeteries, monuments, cenotaphs, and tombs and the role the dead play in building the story and history of a nation. The article, "The Precinct of the Dead and Saints for the Nation: The Bolivian National Revolution and Gualberto Villarroel, 1943-1956" makes significant contributions to Bolivianist scholarship and to larger understandings of the construction of memory in urban space. 
John T. Spence, Ph.D., AICP professor, philosophy, political science & interdisciplinary study, wrote the article "The Southbank Shuttle, The Resilience of a Good Idea" which was featured in a recent issue of the Northern Kentucky Heritage magazine. The magazine is published by the Kenton County Historical Society. Visit tmuky.us/nkyheritage, for more information on the magazine.  
St. Elizabeth College of Natural and Health Sciences
Meenakshi Bansal, Ph.D., assistant professor, chemisty, published "Enhancing the compatibility of BioCaRGOS silica sol-gel technology with ctDNA extraction and droplet digital PCR (ddPCR) analysis" with co-authors: Chinmay S. Potnis, Rajat Chauhan, Theodore S. Kalbfleisch, Evan Alexander, Lindsay Eichhold, Craig A. Grapperhaus, Robert S. Keynton, Mark W. Linder, and Gautam Gupta in the journal RSC Advances (2022.12, 29399-29404), which continues this group's work on long-term stabilization of protein biomarkers. 
Shannon Galbraith-Kent '98, Ph.D., professor and chair, biological sciences, through her work as the Kentucky Academy of Science (KAS) representative to the Kentucky Heritage Land Conservation Fund Board (appointed by Governor Andy Beshear), discussed the board's role in preserving natural areas across Kentucky at the KAS November 2022 annual meeting. Members on the board represent a diverse set of state entities who have interests in preserving natural areas in Kentucky. The KHLCF is the primary source of state funding for the purchase and management of natural areas. In spring 2023 Dr. Galbraith-Kent was awarded a $2,500 grant from the Northern Kentucky Urban and Community Forestry Council. The grant will be used for Phase I of a project on Thomas More's campus as part of the William S. Bryant Arboretum.
Chris Lorentz, Ph.D., professor, biological sciences, and director of the Biology Field Station was awarded the 2022 Robert Lauderdale Award for Outstanding Contributions in Water Quality at the Kentucky Water Resources Research Institute Annual Symposium, in recognition of the outstanding work taking place at the Biology Field Station. The Robert Lauderdale Award is presented to an individual who has helped improve the water quality and sustainability of Kentucky's water resources through leadership and service in academia, environmental consulting, environmental non-government organizations, state and local government, and/or cooperative extension. The Kentucky Water Resources Research Institute is part of a nationwide association of 54 federally authorized water resource institutes and centers located at land grant universities throughout the United States and its territories. 
Wes Ryle, Ph.D., professor, mathematics & physics, and director of the Thomas More Observatory, interviewed with Kimberley Heatherington from Our Sunday Visitor (OSV) News, the national/international Catholic wire service, about green comet C/2022 E3 (ZTF) which approached Earth in January 2023. They discussed the comet's "fly by," how Catholics can make this an opportunity to learn about creation, practical ways to engage through the appearance of this comet, and other celestial events to look for in the coming year.