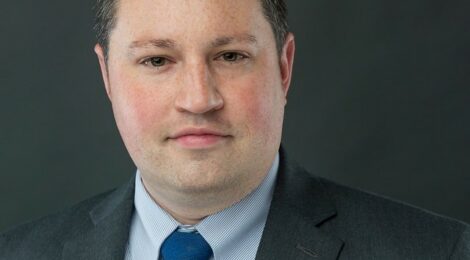 CRESTVIEW HILLS, Ky. (May 3, 2023) — Thomas More announces that Kevin Reynolds, Ed.D., current vice president for Institutional Advancement, will take on a larger role within the University as senior vice president for Mission and University Advancement beginning June 1, 2023. In addition to Institutional Advancement, Reynolds will now oversee the Center for Faith, Mission & Catholic Education, Campus Ministry, and the Wm. T (Bill) Robinson III '67 Institute for Religious Liberty. Reynolds has been with the University since 2014, serving in a variety of leadership roles in both student affairs and institutional advancement.
"Over the past nine years, I have thoroughly enjoyed my time in service to the mission of Thomas More University," says Reynolds. "Continuing to advance this mission in this new capacity will be an absolute privilege. I am grateful to President Chillo, Bishop Iffert, and the Board of Trustees for their leadership, support, and service to our mission. Now, more than ever, the quality, Catholic education of Thomas More University is a vital resource for our region and our world. I am humbled, but excited, by this opportunity to continue to lead, serve, and steward this incredible institution."
Reynolds' leadership has transformed the University in recent years. Three months into a global pandemic, Thomas More boldly launched the largest capital campaign in the University's history, the Second Century Campaign: It's time for More, a funding mechanism for the Strategic Plan: Lighting the Way. The capital campaign surpassed its $30 million goal three years ahead of schedule. The campaign's success is evident on Thomas More's vibrant campus as goals set forth in the strategic plan are coming to fruition, ensuring students have the best opportunities, facilities, and equipment to succeed in the classroom and in their future careers.
"Kevin's fervent commitment to the mission of Thomas More University is evident to all who work alongside him," says Joseph L. Chillo, LP.D., president of Thomas More University. "Over the past four years, I have been impressed with Kevin's leadership and execution of our fundraising efforts. He will continue to be focused on the transformation of Thomas More by leading our efforts to become the premier regional Catholic Liberal Arts University."
For more information about Thomas More University, visit www.thomasmore.edu.