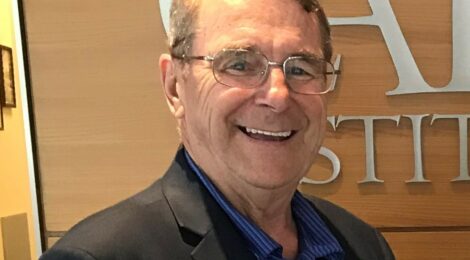 CRESTVIEW HILLS, Ky. (Nov. 1, 2022) — The Northern Kentucky Tribune names Raymond G. Hebert, Ph.D., Thomas More University professor and executive director of the Wm. T. (Bill) Robinson III '67 Institute for Religious Liberty (IRL), among its 2022 NewsMakers. This recognition is bestowed to high-achieving, community servants in recognition of the significant roles they play in the Northern Kentucky community. The Tribune recognizes five leaders as NewsMakers, each diverse in their regional impact. This year's award ceremony is virtual. The week of Nov. 14 the Tribune will post a daily story which celebrates each NewsMaker.
Hebert is celebrated for his contributions to the community as a beloved educator and historian, notably playing a major role in the education and civic involvement of countless students. Hebert has been with Thomas More University for 50 years, serving in a variety of leadership roles including vice president for academic affairs, dean, chair of the Department of History, International Studies, and Political Sciences, head of the honors program and currently executive director of the IRL. "Dr. Hebert has been a prominent member of the Thomas More community for more than 49 years, supporting our students, alumni, faculty, and staff in various ways," says Joseph L. Chillo, LP.D., president of Thomas More University. "From professor to director of the Wm. T. (Bill) Robinson III '67 Institute for Religious Liberty, Ray works to promote the value and impact of a high-quality, Catholic liberal arts education, while being highly committed to our students and the northern Kentucky community."
"I am truly humbled by this recognition," says Hebert, "while being proud that in receiving it, I represent the remarkable group of faculty that are at the heart of a Thomas More University education. Since I started back in the 1970's, all I ever wanted was to be the best teacher I could be, because that is what our students deserve. By providing them with the best liberal arts education possible we, as a team, have always prepared our students with the best training for postgraduate studies or the world of work. It has been an honor to be part of that process." Hebert has represented Thomas More in the surrounding community through various opportunities over the years which include but is not limited to the Northern Kentucky Education Council, Northern Kentucky Chamber of Commerce Leadership Programs, and the Covington Rotary Club. Hebert, his wife Maureen, their two daughters, and now five grandchildren all still call Northern Kentucky home. "Beyond my individual classroom or any study abroad program I directed, I realized how special a community northern Kentucky is and that Thomas More is privileged to be a part of it," he adds.
Hebert will also be recognized by Thomas More University in early 2023 at the annual Bishop William A. Hughes Award Dinner scheduled for March 29. He is the inaugural recipient of an award named in his honor and established to continue his legacy.
###
About Thomas More University
For 100 years, Thomas More has created a university for the student who wants to Be More, Do More, Seek More, Win More, Achieve More, and Create More. Since its founding in 1921, Thomas More has provided a mission-driven, liberal arts education that is based in the Catholic Intellectual Tradition. Students learn to harness the power of human reason to solve problems and discover truth, which allows them to begin the journey to become the person they were created to be. Entering into the second century, it's time for More. Serving more than 2,000 students, Thomas More aspires to be the premier Catholic university in the Cincinnati/Northern Kentucky region, build upon its excellent return on investment (ranked #1 among private universities/colleges in Kentucky by MSN Money in 2021 and ranked #2 for long term gain in Kentucky by a 2022 Georgetown University study) and share with this generation the transformative power of the Thomas More experience. To find out more, visit thomasmore.edu.
MEDIA CONTACT: Lyna Kelley, director of communications and PR, kelleyl@thomasmore.edu, 859.344.3309