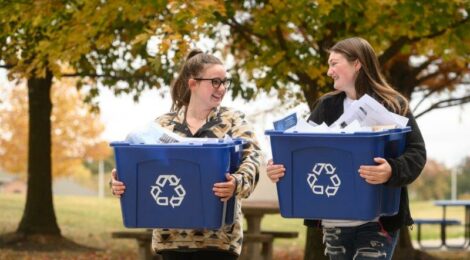 CRESTVIEW HILLS, Ky. (April 20, 2023) — Partnering with Rumpke Waste & Recycling as title sponsor, Thomas More University continues its commitment as a more conscientious community member holding the second annual Saints Sustainability Celebration Day. The celebration takes place April 21, 2023, at the Crestview Hills campus as a precursor to annual Earth Day festivities. This open-to-the-public celebration begins at 9 a.m. and entails a variety of events.
The day begins with Thomas More President Joseph L. Chillo, LP.D. and Bruce Rosenthal, Ph.D., dean of the Robert W. Plaster College of Business extending a formal welcome, followed by community partners Rumpke, the Cincinnati/Northern Kentucky International Airport, and Duke Energy discussing their company's sustainability efforts in a panel setting. Students play a key role in the day's events, participating in a panel discussion followed by a poster session featuring the Blue & Green Environmental Club, English Department, and other campus organizations that will present sustainability initiatives from around the Crestview Hills campus and at Thomas More's Biology Field Station located in California, Ky. The afternoon features a vibrant festival, complete with live music, food trucks, and 16 different exhibitors, including student clubs, the Boone, Campbell, and Kenton Conservation Districts, the WAVE Foundation at the Newport Aquarium, and several others. A tree planting is scheduled for 4 p.m., and the day closes out with a "sustainable dining" event featuring environmentally friendly menu options offered by Aramark, the University's food services partner.
"Since our company's inception more than 90 years ago, we have been hyper-focused on protecting and preserving the environment. This year we are making our largest investment to date in recycling along with a vast expansion of our landfill-gas-to-power capabilities," said Molly Yeager, communications manager, Rumpke. "We appreciate the opportunity to partner with Thomas More to help showcase all the advancements that have already been made in the region in the sustainability space and encourage additional growth."
Students will also soon benefit from various departments of the University developing sustainability related courses, concentrations, and programs as the academic division adds components to new and redesigned courses, ensuring students have the necessary skills with regards to sustainability, to excel in their future careers. In one of the first updated courses taught at Thomas More, Professor Kris Lovett, Ed.D., led an MBA course in Fall 2022 which focused on a framework that helps managers make decisions regarding sustainability in business in today's ever-changing global economy. "From the inaugural Sustainability Celebration Day last year, it has been amazing to see the University integrate and advance sustainability efforts in nearly all aspects of the campus community from academic programs, business practices, the physical campus and operations, and promotion of the University's mission," says Chris Lorentz, Ph.D., Thomas More professor and director of the Biology Field Station. "From community service to academic scholarship, sustainability is becoming a more vital part of the culture at Thomas More University."
For more information about Thomas More University, visit www.thomasmore.edu.
For more information about Rumpke, visit www.rumpke.com.
###
About Thomas More University
For 100 years, Thomas More has created a university for the student who wants to Be More, Do More, Seek More, Win More, Achieve More, and Create More. Since its founding in 1921, Thomas More has provided a mission-driven, liberal arts education that is based in the Catholic Intellectual Tradition. Students learn to harness the power of human reason to solve problems and discover truth, which allows them to begin the journey to become the person they were created to be. Entering into the second century, it's time for More. Serving more than 2,000 students, Thomas More aspires to be the premier Catholic university in the Cincinnati/Northern Kentucky region, build upon its excellent return on investment (ranked #1 among private universities/colleges in Kentucky by MSN Money in 2021 and ranked #2 for long term gain in Kentucky by a 2022 Georgetown University study) and share with this generation the transformative power of the Thomas More experience. To find out more, visit thomasmore.edu.
About Rumpke
Rumpke Waste & Recycling has been committed to keeping neighborhoods and businesses clean and green since 1932 by providing environmentally friendly waste disposal solutions. With its corporate headquarters located in Colerain Township, Ohio, Rumpke is one of the nation's largest privately owned residential and commercial waste and recycling firms, providing service to areas of Ohio, Kentucky, Indiana, and West Virginia. For more information, visit www.rumpke.com.


###


MEDIA CONTACT: Lyna Kelley, director of communications and PR, kelleyl@thomasmore.edu, 859.344.3309