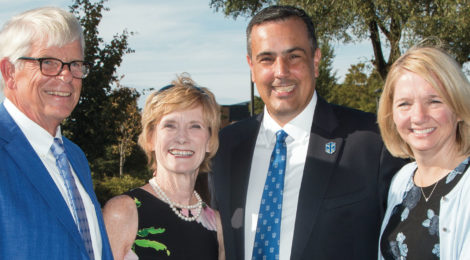 Jeanne-Marie Tapke '91, Ph.D., is focused on mission, both as a lifelong volunteer and female entrepreneur.
Submitted by Abby Link '21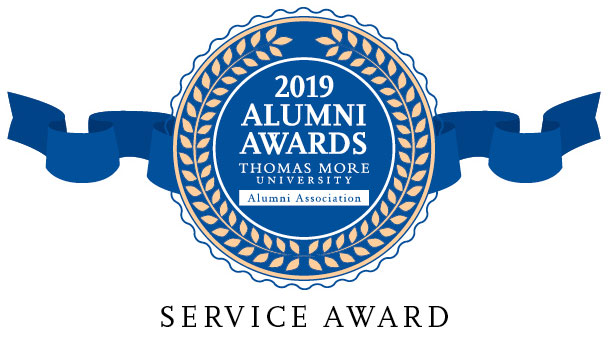 In the fall of 2019, the Thomas More Alumni Association recognized Jeanne-Marie Tapke '91, Ph.D., with the Service Award for her extraordinary efforts supporting the University through the unselfish contribution of her time, energy, and expertise. She has been a lifelong volunteer and is extremely active in nonprofit organizations in the region. She is also an entrepreneur, founding Tapke Leadership Solutions in 2001. Most recently she has focused on promoting human potential and equality through social welfare, education, and health. Jeanne-Marie is a leader and a role model both as a businesswoman and as a community-minded individual.
Jeanne-Marie comes from the east side of Cincinnati, where she grew up with her parents and five siblings. Parochial schools were a big part of her education and life. Jeanne-Marie was blessed to receive a scholarship and continued her education at Good Samaritan Hospital School of Nursing in Cincinnati. Her next goal was to complete a bachelor's degree. She initially looked at Thomas More because of its size and Catholicity but was soon motivated by the creativity and inclusivity of the academic programs. This was particularly true of the Bachelor of Elected Studies program. Entering as a non-traditional student, she eventually completed the degree with a major in psychology. "This was a very innovative program at the time. A precursor to TAP, it accepted 90 credit hours from my nursing education. The faculty's and administration's willingness to be innovative while maintaining academic excellence has been a key component to the appeal of Thomas More for many decades. I was very confident in the undergraduate education I received."
When asked about influential professors from Thomas More, Jeanne-Marie named Maria McLean and Larry Boehm. She said, "Dr. McLean took a very personal interest in students. Because I was a part-time, adult student I was not always aware of campus opportunities. She went out of her way to include me. My installation into Psi Chi International Honor Society is the perfect example. I was a student of Dr. Larry Boehm early in his career at Thomas More. He was clear, direct, encouraging, and available."
After graduating, Jeanne-Marie went on to earn a Master of Science in Nursing Administration from Xavier University and then her doctorate from the University of Cincinnati. During Jeanne-Marie's pursuit of her doctorate, the classes she took at Thomas More were paramount to her success. "The trilogy of statistics, experiential design, and experiential psychology was paramount to being ready to do a doctoral program. I'd been advised to keep my books and I did. Prior to taking multivariate statistics I reviewed definitions and basic concepts and felt ready to go. Like most undergrad students, I had no idea how important the knowledge I was acquiring would impact me years later. I am grateful for the solid education I received at Thomas More."
As a current student, I can attest to this. Even though I value how much Thomas More has helped me so far, I know I will value the experience much more after graduation.
When asked what her goal was in pursuing a doctorate, Jeanne-Marie said, "I wanted to understand more about how a transactional leader develops into a transformational leader. Transactional leaders focus on the role of supervision, organization, and group performance. They are most often engaged in the management of processes. Transformational leaders work to enhance the motivation and engagement of followers by directing their behavior toward a shared vision. This type of leader is very good at leading change, developing followers, and themselves. I was interested in identifying the characteristics of the transition from transactional to transformational. I was interested in how one might teach or mentor a leader through this journey."
Thomas More had prepared Jeanne-Marie well for her future, as it still does for its current students. She realizes how valuable her undergraduate time was. "It's difficult to appreciate when you're in class, stressed about tests, papers, your GPA. But when you get a little distance from all that, you see what a great opportunity it was. It was really a gift of education that I received. So, if I got that (experience), then perhaps I can help someone else. It isn't just me. There are a lot of my peers that graduated from Thomas More and feel likewise. So, for the community, for individuals, it is important for me to be able to give back."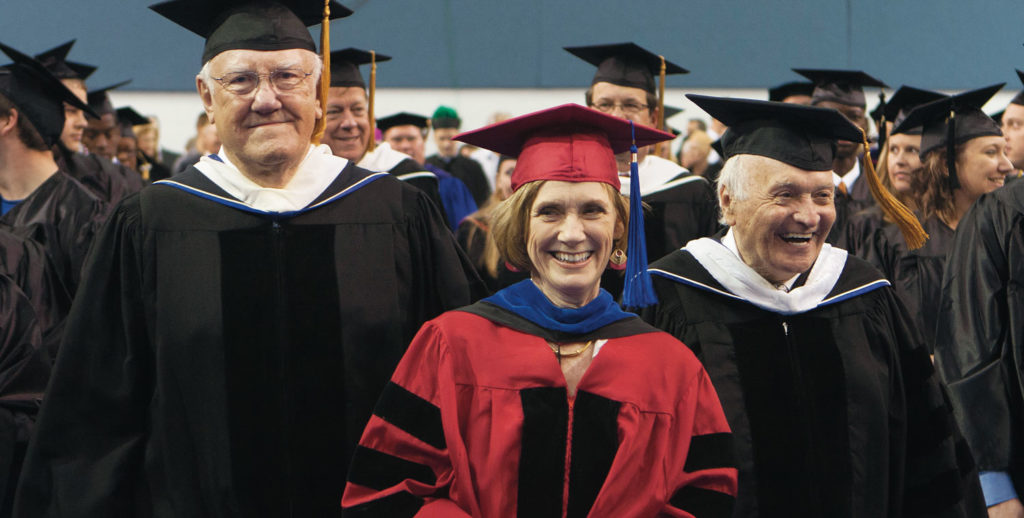 Jeanne-Marie began her volunteerism with Thomas More as a member of the Foundation. She later served as chair. In 2006, she was appointed to the Board of Trustees, serving three terms. She was chairperson from 2011-2013. She worked for the March for the Lady Saints, which is a fundraiser for women's athletics. "One of the most rewarding volunteer experiences has been the work I did with the Distinguished Alumnae Association. This was an effort initiated by Sr. Margaret Stallmeyer '68, CDP, to engage women alumni with undergrads. With the assistance of the alumni office we gave two seminars a year. One was a panel format with presentations by prominent, successful woman in our community. The second was interactive round table discussions addressing such topics as interviewing skills, resume preparation, professional appearance, networking, and use of social media. I met some truly outstanding alumni and students that remain in my life today."
It was after earning her doctorate from UC that Jeanne-Marie founded Tapke Leadership Solutions. The company specializes in leadership development and organizational effectiveness. When asked, as an accomplished entrepreneur, what she found most difficult about founding her business, Jeanne-Marie explained, "You have to go into it knowing you have some really good strengths and some weaknesses, and pay attention to both. You have to understand the business model as well as the product that you're selling. While I had a very simple entrepreneurial piece (consulting), what I learned and what I would advise others going into it to do is partner with people who can help with what you don't know versus with what you do know."
According to Jeanne-Marie, recognizing one's strengths and weaknesses is key for good leadership. "There are two key success factors to good leadership; one is understanding your own strengths and weaknesses, self-actualization. The other is trust. As one moves forward as a leader, you seek to work with someone who supports your weaknesses, i.e. if you're not a detail person – you're very big picture, very creative – partner with somebody who is into details." The second key is trust. "You have to have the trust of those you are leading. An example would be that followers don't have to see the light at the end of the tunnel, they have to trust that their leader sees the light at the end of the tunnel. Building trust takes time and losing it can happen in seconds. It's a relationship building process."
"You realize that this work needs to be done; the work makes a difference, the organization makes a difference, and it's an honor to be associated with the cause and believe in the mission."
– Jeanne-Marie Tapke '91, Ph.D.
The leadership lessons Jeanne-Marie learned are now being put to good use in her nonprofit involvement. When asked how she became so involved in causes, she explained, "Sometimes your family or friends reach out and ask if you will help. You think 'I'd like to try that.' You get to meet a variety of people and have experiences that you're not going to have in the everyday life of your job. You realize that this work needs to be done; the work makes a difference, the organization makes a difference, and it's an honor to be associated with the cause and believe in the mission."
Jeanne-Marie continues to promote human potential and equality through social welfare, education, and health. She is currently on the board of Interact for Health and previously was on the boards and chaired the Women's Crisis Center, Catholic Charities, and the Diocesan Parish Annual Appeal (DPAA). This rich history of volunteerism was sparked by an opportunity in high school to work at Camp Stepping Stones. "I volunteered there for a week and it was life changing. Just one week showed me what a gift it is to be involved. I'm still volunteering. I do almost all of it on the board level now, which is a different experience but still powerful and rewarding. As an example, I volunteered for the Women's Crisis Center and because of that I see domestic violence very differently. I also appreciate my community in a broader way. For instance, I witnessed different businesses and charities come together to create a process to care for victims of domestic or sexual violence. Law enforcement is engaged, St. Elizabeth Healthcare develops a specific clinical tract, and Women's Crisis Center has on-call volunteers who arrive and sit in the ER to be present for that person. I was humbled and blessed to be a very small part of this effort."
Jeanne-Marie says her family is the essential component to her accomplishments. "My husband, Dick, is the wind under my wings. We've been married for 46 years. His love and fervent support have given me the courage to try new things, risk, fail, and grow. We have been unbelievably blessed with our three children, three in-laws, and seven grandchildren. The gang of 13 are a constant source of love, excitement, inspiration, humor, and blessings. I am so very grateful for my family."
Jeanne-Marie's story is very empowering, and I view her as a transformative leader because of her inspiring nature. When asked who inspires her, Jeanne-Marie shared, "I've really enjoyed working with women in religious orders. As an adult I've admired what they've accomplished; their missions, their selflessness, their belief in me. And lastly my religious community – the Catholic community." All these factors have played a part in making Jeanne-Marie the powerful woman she is today. She continues to dedicate time and energy to Thomas More because she values the mission and loves to give back.
When asked if she has advice for female students, she said, "I'm excited about the female students at Thomas More. I have been very impressed with these young women. They come seeking education. They come motivated. I would advise them to keep on truckin'. They have so much to offer their communities and in very gender-specific ways. I don't back off being female and that I see things in a certain way. When there's a problem, get both genders looking at it. That combination of perspective will get a better solution. As a woman you will reinvent yourself numerous times in life and that's good. Your major is really important, so focus. But be open to the growth and opportunities that are beyond your field of study or work. Be creative, be energetic, and keep a good sense of humor. And give back!"
To read the press release and view a photo gallery from the Alumni Awards, visit tmuky.us/2019awards.