Veterans Space Dedication – The fall Moreover introduced Saints Strong, the staff innovation project that supported an improved space on campus dedicated to veterans. On November 9, 2019, that space officially opened. In a ceremony featuring veterans who are current and former students, Vice President for Enrollment Management and veteran Chris Powers, Ph.D., welcomed attendees and invited the Green Township Veterans of Foreign Wars Post 10380 to present the colors. Thank you to Tom Schmitz '75 and the Green Township Veterans for presenting a $2,000 check to President Joe Chillo for continued enhancements to the new space. To read the press release and view a photo gallery, visit tmuky.us/vets2019.
Welcome to the Military – Thomas More's ROTC program offered through Xavier University is alive and well. Pictured here is December 2019 graduate Andrew Robinson receiving his commission as an officer in the infantry after earning his criminal justice degree. Congratulations Andrew!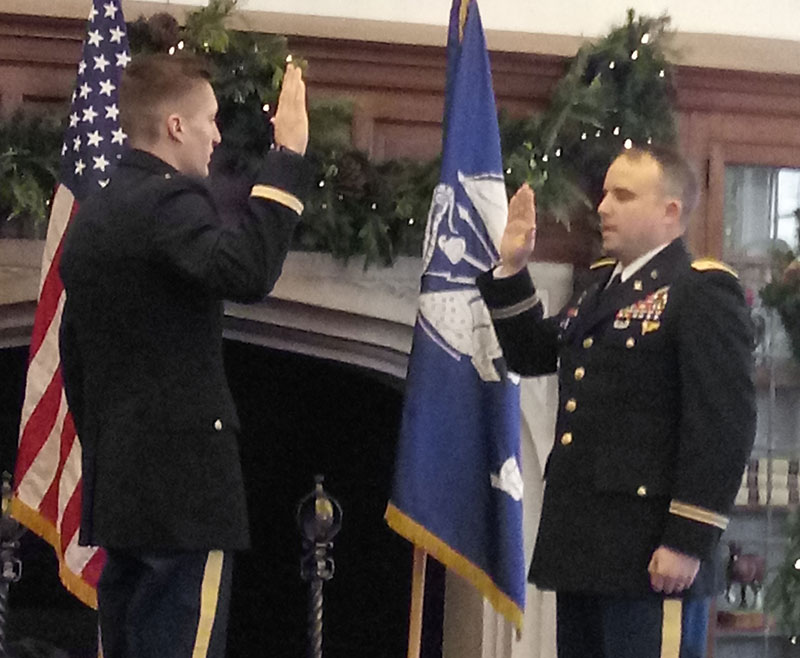 New Programs Enhance the Student Experience – 3+3 with UC Law
Thomas More and the University of Cincinnati College of Law partnered in Fall 2019 to create a pipeline program for highly motivated and qualified students interested in pursuing a legal career while completing their undergraduate degree. Thomas More has a similar program with Northern Kentucky University Chase College of Law. Under the 3+3 accelerated dual degree program, students can earn both a bachelor's degree and Juris Doctor in just six years, saving time and money. They are also able to enter the workforce one year sooner. This agreement was formalized by representatives from UC and Thomas More at a signing ceremony on Thursday, November 14. For more information, visit tmuky.us/uclaw.
New Programs Enhance the Student Experience – 4+1 MBA Program
New for Fall 2020, the Thomas More Department of Business Administration introduced the 4+1 program which allows students majoring in accountancy, business administration, or management information systems to earn an MBA just 12 months after finishing their bachelor's degree. The program includes graduate-level classes during the senior year, followed by accelerated classes during year five allowing motivated students to save time and money on their way to a successful career in the business. For more information, visit tmuky.us/4plus1.
$100K Grant Supports STEM Scholarships – In December 2019, Thomas More University received a $100,000 grant from The Austin E. Knowlton Foundation, Inc., to establish an Austin E. Knowlton Endowed Memorial Scholarship Fund. The scholarship provides financial assistance for students in STEM disciplines. The Knowlton Foundation was created in 1981 by Austin E. "Dutch" Knowlton (July 23, 1909 – June 25, 2003), an Ohio entrepreneur and philanthropist. Mr. Knowlton felt his success was made possible by the college education he received from the Ohio State University and established the foundation to empower future generations of students and to support the institutions dedicated to educating them. Thank you to the Knowlton Foundation for making Thomas More a part of this outstanding legacy! To read the press release, visit tmuky.us/100kgrant.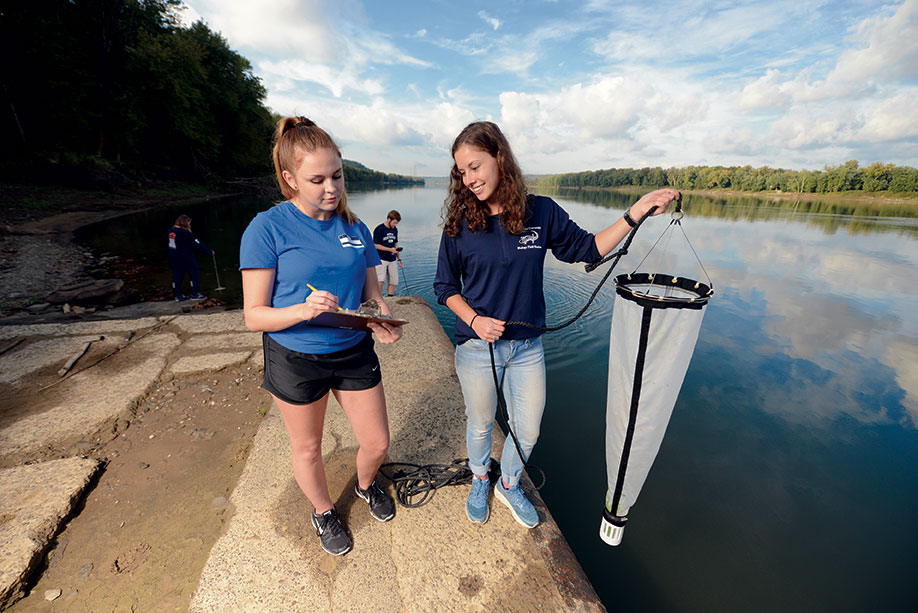 Ranked #1 for ROI/Long-term Gain – A report released from Georgetown University in November 2019 revealed that Thomas More University has the highest long-term income gain for graduates – at more than $1 million – among four-year institutions in Kentucky that primarily grant bachelor's degrees. The report, "First Try at ROI: Ranking 4,500 Colleges," attempted to answer the persistent question among students: Is college worth the cost? To read the press release, visit tmuky.us/longtermgain.
"Words" Award Winners – The 2020 edition of "Words" was published just before Thomas More moved to the remote learning platform in March. Congratulations to the following talented students on earning the following awards in this year's "Words" contest: Sandra L. Cuni Award "Pause" by Michael Thompson | Appalachia Award in Poetry "Recognition" by Ariel Long | Appalachia Award in Fiction "Glass Bones" by Angel Rapp | RUCA Award "Recipe for Fall" by Clhoe Kincart | Honorable Mentions: "Sea and Sky" by Anna Berberich and "Nettie Jane" by Heather Konerman | Kate Bilbo Aspiring Writer Award "Pause" by Michael Thompson | Kate Bilbo Aspiring Artist Award "Simple Pleasure" by Rachel Boyer | The Art Department Choice Award "JUDE" by Jude Cope | Cover Art Selection "Nature's Revolution" by Brett Lampe | Cover Design Rachel Boyer. For your copy of "Words," please email moreover@thomasmore.edu.
Update from the ICG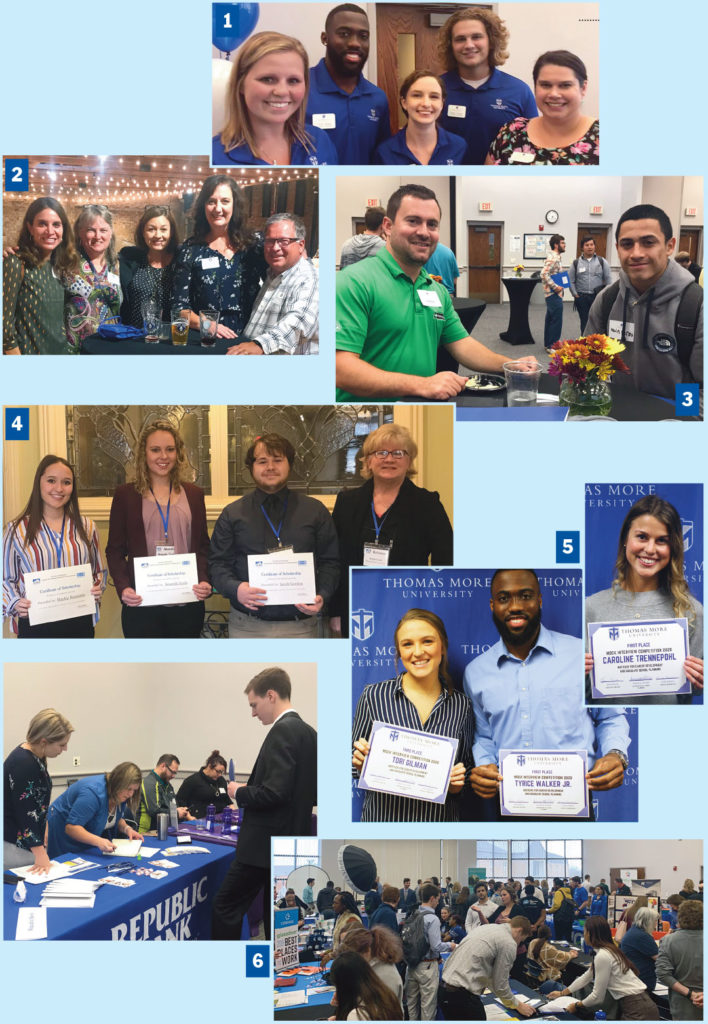 The Institute for Career Development and Graduate School Planning (ICG) is a vital part of the Thomas More University Success Center. Their focus, within the overall mission of the Success Center to accelerate success among students, is to provide career and graduate school advising; assist with resume writing, interview and networking skills; and work to find co-ops/internships that promote lifelong success. Just a few of the activities they have hosted or been a part of during the 2019-2020 academic year include:
1. The ICG has focused on building capacity to better serve the Thomas More campus community. Project Coordinator Kiera Bowman joined the team to support marketing and assessment. Coordinator of Career Planning Samantha Palmer spearheaded the hiring of a cadre of ICG Career Ambassadors to assist with the marketing/managing of events and services, management of Handshake (the campus online job platform), and to support initial resume reviews for students. Shown are (from left) Career Ambassadors Ashley Roderick '20, Tyrice Walker '21, Amanda Whiteker '22, and Mason Kramer '22 with Coordinator of Career Planning Samantha Palmer. These four ambassadors are business administration majors.
2. (Faculty and staff attending a networking event with host and employer partner Melissa Kelly from Odyssey Financial Advisors at the Rhinegeist Brewery in Fall 2019) Odyssey hired their first Thomas More intern, Ashley Roderick '20, in the fall semester. Shown with Kelly (second from right) are professors Julie Daoud, Ph.D., and Cate Sherron, Ph.D., Assistant ICG Director Robin Norton, and professor Larry Byerly, Ph.D.
3. Networking is an excellent way for students to make connections for their futures. ICG hosted Enterprise, Archer Daniels Midland, Mercy Health, The WAVE Foundation, Redwood, Paycor, Fifth Third Bank, Gravity Diagnostics, and Odyssey Financial Advisors on campus in October 2019 to connect with students and share information about their organizations.
4. The Northern Kentucky Chamber Society of Human Resource Managers (NKY SHRM) chapter awards student scholarships in the form of a free student membership each year to juniors and seniors from Thomas More and NKU that are interested in pursuing a career in human resources. One of the many benefits of the membership is access to monthly chapter meetings, which provide networking opportunities for students exploring careers and searching for jobs. In Spring 2020, Thomas More business administration students Hayley Reynolds '20, Amanda Scola '20, and Jacob Gordon '20 (psychology major, business minor) were awarded student memberships. Photo from left: Hayley, Amanda, Jacob, with assistant professor of business administration Kris Lovett, Ed.D.
5. ICG hosted the annual Thomas More Mock Interview Competition for 2020 in two rounds on January 22 and February 5. Twenty-three students participated in the first round with six advancing to round two. Thomas More alumni and local employers served as judges. The competition was created in 2014 under the guidance of alumnus Richard Lindhorst '75, who has generously provided financial support. The 2020 winners include business administration students Tyrice Walker '21 and Caroline Trennepohl '22 tying for first place, and Tori Gilman '21 placing third. Congratulations to all.
6. The 2020 Thomas More University Career and Internship Fair, coordinated by the ICG, took place on Wednesday, February 5. More than 45 employers participated and a record 220 students attended. Coaches, faculty, and staff supported the event by attending with their students and meeting employers. Thank you to event sponsors Republic Bank and Federal Express Ground.
The ICG is always interested in partnerships in the pursuit of career opportunities for students and alumni. To share connections you may have that are searching for local talent, contact Assistant ICG Director Robin Norton at 859-344-3386 or nortonr@thomasmore.edu.