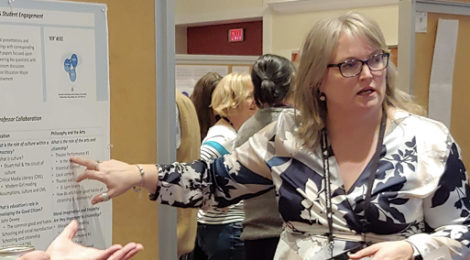 Kudos to Thomas More faculty and staff on their accolades, presentations, and published works
COLLEGE OF BUSINESS

Dean Angela Crawford, Ph.D., and colleagues Branka Olson and Carol McGuire collaborated on a book chapter that was published as "Improving the Quality of Work Life: An Interdisciplinary Lens into the Worker Experience" in Palgrave Handbook of Workplace Well-Being this spring. The chapter is based on a professional development workshop the three presented at the 2019 Academy of Management Conference. Crawford said, "We developed a worker experience framework and wrote a chapter that integrates technology, human resources, and physical environment to improve worker well-being."

Lynnette A. Guzzino, JD, MIM, Department of Business Administration, was named the 2019 Accreditation Council for Business Schools and Programs Region 3 Teaching Excellence Award recipient, representing baccalaureate/graduate degree-level member institutions. Congratulations, Lynnette!
COLLEGE OF ARTS & SCIENCES

Caitlin Dwyer, M.T.S., Department of Theology, presented a talk on the theology of femininity at the mother-daughter community event Beautifully You! on February 1, 2020, at St. Thomas Parish in Fort Thomas, Kentucky. This event was designed to empower young women to embrace their uniquely feminine identity by reflecting on the beauty of both the spiritual and physiological dimensions of being a woman. Along with husband, attorney Ryan Dwyer, professor Dwyer gave a presentation entitled "Pro-life Persuasion" at St. Henry Parish in Erlanger, Kentucky, to the seniors of Notre Dame Academy in Park Hills. This talk was designed to help present the pro-life position calmly and rationally – based on science and logic – in a way that is in response to the questions of the listener.

Congratulations to Luke Geddes, English Department, on the upcoming publication of his debut novel "Heart of Junk" (Simon and Schuster 2020), a fictional comedy which takes place in Wichita, Kansas.

Christopher Lorentz, Ph.D., Department of Biological Sciences, along with Richard Harrison, executive director at ORSANCO, was recognized by the Covington Rotary Club for their work with the Russian Delegation in Fall 2019. The delegation visited the region through the Rotary International Open World Program and spent time at the Biology Field Station. Lorentz also received the honor of being elected as president of the Organization of Biological Field Stations, an international group of 220 field stations located around the world and including locations in the U.S., Africa, Australia, Central/South America, and Europe.

Jodie N. Mader, Ph.D., chair of the Department of History and Political Science, wrote "Promoting Faculty Development on a Tight Budget," which was published January 2020 in "Academic Leader." To read the article, visit tmuky.us/mader0120.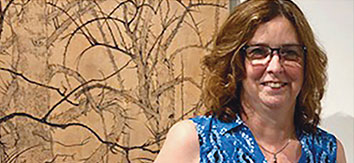 Elizabeth Neal, Art Department, presented artwork in November 2019 at the 1305 Gallery on Main Street in Cincinnati. The show was entitled "NOGPS." Neal said, "'NOGPS' grew from my observations of the many young people I see daily who never look up from their phones to interact with their peers… The lack of interest, interaction, and modest engagement with the natural world for some, and the total lack of participation tending toward escapism for others, exemplifies the growing distraction of this generation which inspired me to consider what would happen if they lost that technological connection. Would they have the skill set to problem solve their way out and think critically toward a solution without access to a search engine? These drawings were generated specifically in response to these (types of) questions."

Malcolm Robinson, Ph.D., Department of Economics, was interviewed as an expert on credit cards by both finder.com ("Compare Cash Back Credit Cards" – December 2019) and wallethub.com ("15 Best Credit Cards" of January 2020).
COLLEGE OF EDUCATION & HEALTH SCIENCES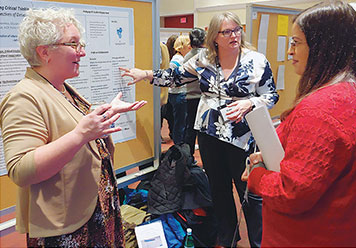 Dean Kim Haverkos, Ph.D., along with College of Arts & Sciences professors Cate Sherron, Ph.D., and John T. Spence, Ph.D., AICP, presented a poster at the Lilly Conference on College Teaching in the Evidence Based Learning and Teaching session held November 2019 at Miami University in Oxford, Ohio. Their presentation, "Stimulating Critical Thinking: Interdisciplinary Perspectives on Democratic Citizenship," was based upon their team-teaching experience during the 2019 spring semester. They developed and offered a special topics course through the James Graham Brown Honors (JGBH) Program as an experiment in how to integrate a multidisciplinary approach to the study of democratic citizenship. By providing students with perspectives from political science, education, philosophy, and the arts, JGBH students were able to examine through many viewpoints the pressing social issue: What is good democratic citizenship? Their teaching was augmented by the inclusion of Sofie Vietas '19 (JGBH Fellow), an education and theatre double-major, who took the lead on integrating the arts as a perspective into questions related to this study of citizenship. The lessons learned by these professors, who each took responsibility for a five-week session of the class, is expected to be used to develop a team-teaching model other faculty may be able to use in relation to studying other issues in the future. By using multiple perspectives to examine contemporary societal questions, Thomas More professors enable students to gain a broader understanding of them and an appreciation for diversity of opinion – a key aspect of the University's priority to teach meaningful critical thinking skills.
INSTITUTE FOR ETHICAL LEADERSHIP & INTERDISCIPLINARY STUDIES

Anthony Schumacher, Ph.D., completed the Online Learning Consortium's online teaching certificate and was interviewed for their September newsletter. It is his second online certification, having previously completed one from the University of Michigan. He also presented at the Association of Independent Kentucky Colleges and Universities Teaching and Technology Conference in Louisville with Director of Online Engagement Nathan Hartman.