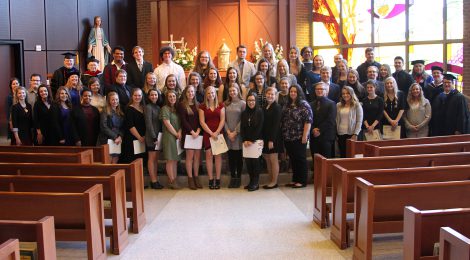 TMU first year students who were eligible were welcomed into Alpha Lambda Delta (honor society for first-year students). The induction ceremony was held on Feb. 24, 2019. In addition to 54 students, three faculty were inducted as honorary members: John Hageman, Ph.D.,  Carrie Jaeger, Ph.D., and Reverend Ronald M. Ketteler, S.T.L.
Induction of new members into Phi Alpha Theta (history honor society) also occurred this spring. New members include: Brooke Daugherty, Sam Easley, Olivia Gross, Rachel Higgins, Heather Konerman, Jonathan Manhardt, Merrick McCarthy (not pictured), Caitlin Robinson, Susan Rouse, Joseph Schneider, and Brandon Bohn. The History Department had a senior sendoff on March 1 as Ian Bonar, Michael Campbell, Rachel Higgins, Madison Light, Chryssie Oakley, Caitlin Robinson, and Joseph Schneider prepared to graduate.
On March 28, 2019,  the College of Business inducted undergraduate and graduate students into the Nu Omicron Chapter of the Delta Mu Delta Honor Society. Dean Angela Crawford and Professor Maria Mitchell were the honorary members at the event. Delta Mu Delta stands for the Greek phrase "Dia Mathessos Dynamis" which, literally translated, signifies "Through Knowledge, Power." To be eligible, all students must have completed at least half of their degree requirements, however, undergraduate students must have a GPA of at least 3.50, while graduate students have a GPA of at least 3.60. They must also be within the top 20 percent of students. The college is very proud of these students and congratulates them! Undergraduates inducted were: Sydney Auteri, Emily Bakes, Ashley Bode, Allison Borders, John Cameron, Keith Cheesman, Justin Deters, Jonathan Eha, Sarah Fellinger, Katlyn Fischer, Shawn Fortner, Robert Hogue, Garold Lang, Christopher Loos, Ian Manahan, Matthew Martin, Christopher Odongo, Brendan Reid, Rebecca Richardson, John Schwenk, Emma Smith, Aaron Stenger, Stephanie Stuckey, Madison Temple , and Luke Zajac. Graduate students inducted were: Andrew Beckman, Chris Bryant, Theresa Cullen, Patricia Ott, Hayley Reynolds, Courtney Schmidt,  and Ashley Vater.
The induction ceremony and dinner for the newest Pi Sigma Alpha (political science honor society) inductees was held in November 2018.  Current student members welcomed the inductees at the Bean Haus in Covington's MainStrasse, from left to right are: Carter Hibbard, Rachel Whitehill, Noah Galvin, Madison McLaughlin, Johnny Lewis, Ben Noonan, Jeni Hall and Dr. J. T. Spence (club and honor society adviser).
Congratulations to all!