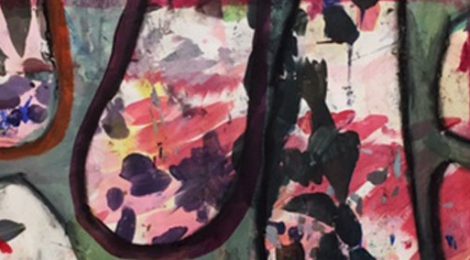 1950s
Brother Don Smith, S.M. '56 was recently honored by having his art work blessed and dedicated at the Calvary Cemetery Chapel in Dayton, Ohio. Smith designed and constructed two life-sized mosaic murals which are reflections of the Resurrection (left) and the Assumption (right).
1960s
Bill '68 and Jane (Elizabeth) '68/'10 Ehrman celebrated their 50 year wedding anniversary in June 2018. Bill and Jane met at freshmen orientation at Villa Madonna College and went on to be members of the first graduating class under the Thomas More College name. Congratulations to them both on 50 years of wedded bliss!
1970s
Artwork by Jennifer Bucalo Baldwin '76 was featured at the grand reopening of the 5th Street Gallery inside the Millennium Hotel in Cincinnati, Ohio, in October 2018. Kudos to Jennifer! 
D. Lynn Meyers '77 was recognized by the Cincinnati Business Courier as one of the 2018 Women Who Mean Business. Ten women across a broad range of fields were celebrated by the Courier for their achievements in transforming their organizations as well as the region. Meyers was selected because of her incredible work with the Cincinnati Ensemble as artistic director. This is the third year the Courier has celebrated women who help drive success in the region's business and nonprofit community. Congratulations to Meyers on this latest achievement. For more information, visit tmuky.us/meyers. 
Tim Perrino '78, director of Cincinnati Landmark Productions, was instrumental in the reopening of the Madcap Education Center in late 2018. The company completely renovated a former Cincinnati Bell building in Westwood and held a grand reopening in November. To see WKRC coverage and an interview with Perrino, visit tmuky.us/perrino.
1980s
Congratulations to Dr. Michael Gieske '80 who was a finalist in the Cincinnati Business Courier's 2019 Health Care Heroes awards. Gieske was nominated for his work with St. Elizabeth Healthcare. To read more about the award and nomination, visit tmuky.us/gieske.
Jeffrey C. Mando '80 of Adams, Stepner, Woltermann & Dusing, PLLC, has been awarded "Defense Lawyer of the Year" by the Kentucky Defense Counsel (KDC). To read more about Mando and his accomplishment, visit tmuky.us/mando.
David J. Peter '80, M.D., MBA, FACEP, joined the leadership team at Cleveland Clinic Indian River Hospital as Chief Medical Officer. For more information on Peter's role at Cleveland Clinic, visit tmuky.us/peter.
Bruce Hoffmeister '83 received the 2018 Capital CIO of the year Leadership ORBIE Award for his ability to innovate and to lead his organization. Hoffmeister is the global chief Information officer with Marriott International. Each year the Capital CIO Leadership Association (CapitalCIO) will recognize chief information officers in four key categories – Global, Enterprise, Corporate and Nonprofit/Government. Congratulations to Bruce. To find out more, visit tmuky.us/hoffmeister. 
Sue Ellen Stuebing '84, vice president and chief development officer at Ohio member stations CET & ThinkTV, was awarded the PBS 2018 C. Scott Elliott Development Professional of the Year Award. Congratulations to Sue. For more on this award and Stuebing's role with the organization, visit tmuky.us/stuebing. 
Children, Inc., presented Garren Colvin '86, president and CEO of St. Elizabeth Healthcare, with the 2019 Charity in Action Award at Raising of the Green, an annual gala to support the organization's work with children and families in our community.
1990s
Barry Henry '93 was named Printer of the Year by Printing Industries of Ohio and Northern Kentucky at Print Week 2019. Henry serves as the chief financial officer and vice president of finance for API, Alliance Printing and Thoroughbred Printing located throughout Kentucky and Ohio. For more information about this distinguished award, visit tmuky.us/henry.
Michelle Parvatiyar '99 joined Florida State University (FSU) in August 2018 as assistant professor of exercise physiology. In addition to teaching duties, she is performing research related to cardiovascular disease. For more about Parvatiyar's work and position, visit tmuky.us/parvatiyar.
William Purtell '99 joined Blank Rome as an associate in the Consumer Finance Litigation group. Purtell represents mortgage lenders in all aspects of trial and appellate litigation, both residential and commercial. For more information, visit tmuky.us/purtell. 
Stephen A. Wright '99, a consultant at MCF Advisors, was recently selected to serve on the Board of Trustees with SQUARE1, a wealth resource for startups and entrepreneurs in the northern Kentucky region. To read more about Wright, visit tmuky.us/wright.
2000s
Nick J. Pieczonka '05 was selected for the 2019 Ohio Lawyers Rising Stars. Rising Stars recognizes the top up-and-coming attorneys in the state—no more than 2.5 percent of lawyers in the state are selected. Pieczonka is a partner at Taft Stettinius & Hollister LLP where his focus is litigation, real estate and construction, product liability, and personal injury matters. To learn more about Pieczonka, visit tmuky.us/pieczonka.
Congratulations to Katie Raverty-Evans '07 who was recently elected to the National Waste and Recycling Association (NWRA) Women's Council. To read more about Raverty-Evan's accomplishment, visit tmuky.us/ravertyevans.
Congratulations to Johnna Reeder Kleymeyer '07 who is serving as the interim dean of the Haile/U.S. Bank College of Business at Northern Kentucky University. Kleymeyer was most recently the CEO of REDI Cincinnati, the city's top economic development group, which she helped found in 2014. To read more about Kleymeyer, visit tmuky.us/kleymeyer. 
Patti Turner '09 and Aaron Talbert became engaged on July 18, 2018, in Maui, Hawaii. Congratulations to the happy couple who are set to be married on Dec. 7, 2019. Turner has taken an additional role as the SCL Program Coordinator at Bluegrass Behavioral Health Group and continues to work as a Behavior Support Specialist.
2010s
Dan Fagin '11 was named the president and CEO of CJE SeniorLife, one of the largest assisted living centers in the Midwest. To read more about Fagin's new role, visit tmuky.us/fagin. 
Phil Englert '12 spoke as a panel member in the fall at the Cybersecurity Summit in Washington, D.C., on the topic of Cybersecurity and Connected Healthcare. Englert is a senior specialist at Deloitte with more than 30 years' experience in healthcare technology management supporting operations, strategy, and security. To read more about Englert and the Summit, visit tmuky.us/englert.
Andrew Linkugel '13 is currently performing his residency in plastic and reconstructive surgery in St. Louis, Missouri, at the Barnes-Jewish Hospital and St. Louis Children's Hospital. Additionally, Linkugel was married in October 2018. Congratulations, Andrew! 
Tyler Dorsey '14 was diagnosed with ADHD at the age of 11. In May 2018, she started a business called Focus Forward LLC (focusforwardlex.com) to offer life coaching for children and adults with ADHD, workshops for families and schools, and tutoring services for students. For more information on Dorsey and the work she is doing, visit tmuky.us/dorsey.
Thomas Arnzen '17, who is currently working towards a master's degree in computer science at Northern Kentucky University, was one of 75 Americans selected to participate in the 2018-2019 Congress-Bundestag Youth Exchange (CBYX) for young professionals, a year-long fellowship for study and work in Germany. While in Germany, in addition to attending a two-month intensive German language course, Arnzen studied at a German university/professional school for four months, and completed a five-month internship with a German company in his career field (software development). Congratulations to Tom!