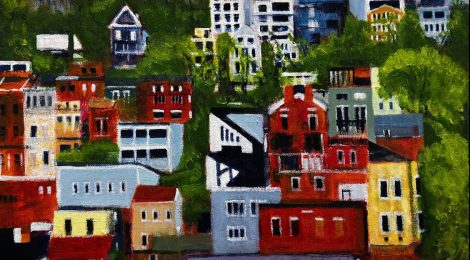 CRESTVIEW HILLS, Ky. (June 6, 2023) — Thomas More University's Eva G. Farris Gallery welcomes three alumni artists holding exhibits for a diverse summer art series. Local artists Bill Eagen '72, Ruthe Wyman '76, and Jennifer Baldwin '76 return to their alma mater to exhibit their unique works from May through August. The exhibits highlight the magnitude of talent coming through Thomas More's creative media department, while also exemplifying the career possibilities for young artists and the vibrancy of the art scene in the Northern Kentucky/greater Cincinnati region.
Eagen's exhibit, Landscapes and Cityscapes, runs May 5 – June 9, 2023, and interprets natural landscape scenes coupled with contrasting views of manmade cityscapes. The oil-on-canvas painter shares his appreciation for the relationship between the forms and colors presented in natural versus manmade scenes, documenting how they come together to create beauty in the world. He says he has always found landscapes "both soothing and challenging." For Eagen, his art is ultimately about the feelings it inspires in viewers. "I often get the response that my paintings create or recreate an experience," he reflects. "That is very satisfying to me since they are based on an experience and there was a process in creating them." His working studio is located at the Pendleton Art Center, where he can be found participating in the Center's Final Friday events.
Layers… seen and unseen Paintings by Wyman is on display June 15 – 30, 2023. The exhibit features paintings that use multiple layers in the artmaking process, including various textures and transparencies. Wyman's first career was teaching high school art at Williamstown Independent and Grant County High School. Her work as a professional artist has seen a great deal of success, being exhibited at numerous art galleries, government buildings, cultural centers, universities, art fairs, and businesses throughout the Tri-state. "I am most proud of the accomplishment of being told that I have a style of painting that is unique and recognizable as mine," says Wyman. Her recent works exhibit a continual exploration of color, texture, and emotion.
The final alumni artist exhibit is Baldwin's Ameliorative Practice, running July 7 – Aug. 3, 2023. In this exhibit, the artist explores the restorative process that she experiences while producing pieces of art. "It's a type of healing process or celebratory process," says Baldwin, describing the personal nature of her art. "In searching for the 'right' way to describe what might seem like a variety of subject matters or processes, I focused on why I make what I make." Arts educator and youth arts activist, Baldwin works in a variety of mediums including painting, drawing, and printmaking. She owns her own business, where she creates paintings of dogs for clients, and does quality professional picture framing and art experiences for both the public and corporations.
Full interviews with each artist can be found on Thomas More's Moreover website at the following links: Bill Eagen, Ruthe Wyman, and Jennifer Baldwin.
For more information about Thomas More University, visit www.thomasmore.edu.
For more information about current exhibitions, gallery talks, and lectures, visit the Eva G. Farris Gallery website HERE.
###
About Thomas More University
For 100 years, Thomas More has created a university for the student who wants to Be More, Do More, Seek More, Win More, Achieve More, and Create More. Since its founding in 1921, Thomas More has provided a mission-driven, liberal arts education that is based in the Catholic Intellectual Tradition. Students learn to harness the power of human reason to solve problems and discover truth, which allows them to begin the journey to become the person they were created to be. Entering into the second century, it's time for More. Serving more than 2,000 students, Thomas More aspires to be the premier Catholic university in the Cincinnati/Northern Kentucky region, build upon its excellent return on investment (ranked #1 among private universities/colleges in Kentucky by MSN Money in 2021 and ranked #2 for long term gain in Kentucky by a 2022 Georgetown University study) and share with this generation the transformative power of the Thomas More experience. To find out more, visit thomasmore.edu.
MEDIA CONTACT: Lyna Kelley, director of communications and PR, kelleyl@thomasmore.edu, 859.344.3309