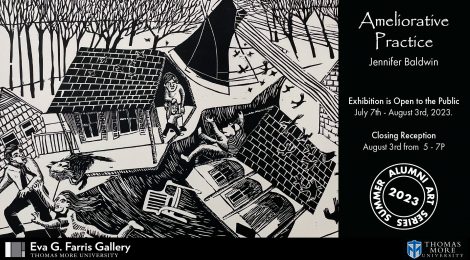 Submitted by David Klenk, communications graduate assistant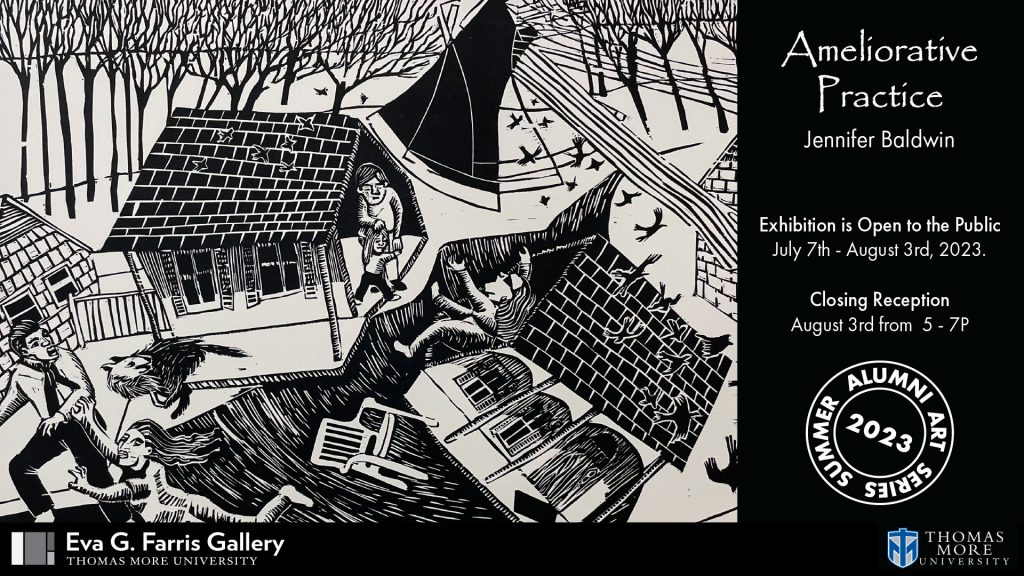 Ameliorative Practice by Jennifer Baldwin is on display in the Eva G. Farris Gallery from July 7 – Aug. 3, 2023. In honor of Jennifer's exhibit in the gallery, Moreover asked her some questions regarding art and her experience at Thomas More.
Can you share with us how you got into the world of art?
As far back as I can remember, like when I was three years old, I remember my father drawing pictures of anything I would ask him to draw for me. It was like entertainment. Watching him draw was exciting and filled me with joy.
How did your time at Thomas More impact your work as an artist?
The encouragement I received to explore new materials and processes impacted the very thought of myself as an artist. So much so, that I've never considered myself anything but an artist. Yes, I've been a teacher in parochial and public schools, but I have always considered myself an artist who teaches. The exhilarating feeling while working through a piece and reviewing the results is very powerful and excites me so much that I chose to teach young artists how to experience those feelings.
Do you have any favorite memories from the time you spent here at Thomas More?
Being at Thomas More represents some of the best experiences of my life. One year I was inspired by an exhibition of work at the Contemporary Art Center in Cincinnati, specifically the abstract forms created in fabric sculpture of Paul Harris. In sculpture class with Bernie Schmidt, I created a piece using a cast iron bathtub, colored fabric, and Styrofoam beads. It was featured in an art exhibit in the front window of a bank on 4th Street in Cincinnati. At the time, 4th Street was considered the Cincinnati visual arts district with galleries such as Not in New York and Carl Solway Gallery just within walking distance to the bank. Being in that space was validating. The only thing that concerned Bernie about the sculpture, as the tub was quite heavy, was that I was able to remove it when the term ended, so I put it on wheels. Another exceptional memory is the lifelong friendships made with other members of the Art Department. We have not only kept in contact, but show our works together, encourage each other, and look forward to those rare occasions to join each other in relaxed settings of food, wine, conversation, and lots of laughter.
What was the inspiration for your Alumni Art Summer Series exhibit?
I work in many mediums, which sometimes drive a certain subject or topic. Those subjects and topics are things I work through on a very personal level. It's a type of healing process or celebratory process. In searching for the 'right' way to describe what might seem like a variety of subject matters or processes, I focused on why I make what I make. My work allows me to feel better after I get it onto paper, canvas, or any substrate. It's an ameliorative or restorative process.
What has been the most challenging part of creating the work in your exhibit?
The most challenging part for me is how I am going to curate what I have and the sequence of displaying the work in the exhibit. Just making sense from all the parts that define me as an artist.
What accomplishment or piece are you the proudest of as an artist?
Whatever I have curated for this exhibit is what I am most proud.
Do you have any upcoming projects?
As a member of Tiger Lily Press I will be completing a number of initiatives including: Senior Printmaking Workshop with Cincinnati Recreation Commission at Dunham Recreation Center, running the Tiger Lily Press booth at the newly formed Gathering of the Guilds located on the campus of the Weaver's Guild and Local Ink, a printmaking fair at the Kennedy Heights Cultural Arts Center.
Do you have any advice for students looking to explore art and painting here at Thomas More?
Be open to all experiences; inside and outside of Thomas More, embrace the surprise of ideas that you never considered before. Make it a conscientious goal to determine what and who you want to influence you but continue to investigate the why. Build community with your peers/faculty.