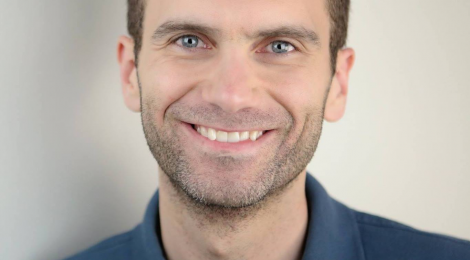 CRESTVIEW HILLS, Ky. (Sept. 19, 2023) — Thomas More University's theater program welcomes new director Phillip Webster. A musician, actor, and director, Webster has performed in everything from Shakespeare to operetta to experimental puppet theater and looks forward to bringing a new perspective to the program. "We are thrilled to have Mr. Webster join the Thomas More community," says Thomas More University President Joseph L. Chillo, LP.D. "He brings a wealth of experience in performing arts and community involvement that will benefit our students as well as elevate the Thomas More theater program and our commitment to a strong Catholic Liberal Arts education."
Thomas More students can look forward to new course offerings under Webster's direction. "We've been revamping the catalog to begin offering unique, interdisciplinary courses," he explains. One of those new courses is puppetry, a combined effort with the art program. "This is a unique class that combines building and performing puppets of all varieties from around the world." Webster says he's also looking into ways to incorporate more film and digital media production into the curriculum.
The Department of Creative Media has also been hard at work streamlining the theater curriculum to make double majoring easier for students. "We're especially eager to have more theater/business double majors who go out into the community and become the next generation of arts leaders," says Webster, who holds an MBA focused on entrepreneurship and innovation in the creative sector.
Originally from the Northern Kentucky area, Webster brings a fascinating and diverse background to the role. He served in the U.S. Air Force, spending four years as an Arabic language analyst. In 2021, he founded SouthBank Shakespeare in order to provide free outdoor Shakespeare productions to Northern Kentucky's river cities. Webster is currently working on a doctorate in history through the University of London's Institute of Historical Research, focusing his studies on the mostly forgotten Pike's Opera House in Cincinnati.
The first show of the season at Thomas More is Shakespeare's "Twelfth Night," running Oct. 13-15 and 20-21; Fridays and Saturdays at 7:30 p.m. and Sundays at 2 p.m. For more information on Thomas More's Theater program, visit www.thomasmore.edu/program/theater/.
For more information about Thomas More University, visit www.thomasmore.edu.
###
About Thomas More University
For 100 years, Thomas More has created a university for the student who wants to Be More, Do More, Seek More, Win More, Achieve More, and Create More. Since its founding in 1921, Thomas More has provided a mission-driven, liberal arts education that is based in the Catholic Intellectual Tradition. Students learn to harness the power of human reason to solve problems and discover truth, which allows them to begin the journey to become the person they were created to be. Entering into the second century, it's time for More. Serving more than 2,000 students, Thomas More aspires to be the premier Catholic university in the Cincinnati/Northern Kentucky region, build upon its excellent return on investment (ranked #1 among private universities/colleges in Kentucky by MSN Money in 2021 and ranked #2 for long term gain in Kentucky by a 2022 Georgetown University study) and share with this generation the transformative power of the Thomas More experience. To find out more, visit thomasmore.edu.
MEDIA CONTACT: Lyna Kelley, director of communications and PR, kelleyl@thomasmore.edu, 859.344.3309