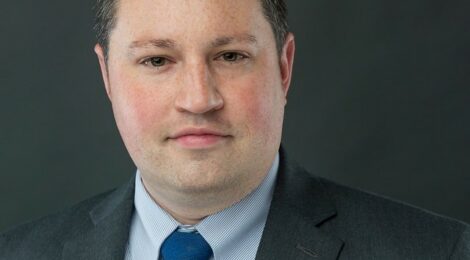 CRESTVIEW HILLS, Ky. (Sept. 21, 2023) — Thomas More University's Kevin Reynolds, senior vice president for mission and university advancement, is now a member of the Board of Directors for the African Sisters Education Collaborative (ASEC). This organization, and corresponding board, strives to develop and deliver educational opportunities for women religious in Africa who are dedicating their lives in service to their local communities. "[Kevin's] leadership and commitment to improve humanity exemplified all of the criteria required for Director on the Board of ASEC," said Sister Mary Cecelia Draru, Ph.D., ASEC executive director.
"I met Sister Draru at the Boston College institute last year," recalls Reynolds. Draru had since been recruiting Reynolds for fundraising assistance. Reynolds' aptitude for fundraising has been exemplary over the past several years at Thomas More. He leads the University's boldest capital campaign to date, which has surpassed its goal of $30 million three years ahead of schedule.
"I am honored to be a part of the ASEC Board and to contribute however I can towards the education of Sisters, who are doing incredible work in Africa, spreading our faith, and making a difference in the lives of the most vulnerable in their communities," says Reynolds. "Every day I see the transformative power of Catholic education alive in Kentucky at a University that would not be here if the Benedictine Sisters, who founded Villa Madonna College in 1921, had not understood the trajectory transformational power that Catholic education provides to communities. This legacy inspired me to support and engage in the work ASEC is doing with similar goals in mind. Transmit the faith. Empower through education. Build a strong, values-based foundation to make a difference in the lives of others."
The ASEC Board of Directors supports the strategic and mission-based goals of the organization and monitors its direction and impact. Morality plays a role as board members help ASEC fulfill its goals, achieve its purpose, and better serve its community. Members also offer governance to provide oversight and ensure that ASEC complies with government rules and regulations and is fiscally responsible.
For more information about Thomas More University, visit www.thomasmore.edu.
###
About Thomas More University
For 100 years, Thomas More has created a university for the student who wants to Be More, Do More, Seek More, Win More, Achieve More, and Create More. Since its founding in 1921, Thomas More has provided a mission-driven, liberal arts education that is based in the Catholic Intellectual Tradition. Students learn to harness the power of human reason to solve problems and discover truth, which allows them to begin the journey to become the person they were created to be. Entering into the second century, it's time for More. Serving more than 2,000 students, Thomas More aspires to be the premier Catholic university in the Cincinnati/Northern Kentucky region, build upon its excellent return on investment (ranked #1 among private universities/colleges in Kentucky by MSN Money in 2021 and ranked #2 for long term gain in Kentucky by a 2022 Georgetown University study) and share with this generation the transformative power of the Thomas More experience. To find out more, visit thomasmore.edu.
MEDIA CONTACT: Lyna Kelley, director of communications and PR, kelleyl@thomasmore.edu, 859.344.3309