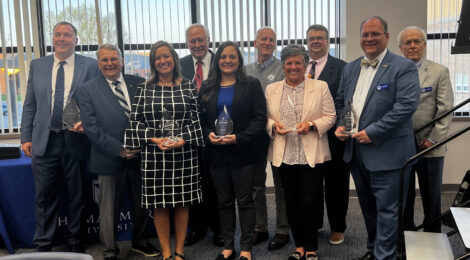 CRESTVIEW HILLS, Ky. (April 27, 2022) — At its biennial Alumni Association Award Ceremony, Thomas More University recognized five distinguished graduates and a former administrator for their accomplishments and commitment to the community. The ceremony took place on Saturday, April 23, 2022, during the University's inaugural Alumni and Family Weekend, a collection of events that started on Wednesday and ran through Sunday. Attendees enjoyed a special dinner and warm welcome from Baily Bundy, director of alumni and parent engagement, and Joseph L. Chillo, LP.D., Thomas More University president.
"We honor these outstanding alumni who have demonstrated through their actions the values of our institution," says President Chillo. "Our University prioritizes the beliefs of integrity, concern for justice, and service to others. After graduating, these former students have gone on to exemplify these values and make substantial impact in the community. We congratulate them on their accomplishments and share their stories to inspire our current and future students of the endless possibilities accomplishable through hard work, dedication, and the first-class, Catholic liberal arts education offered at Thomas More University."
Awards were given in six categories. Mary Beth Odom '19 was named emerging leader for her efforts professionally within her accountancy career path and for working to pay it forward as head softball coach at Beechwood High School. Two exceptional alums were honored with the citizenship award: Amy Darpel '94 was recognized for her contributions to the community through activism in education, parent organizations, parish leadership and as director of advancement at Covington Latin School, and Chris Sapp '95 was recognized for his years of service as a Boy Scouts of America troop leader, performing local and national roles with Alpha Delta Gamma fraternity, and as a public servant before returning to Thomas More as a member of the office of student accounts. Joe Shriver '94 was recognized with the professional achievement award having served the Kenton County Fiscal Court for 24 years. Shriver currently directs all aspects of government operations for the county. Lori Eifert Knochelmann '15 was honored with the service award. She works every day to advocate for students fighting homelessness as the project home coordinator of the McKenney-Vento Homeless Education program in the Covington Independent Public School District. She also co-founded the Northern Kentucky Homeless Education Collaborative. Sr. Irmina Saelinger, OSB, Ph.D., was honored posthumously with the lasting influence award for her dedication to the University as long time registrar from 1928-1967 and chronicling the early growth of Thomas More in her book, "Retrospect and Vista, the First Fifty Years of Thomas More College, formerly Villa Madonna College."
"At Thomas More, I grew as an individual," says Odom. "Someone who succeeds in the classroom, someone who succeeds on the softball field, but also someone that can lead in society and in the community. I plan to cast forward all the things that were instilled in me."
The All Saints Club, formerly the Thomas More Boosters, was named as the affinity group – a new category introduced in 2022. The All Saints Club is the official fundraising and development arm for Thomas More Athletics and works to support Thomas More's 700+ student-athletes, nearly half of the University's traditional student population, and 28 varsity sports programs, ensuring they continue to achieve excellence in the classroom, on the playing field, and in the community. The All Saints Club generates funding through private and community level contributions, to support all sports programs, build championship-level facilities, and provide scholarships for student-athletes.
For more information about Thomas More University, visit www.thomasmore.edu.
###
About Thomas More University
For 100 years, Thomas More has created a university for the student who wants to Be More, Do More, Seek More, Win More, Achieve More, and Create More. Since its founding in 1921, Thomas More has provided a mission-driven, liberal arts education that is based in the Catholic Intellectual Tradition. Students learn to harness the power of human reason to solve problems and discover truth, which allows them to begin the journey to become the person they were created to be. Entering into the second century, it's time for More. Serving more than 2,000 students, Thomas More aspires to be the premier Catholic university in the Cincinnati/Northern Kentucky region, to build up the excellent ranking for ROI in Kentucky (#1 – 2021 MSN Money, #2 2022 Georgetown University study), and share with this generation the transformative power of the Thomas More experience. To find out more, visit thomasmore.edu.
MEDIA CONTACT: Lyna Kelley, director of communications and PR, kelleyl@thomasmore.edu, 859.344.3309