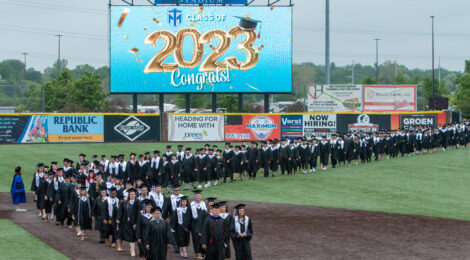 CRESTVIEW HILLS, Ky. (May 18, 2023) — Thomas More University commencement took place in a different venue this year as an outdoor ceremony was held at Thomas More Stadium, home of the Florence Y'alls and Saints baseball teams. The University honored their newest alumni as more than 330 graduates gathered in the stadium with family and friends in attendance to celebrate their achievements.
"I would like to thank our faculty for guiding and helping you to explore and to engage in your education here at Thomas More," President Joseph L. Chillo, LP.D., said to the class of 2023. "They ensure that our mission is timely and relevant because we know the value of every alumnus in fulfilling their ability to examine the ultimate meaning of life, their place in the world, and their responsibility to others." To listen to President Chillo's remarks, CLICK HERE.
All three of the University's colleges participated in one ceremony, thanks to the size of the new venue. Three hundred and eighty-three individual graduates received 389 degrees which were conferred upon 320 undergraduate and 69 graduate students. One hundred and thirty-four undergraduate students were the first in their family to achieve the goal of a higher education degree. The class includes representatives from 12 states and five countries, with five military veterans among their ranks.
Each commencement, the top graduate from the ranks of traditional students is honored with the Presidential Award for exemplifying the mission of the University and recognizing the importance of service to others, creating a positive environment on campus for students to thrive and engage more. The Presidential Award winner for 2023 is Maria Rice, a James Graham Brown scholar earning a Bachelor of Science in chemistry with a minor in mathematics. "We never could have predicted how much would change between our convocation ceremony in our first year and our commencement," Rice shared in her address to graduates. "We can leave Thomas More with more than just the knowledge that we gained in our classes; we can leave with a well-rounded set of skills from our liberal arts experiences, lifelong friends, an ever-growing community of alumni, and confidence that the graduating class of 2023 will move forward to make a world of difference in the future." To listen to the complete address, CLICK HERE.
Additional awards include the First-Generation Student Award, Dean's Graduate Award, and the Lifelong Learner Award. For 2023, Spencer Trimpe received the First-Generation Student Award for demonstrating leadership in curriculum, promoting a life of faith, and is the first person in his family to attend college. Trimpe, who delivered the ceremony's invocation (to hear the invocation, CLICK HERE) , is also a James Graham Brown scholar and earned a Bachelor of Science in biology with a concentration in ecology, and a minor in environmental science. Receiving the Dean's Graduate Award in recognition of being the top student among graduate students and exemplifying the mission of the University is Amanda Baker, who earned a Master of Arts in teaching. Adult student Deb Gafner was celebrated with the Lifelong Learning Award for epitomizing what it is to be a student in the Thomas More accelerated program. She graduated with an associate degree in business administration, with plans to continue her journey to achieve a Bachelor of Business Administration in the future.
Each of the three colleges recognized a distinguished faculty member for their unwavering dedication to student success and Catholic education. Outstanding full-time faculty member from the College of Liberal Arts and Social Sciences for 2023 is Alissa Ayres, assistant professor and director of graduate programs in education. Outstanding full-time faculty from the Robert W. Plaster College of Business is Gregory Mazza, assistant professor and department co-chair of accountancy and the St. Elizabeth College of Natural and Health Sciences recognized Shiv Sharma, Ph.D., assistant professor of chemistry as their outstanding full-time faculty member. Receiving the outstanding part-time teacher award is Pamela Caudill, adjunct professor in the College of Liberal Arts and Social Sciences.
Two honorary doctorates were awarded during the ceremony. Recipient of a Doctor of Business Administration (honorary) is Robert W. Plaster (posthumously), former member of the U.S. Treasury Department who founded the Empire Gas Corporation. Internationally renowned litigator, advocate, and author, Robert A. Bilott received a Doctor of Laws (honorary). Bilott also delivered the commencement keynote. "As graduates, I hope all of you will be open and receptive to the opportunities that will be coming your way to use this unique educational experience and your individual talents to not only succeed in your chosen field, but to help those in your community that need your assistance and skills, and to help change and improve the world around you," said Bilott to graduates. "Know that you now have the training and skills you need to tackle whatever challenge may come your way." To listen to the keynote address, CLICK HERE.
For photos and additional information about Commencement, visit www.thomasmore.edu/commencement.
###
About Thomas More University
For 100 years, Thomas More has created a university for the student who wants to Be More, Do More, Seek More, Win More, Achieve More, and Create More. Since its founding in 1921, Thomas More has provided a mission-driven, liberal arts education that is based in the Catholic Intellectual Tradition. Students learn to harness the power of human reason to solve problems and discover truth, which allows them to begin the journey to become the person they were created to be. Entering into the second century, it's time for More. Serving more than 2,000 students, Thomas More aspires to be the premier Catholic university in the Cincinnati/Northern Kentucky region, build upon its excellent return on investment (ranked #1 among private universities/colleges in Kentucky by MSN Money in 2021 and ranked #2 for long term gain in Kentucky by a 2022 Georgetown University study) and share with this generation the transformative power of the Thomas More experience. To find out more, visit thomasmore.edu.
MEDIA CONTACT: Lyna Kelley, director of communications and PR, kelleyl@thomasmore.edu, 859.344.3309