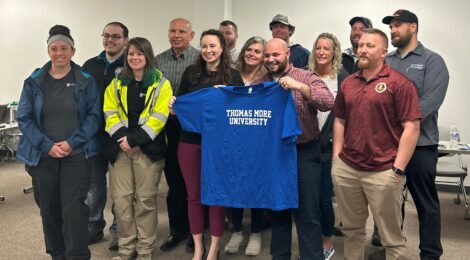 Submitted by Debby Shipp | director of co-op education & corporate engagement and Judy Crist | executive director of communications
Thomas More is guided by a goal to provide a high-quality, excellent higher education experience to its students. This includes access to faculty who have expertise in a wide variety of fields. The University does not believe its efforts should end with providing resources only to degree-seeking individuals. To serve the greater community, the University's Robert W. Plaster College of Business has introduced an avenue for professionals in the region to provide employees with access to continuing education sessions led by expert faculty members who have real-world business experience. 
One example of the success of this effort occurred in spring 2023. A collaboration with the Boone County Fiscal Court (BCFC) resulted in the creation of a professional development series to enhance the leadership skills of BCFC employees. Lori Zombek, senior director of human resources at BCFC, enlisted the aid of Debby Shipp, Thomas More's director of co-op education & corporate engagement, when she recognized the importance of continuing education and professional development for BCFS employees who, like so many in today's workforce, face constantly evolving workplace needs. Under Zombek's guidance, BCFC took proactive steps to develop employees who aspire to be future leaders.
To achieve this goal, Shipp worked with faculty to design and deliver professional development sessions that encourage innovative thinking, building a pipeline of future leaders as well as enhancing employee careers. The resulting program is called the Emerging Leaders Class and focuses on improving the skills necessary for BCFC employees to be ready for leadership roles as they become available. By providing professional development opportunities, BCFC creates an environment that can attract, engage, and retain these future leaders.
The sessions included in the Emerging Leaders Class empower employees to manage and lead their teams to meet and exceed expectations as a culture of innovation and collaboration is reinforced creating benefits for all involved. Through the partnership between Thomas More University and BCFC, employees who took this class in spring 2023 received the tools and resources necessary to enhance careers and contribute to the growth and success of the organization. Session topics included: The Four Functions of Management (with Anthony Schumacher, Ph.D.); Effective Communication Across Lines of Differences (with Caitlin Powell, Ph.D.); Supervision and Management (with Carri Jaeger, Ph.D.); Persuasive Leadership (with Choe Sergent, Ph.D.); Improving Your Emotional Intelligence (with Kris Lovett, Ed.D.); and Effective Conflict Management (with Bob Arnold, J.D., Ph.D.).
Positive testimonials from participants include: "The classes where extremely thought provoking and a unique experience. The skills taught are valuable for managers and non-managers, making the student better equipped to deal with situations at work and in their personal lives."  (Lisa H.); "I would recommend the classes to my co-workers because they teach skills that are invaluable in the workplace and make the organization stronger." (Mark M.); "There is always room for improvement not just for current policies but for me. I have several tools to reference and new books to read!" (Alexandria S.)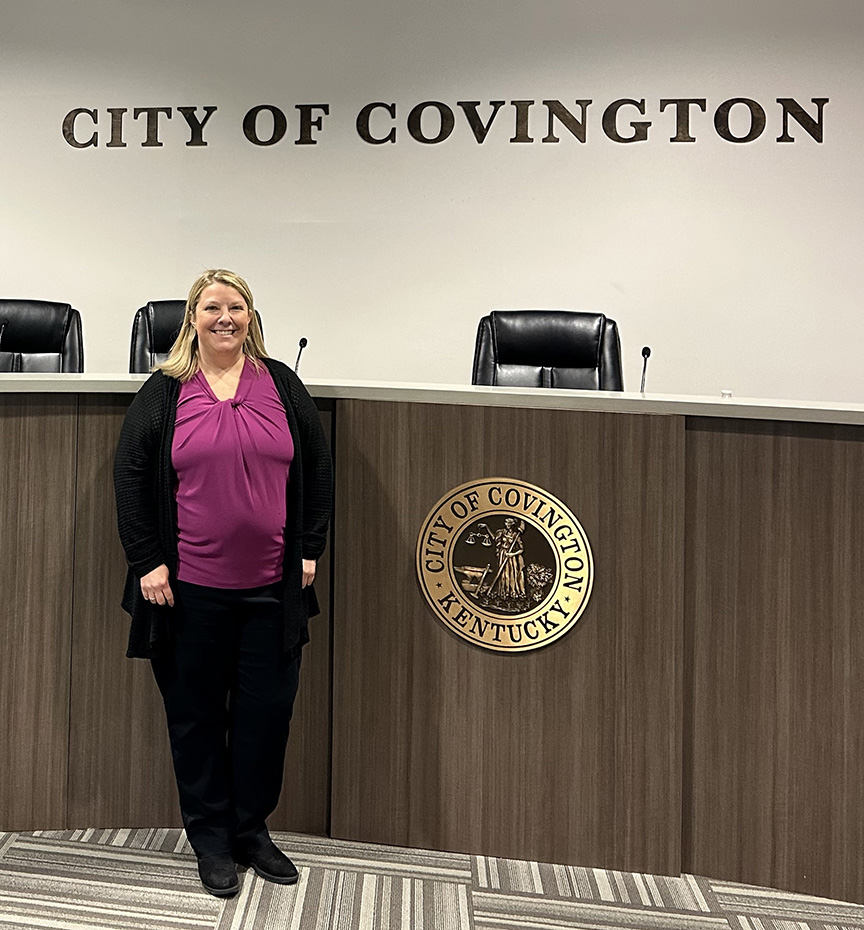 BCFC plans to offer the Emerging Leaders Class again in fall 2023 with employees already requesting to be part of the series. In addition to BCFS, both the City of Covington and Mubea (located in Florence, Ky.) have sessions taking place in spring and summer 2023. The professional development series offers 12 distinctly different subjects which have received HRCI accreditation. The subject modules can be presented individually or as a series that employers can select to fill their needs.
Creation of the professional development series and the resulting collaborations with local community partners is a testament to the University's continuing commitment to provide high-quality education and professional development opportunities to the region. If you or your organization are interested in the Emerging Leaders Class or would like to seek additional information for developing your own professional series, please contact Debby Shipp, director of co-op education & corporate engagement at shippd@thomasmore.edu.