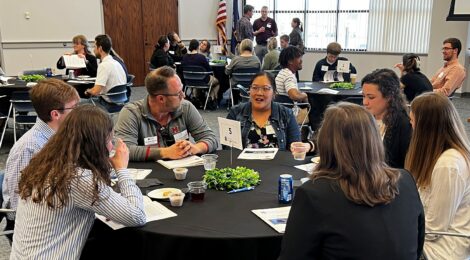 CRESTVIEW HILLS, Ky. (May 22, 2023) — The Thomas More University Department of Biological Sciences is creating connections between students, alumni, and the community with the Biology Professional, Alumni, and Career Experiences (BIO PACE) initiative. The initiative includes events throughout the year that give students the opportunity to engage with successful alumni who are active their intended career path helping to gain insight into the unique skills and experience needed for success.
A foundational roundtable event is held each spring featuring sessions that strategically match current Thomas More students with alumni that share the same general interests. This set up gives students the opportunity to create valuable connections and seek guidance from established professionals. Students are encouraged to explore "next steps" for their academic and professional journey, while alumni are afforded the opportunity to share their expertise with future generations and engage with current University programming. The 2023 spring roundtable welcomed 21 alumni who engaged with 30 current students. "The feedback we received from both alumni and students is incredibly positive and we are excited about further developing this program," says department chair Shannon Galbraith-Kent, Ph.D. She further explains, "We will work on growing the BIO PACE program into a structure that ultimately provides a way for our incredible alumni to directly engage in various mentoring role formats with our Biology students, makes additional connections with collaborating institutions and organizations for student internships and opportunities, develops an alumni advisory council for the department, and establishes a direct path for alumni to fund summer Biology student and faculty research fellowships. We are very excited about the possibilities!" 
The roundtable serves as a building block for additional BIO PACE opportunities. Thomas More has their own chapter of Tri-Beta, a national biological honors society, which inducts new members every April. Many biology students present research in April as opportunities arise with the annual Thomas More University Student Research Forum and the Tri-Beta Regional Biology Research Conference. Earth Day celebrations also make April a busy month for students of the department as they participate in the annual Thomas More University Saints Sustainability Day Celebration and the Earth Day Celebration at the Biology Field Station located in California, Ky. The Department of Biological Sciences keeps traditions alive and celebrates the end of the academic year in May with a nearly 15-year-old annual picnic to congratulate the biology senior class. Biology seniors also come together in May for the annual senior overnight trip to Natural Bridge State Park where they bond and explore the Red River Gorge geological area.
Thomas More's Department of Biological Sciences produces successful alumni in many different professions, propelled by the commitment to provide students with ample research and applied learning opportunities with 94% of all upper-level biology courses including hands-on laboratory projects. The department has an extensive network of partners and resources for students to utilize during their undergraduate career including partnerships with the Newport Aquarium, St. Elizabeth Healthcare, Cincinnati Museum Center, Wood Hudson Cancer Research Laboratory, Cincinnati Zoo & Botanical Garden, the U.S. Environmental Protection Agency (EPA), Boone County Conservation District, and more.
For more information about Thomas More University, visit www.thomasmore.edu.
###
About Thomas More University
For 100 years, Thomas More has created a university for the student who wants to Be More, Do More, Seek More, Win More, Achieve More, and Create More. Since its founding in 1921, Thomas More has provided a mission-driven, liberal arts education that is based in the Catholic Intellectual Tradition. Students learn to harness the power of human reason to solve problems and discover truth, which allows them to begin the journey to become the person they were created to be. Entering into the second century, it's time for More. Serving more than 2,000 students, Thomas More aspires to be the premier Catholic university in the Cincinnati/Northern Kentucky region, build upon its excellent return on investment (ranked #1 among private universities/colleges in Kentucky by MSN Money in 2021 and ranked #2 for long term gain in Kentucky by a 2022 Georgetown University study) and share with this generation the transformative power of the Thomas More experience. To find out more, visit thomasmore.edu.
MEDIA CONTACT: Lyna Kelley, director of communications and PR, kelleyl@thomasmore.edu, 859.344.3309