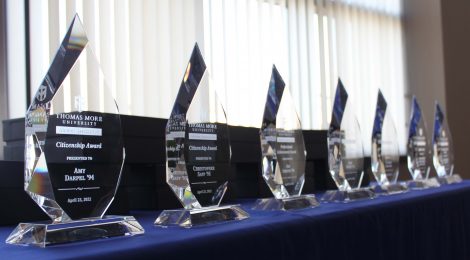 CRESTVIEW HILLS, Ky. (Aug. 25, 2023) — The Thomas More University Alumni Association announces its 2023 Alumni Awards recipients. Seven alumni are to be honored for their professional achievements and continuing commitment to living the mission of the University. "We were thrilled by a particularly large number of nominations this year," says Courtney Kleier '17, director of Alumni Engagement. "The Alumni Awards Committee had a lot of difficult decisions to make. It has been an inspiring experience to read about not only the great things that our alumni are doing, but to see how their lives have positively impacted those around them."
Awards are given in five specific categories which align with the mission of the University. The Professional Achievement award honors alumni whose career has reached a level of excellence. Linda Robinson '87 and Robert Stevens '78 will both being honored for their professional accomplishments. Two additional alumni are being honored with the Citizenship award to recognize the significant impact they have played on the welfare of their communities through service and leadership. Shannon Culp '99/'22 and Andrew Kulina '87 receive this award, both exhibiting a strong commitment to integrity, concern for justice, and service to others.
Continuing the recognition of service, the Alumni Association Service award goes to Patricia Borne '81, honoring the time, energy, and expertise she has provided and continues to provide to the University. Professor Emeritus Thomas Gilday '75 receives the Lasting Influence award for the positive and lasting impact he has made on the lives of Thomas More students. The final category, the Emerging Leader award, honors recent alumna, Caroline Trennepohl '21, in recognition of excellence in post-collegiate life and commitment to Thomas More University.
"I am so glad that we, as a University, have the opportunity to acknowledge the impact of individual Thomas More alumni who are living out our mission of contemplating their responsibility to others, the meaning of life, and their place in the world," adds Kleier. A profile and photo of each award winner can be found here: more.thomasmore.edu/alumni-news/2023-thomas-more-alumni-awards/.
As a part of Homecoming Weekend, the Alumni Awards dinner takes place in a new venue this year, being held at the Newport Aquarium on Friday, Oct. 20, 2023. Thomas More's Homecoming Weekend includes several additional events held on the Crestview Hills, Ky., campus from Oct. 19-22, 2023. Thursday sees a luncheon to celebrate the 50-year reunion of the class of 1973. On Saturday, the inaugural Morefest Saints Sampling event, a food sampler event that showcases a variety of local culinary favorites, is being held prior to the Homecoming football game. The Homecoming game kicks off at noon at Republic Bank Field, where the Saints take on the Hillsdale College Chargers. The Thomas More community can round out their weekend by attending Alumni Mass at 8 p.m. on Sunday, Oct. 22.
For more information on Thomas More University homecoming events, visit tmuky.us/alumnievents.
To RSVP for Homecoming events, visit tmuky.us/homecoming.
For more information about Thomas More University, visit www.thomasmore.edu.
###
About Thomas More University
For 100 years, Thomas More has created a university for the student who wants to Be More, Do More, Seek More, Win More, Achieve More, and Create More. Since its founding in 1921, Thomas More has provided a mission-driven, liberal arts education that is based in the Catholic Intellectual Tradition. Students learn to harness the power of human reason to solve problems and discover truth, which allows them to begin the journey to become the person they were created to be. Entering into the second century, it's time for More. Serving more than 2,000 students, Thomas More aspires to be the premier Catholic university in the Cincinnati/Northern Kentucky region, build upon its excellent return on investment (ranked #1 among private universities/colleges in Kentucky by MSN Money in 2021 and ranked #2 for long term gain in Kentucky by a 2022 Georgetown University study) and share with this generation the transformative power of the Thomas More experience. To find out more, visit thomasmore.edu.
MEDIA CONTACT: Lyna Kelley, director of communications and PR, kelleyl@thomasmore.edu, 859.344.3309