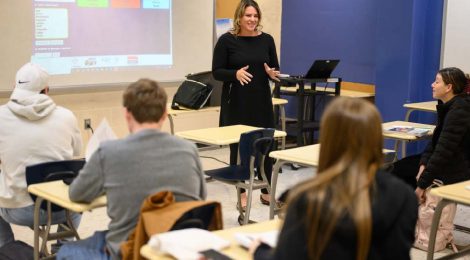 CRESTVIEW HILLS, Ky. (Aug. 29, 2023) — A truly one-of-a-kind initiative, Thomas More University's School of Education launches the commonwealth's first Dyslexia Institute. The institute supports students and the greater community through sharing resources that are intentionally designed to promote awareness and create change by highlighting the dyslexic profile. Fully understanding the impact of dyslexia enables parents, teachers, and employers to ensure dyslexic children and adults have the support needed to thrive. Programming through the institute includes assessment clinics, teacher training, direct family support, and more.
"Thomas More is the first university in the commonwealth to have a dyslexia specific resource for our students and our community," explains Kayla Steltenkamp, Ph.D., assistant professor in the School of Education. Steltenkamp is a renowned expert in the field of literacy and dyslexia and leads the new initiative. "The Thomas More University Dyslexia Institute is a preeminent source in Kentucky to disseminate the latest research, share practical resources with the community, and to transform the instruction and intervention for all dyslexic children and adults," adds Steltenkamp.
All Thomas More education graduates are trained in identifying the characteristics of dyslexia and developing targeted interventions for student success. Further, they gain real world experience as they participate in the facilitation of the Dyslexia Institute's programming. Students are also exposed to cutting-edge trends in the field as coursework directly aligns with current literacy research in, "The Science of Reading." This gives pre-service teachers a solid foundation in content knowledge and effective instruction for all students. Outside the School of Education, Thomas More University also has the Institute for Learning Differences, which offers continuous support to dyslexic college students while they are earning their degree.
"University based organizations are pivotal sources of information and support for the dyslexic community and those working with dyslexics," explains Josh Clark, president of the International Dyslexia Association. "The [Thomas More] School of Education has engaged in important work with their literacy courses and is truly on the forefront of current literacy movement. The work they are doing with the Kentucky Department of Education (KDE), International Dyslexia Association, Made by Dyslexia, and other key players will provide long-term success." The Thomas More School of Education works closely with the KDE to promote state initiatives and help make connections between state-level administrators, local practitioners, and pre-service teachers. The Dyslexia Institute collaborates directly with Kentucky schools and educators, applying knowledge gained through the institute to evaluate and develop early interventions and strategies.
The Dyslexia Institute is one aspect of a new suite of offerings from the School of Education called the Education VILLA. Transformational offerings from the Education VILLA are set to roll out in three phases, with the Dyslexia Institute being part of phase one, launching in the 2023-24 academic year. "We are going to be taking a leadership role in shaping K-12 education in the commonwealth," said University President Joseph L. Chillo, LP.D. "The vibrancy of our communities in Northern Kentucky and throughout the commonwealth require stronger schools and the most important investment that we can make is to ensure that every student has access to high-quality education and excellent teachers who care deeply about the education of children." More announcements from the Education VILLA are forthcoming.
Find more details about the Dyslexia Institute in this interview with Steltenkamp more.thomasmore.edu/academics/saints-spotlight-with-kayla-steltenkamp/.
For more information about the Education VILLA, visit www.thomasmore.edu/educationvilla/.
For more information about Thomas More University, visit www.thomasmore.edu.
###
About Thomas More University
For 100 years, Thomas More has created a university for the student who wants to Be More, Do More, Seek More, Win More, Achieve More, and Create More. Since its founding in 1921, Thomas More has provided a mission-driven, liberal arts education that is based in the Catholic Intellectual Tradition. Students learn to harness the power of human reason to solve problems and discover truth, which allows them to begin the journey to become the person they were created to be. Entering into the second century, it's time for More. Serving more than 2,000 students, Thomas More aspires to be the premier Catholic university in the Cincinnati/Northern Kentucky region, build upon its excellent return on investment (ranked #1 among private universities/colleges in Kentucky by MSN Money in 2021 and ranked #2 for long term gain in Kentucky by a 2022 Georgetown University study) and share with this generation the transformative power of the Thomas More experience. To find out more, visit thomasmore.edu.
MEDIA CONTACT: Lyna Kelley, director of communications and PR, kelleyl@thomasmore.edu, 859.344.3309