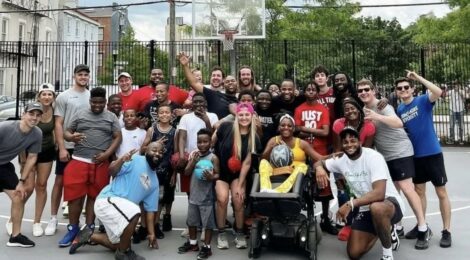 CRESTVIEW HILLS, Ky. (Nov. 17, 2022) — At Thomas More University, service to the community is a part of life that lasts well beyond a student's time on campus. The mission of the Catholic liberal arts education offered at Thomas More University is to encourage students to examine the ultimate meaning of life, their place in the world, and their responsibility to others. Service opportunities are important avenues for students to grow as individuals and to connect with their community. As students build a foundation of service and come to understand their responsibility to others, they go on to become leaders in the community, continuing to seek opportunities to help those in need.
Otis Miller III '16, is one alum who strives to serve the community. He has partnered with Cincinnati-based nonprofit, Future Ambassadors Inc. to create "Spread Love Turkey Day!" Miller helps by collecting monetary donations, which are used to purchase meals for families across greater Cincinnati who otherwise could not afford a Thanksgiving meal. These households include low-income families, single parent homes, or families who face poverty. "I am looking forward to going to the grocery store, shopping for 125 families, and watching those families pick up their food with smiles on their faces knowing that they can enjoy Thanksgiving without worrying about the burden of if they can afford it," says Miller. Miller even recruited some of his former Thomas More teammates, Joshua Hunter '17 and Amadin Imade '18, to get involved in the project.
Miller's community involvement doesn't stop with Spread Love Turkey Day!, he also uses his background in athletics to pay it forward by volunteering with Saturday Hoops. Volunteers through Saturday Hoops serve as mentors, interacting with children from elementary through high school every Saturday. They play basketball, soccer, and participate in arts and crafts activities, among other things. "These kids need us to be there to give them something fun and exciting to look forward to while also guiding them with advice as they progress to the real world," explains Miller. Miller was introduced to Saturday Hoops by fellow Thomas More alums, Christopher Nieto '15 and Brandon Lorentz '17. "My goal was to do what I can to give back to my community," says Miller. "For me it's about being present and helping people. I understand that people need help and some of the people that need the most help might not even ask for it."
Laura (Berkemeier) Gossett '06/'17 earned a theater degree during her undergraduate years at Thomas More and that degree led her to participate in similar volunteer opportunities in the region. Gossett has stayed active volunteering with community theatre groups, including Beechmont Players, Inc., Mariemont Players, Inc., The Drama Workshop, Footlighters, and Village Players of Fort Thomas. She also served on the board of Know Theatre of Cincinnati for three years.
Her drive to support the community also inspired her day job, serving as the Director of Development at Life Learning Center (LLC). At LLC, Gossett raises funds to support at risk adults experiencing the most vulnerable time of their life. Many have been incarcerated or suffer from Substance Use Disorder. LLC works with these individuals to improve their situation by teaching essential skills and assisting them to get back into the workforce. "The values imparted through my education at Thomas More directly impacted my affinity for giving back to the community," Gossett reflects. "I am very proud to be a lifelong Northern Kentuckian and take great pride in my community. I support NKY and Greater Cincinnati anyway I can."
Current students, faculty, and staff strive to continue a legacy of service. Most recently the Thomas More community served the region in fall 2022 through an initiative called Saints Serve. Established in 2021, this campus-wide, day-long event consists of community service projects which benefit over 50 organizations in the local area (Kentucky, Ohio, and Indiana). Saints Serve day will continue as an annual event in support of the University's mission. The athletics department also has a continuing relationship with Special Olympics Kentucky (SOKY). This decade-long tradition includes the sports teams spending time cheering for and bowling with Special Olympians, hosting the Regional Flag Football Tournament on campus, and participating in the Polar Plunge to raise money and awareness for SOKY.
What a joy it is to know that the time spent in service while at the University carries over to alumni commitments which make this region a truly great place to live. Thank you to Otis Miller, Laura Gossett, and to all the Thomas More alumni who make a difference in their communities by giving back of their time, talent, and treasure.
For more information about Thomas More University, visit www.thomasmore.edu.
For more information on Saturday Hoops, visit www.saturdayhoops.org.
Learn how to support Spread Love Turkey Day! at spreadloveturkeyday.org.
###
About Thomas More University
For 100 years, Thomas More has created a university for the student who wants to Be More, Do More, Seek More, Win More, Achieve More, and Create More. Since its founding in 1921, Thomas More has provided a mission-driven, liberal arts education that is based in the Catholic Intellectual Tradition. Students learn to harness the power of human reason to solve problems and discover truth, which allows them to begin the journey to become the person they were created to be. Entering into the second century, it's time for More. Serving more than 2,000 students, Thomas More aspires to be the premier Catholic university in the Cincinnati/Northern Kentucky region, build upon its excellent return on investment (ranked #1 among private universities/colleges in Kentucky by MSN Money in 2021 and ranked #2 for long term gain in Kentucky by a 2022 Georgetown University study) and share with this generation the transformative power of the Thomas More experience. To find out more, visit thomasmore.edu.
MEDIA CONTACT: Lyna Kelley, director of communications and PR, kelleyl@thomasmore.edu, 859.344.3309