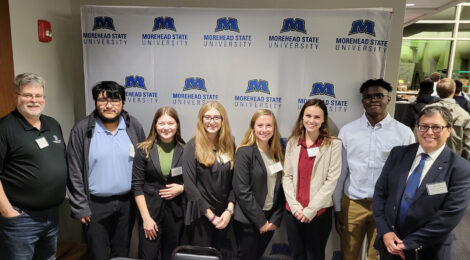 A variety of students and faculty from the Departments of Chemistry, Biological Sciences, and Mathematics represented Thomas More University's St. Elizabeth College of Natural and Health Sciences at the Kentucky Academy of Science annual meeting at Morehead State University on Friday, Nov. 11, 2022.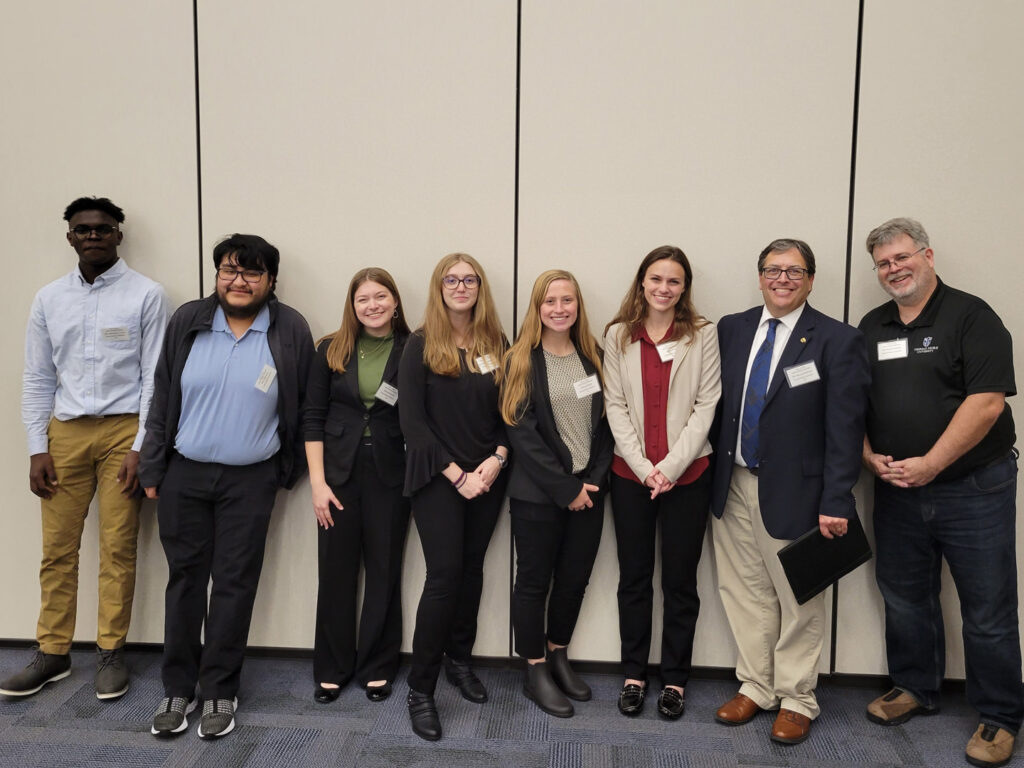 Six students from the Department of Chemistry presented the results of their research in the poster session on Friday evening. This poster session highlighted research results from each of the subject areas represented by the Kentucky Academy of Science. Topics for these poster presentations (with the presenting author indicated in bold) included:
Trace Metal Fingerprints of Periodical Cicadas Collected from Pine and Oak Trees – Madison Davis and Dr. William Wetzel
Investigation of Heat-Induced Structural Changes in Fatty Acids – Ashlei Green, Dr. Meenakshi Bansal, and Dr. William Wetzel
Seasonal Metal Variations in Ohio River Water by Inductively Coupled Plasma-Atomic Emission Spectrometry – Maria Rice and Dr. William Wetzel
Use of Carbon dots Nanoparticles in the Storage of Beta-galactosidase Enzyme – Madison Genslinger, Ashlei Green, Maria Rice, Dr. Meenakshi Bansal, and Dr. Shiv Sharma
Investigation into the Synthesis of Triazole Derivatives – Jose Ruiz and Dr. Dan Esterline
Investigation into the Synthesis of N-phenyl glycine Derivatives – Emmanuel Oloo and Dr. Dan Esterline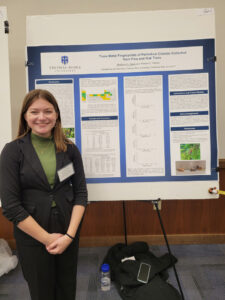 Additionally, we were pleased to hear that Madison Davis was recognized as earning the highest rating for her poster in the analytical/physical chemistry division.
Gemma Sanders, a Thomas More biology student, also presented the results of research that she performed at the University of Louisville through the selective KY-INBRE (KY IDeA Networks of Biomedical Research Excellence) program this past summer. Her poster, entitled "Investigating Best Fit Artificial Assist Device Pump in Univentricular Fontan Circulation Patients," was recognized by earning the highest rating in the engineering section.
Through her work as the Kentucky Academy of Science representative to the Kentucky Heritage Land Conservation Fund Board (a Governor-appointed position), Dr. Shannon Galbraith-Kent '98 (Department of Biological Sciences) discussed the board's role in preserving natural areas across Kentucky.
Thomas More faculty at the Kentucky Academy of Science meeting in Morehead, Kentucky. (From left to right: Dr. Jyoti Saraswat, Dr. Bill Wetzel, Dr. Shiv Sharma, Dr. Shannon Galbraith-Kent)

Dr. Shannon Galbraith-Kent '98 was the Kentucky Academy of Science representative to the Kentucky Heritage Land Conservation Fund Board.

Gemma Sanders – Gemma Sanders earned the highest rating for her poster in the engineering division. Gemma's work was entitled "Investigating Best Fit Artificial Assist Device Pump in Univentricular Fontan Circulation Patients."