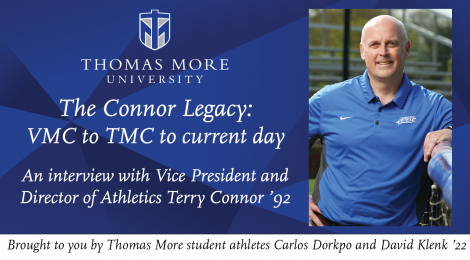 (Written interview compiled from in person and Q&A responses)
Carlos Dorkpo: We're here with Terry Connor, vice president and director of athletics for the Saints. Terry has been a member of the Saints community for the past 25 years and was a student at Thomas More and when you look at this towel (Carlos shows Terry the Connor Crazies towel), what do you think when you see it?
Terry Connor: The Connor Crazies – interesting. I think that was back from when I was coaching here, when I coached basketball and that was something the students did. We tried to create a student section with it, and it was kind of interesting. We weren't very good back then, so we didn't have too big a crowd. (laughs)
CD: Tell me a little bit more about your family's legacy at Thomas More.
TC: You know, it's been a while. My father went here when it was Villa Madonna when he came back from World War II. Then he came here in 1978 as basketball, baseball, and athletic director. My mother graduated from here the same year I did in '92. During the Great Depression, she had to drop out of high school. She got her GED and then when my father was working here, she went back and got her Bachelor of elected studies. So, that was kind of cool. I've had an older brother, Jim, who graduated from here. He's a research doctor for Alzheimer's up in the Penn State Medical Center. Had another brother graduate from here, Ed, he's a psychologist here in town. I had a sister who's a teacher graduate from here. I had another brother who went here for a little while, but then went overseas and played basketball. Then myself and I met my wife here. She went to school here, she played tennis. I met her and then both my children graduated from here. So, I've been here a minute.
CD: So, the entire Conner family really grew up here at Thomas More.
TC: Absolutely and I remember when I was little, I was working the bingos. We used to have bingo on Friday night which actually helped fund the Connor Convocation Center that's named after my father. I try and tell people it's named after me, but nobody's buying it (laughs). It's named after my father, so coming to work every day in a building named after your father is pretty cool.
CD: Tell me about how your outlook on college athletics has evolved since your time attending Thomas More.
TC: It's been a great learning process. When I was here playing at Thomas More, we were NAIA, we were NAIA for years. Right at the end of my career, we were transitioning to Division III. I took over when we were Division III and seeing the difference in those two divisions and then transitioning back to NAIA and now moving to Division II. College athletics has just taken on a whole new life with how much popularity it has, and the amount of money that's invested in it. Especially on this higher level, it is just incredible. Sometimes you look, and even in high school, the athletics in the AAU and summer programs, you think, "wow." The money that's invested is really astonishing, and that's coming from somebody who made their living off athletics. Sometimes you look and say, "we should be making sure we're making that investment in the academics as well."
CD: Of course, of course. Would you say, from your time participating and your time coaching and now even serving as a director of athletics, what would you say the differences is personally?
TC: Personally, the biggest differences is the amount of the popularity. I think it's dramatically changed over the years; how big it's grown and how some people take it. Some people take it almost as life and death, whether your team is winning. You see it, and it's different. It's different in that aspect. I always believe you go out, you work hard at whatever you're going to do, go out and compete and compete with everything you got, and everything else takes care of itself. If you do that, the wins/losses, that kind of stuff, it comes and goes. Nobody remembers that. You remember the friends you made, the things you get to do during that time. Going to the games on the bus and the talking – that kind of stuff. I think the wins and losses have taken too much of a front seat in society. I think people hold it too important.
CD: What are your thoughts on the role of athletics in higher education?
TC: This is something I did; I think you use it to work to get that degree. There's motivation to make sure that you're doing well in the classroom. A lot of people grow up loving that sport, playing that sport, so you're going to work hard to make sure you're eligible to play that sport and then the degree comes with it. Sometimes we have that backwards, we say this sport is more important than the degree and that's not the case. I think using sport to that avenue of that end result of getting that degree, is the most important thing we can look at. That's the way, hopefully, our student athletes look at it and they enjoy the journey of what they're doing to get that degree because that's what's going to define their life. You get that degree, you go on and you're successful in your life, you can support your family, and those types of things. I think we need to focus on that, and our student athletes need to focus on that journey.
CD: Tell me about what the day in the life of director of athletics looks like at Thomas More?
TC: I don't have any idea (laughs). It's fun, it's challenging. When you're at a school with not massive resources like some other places, it's a challenge every day. There's such a variety.
CD: Tell me about some of the challenges that you face.
TC: I think one of the challenges, we have 31 programs – we have one gym; we have one turf field. Jeff Hetzer, the associate AD, does a lot of the scheduling for us and that is just a challenge alone. Getting teams where they can practice and the times that they can practice – that kind of stuff. Those are some of the big challenges. The variety of things you get to deal with; you get great people to work with. That's the awesome thing about Thomas More, you've got to work with everybody on campus. We have over 800 (students) in athletics. We're kind of involved in everything with that many people. We get to work with everybody and that variety of getting to work with everybody – with student affairs and operations and all different types of things – that part to me is fun. You get to see what everybody else does and be a part of that. I think the variety and the challenges are what is fun. I don't know what you would do if you didn't have challenges. To me, that's fun to go and see what you can do. Now I'd like to have the opportunity to not have those challenges, trust me. (laughs)
CD: How's it been seeing Thomas More grow over the years, both in athletics and the academic side of things.
TC: It's been interesting. When I was here, Murphy Hall wasn't here. When I was going to school there was just Howard, Ackerman, and Marian. Watching everything on campus grow and get bigger, and the amount of student athletes and everything. It's just been neat to watch Thomas More move into what it is today. The popularity it has; we've been blessed to be very good athletically. We've always been great academically. That's the other neat part, watching the student athletes go out and guys I coached, meeting up with them and they're highly successful in their field and what they're doing. They're living all over the world and I stay in contact with several of them. That part is really neat. I think as I get older, I appreciate that part a lot more. Watching them be successful and have a family and that kind of stuff. That part to me is even better as I'm getting older. Although I'm not old, even though I've been here 25 years or whatever (both laugh).
CD: What are you looking forward to the most when it comes to joining Division II with NCAA?
TC: What makes the group you join, what makes it, is the conference. We were blessed in Division III, we were in a great conference in the Presidents Athletic Conference. We had a great run and I enjoyed the people, enjoyed the ADs, commissioners, and everybody. The Mid-South with the NAIA, same thing. There was a lot of great people in the Mid-South Conference that we got to deal with on a regular basis. Now moving to Division II in the Great Midwest, I think it's the same thing. I've been in meetings for two years with them, and just a lot of really good people. That's the most important thing when you're working with those people is: Are they good people? Is it people you can work with? That's what makes your job, your career. That's what makes it enjoyable when you get to run across people like that. Tom Daeger in the conference office at the Great Midwest is always supporting you. They're there for you when you need guidance and we need a lot of guidance, because we haven't done this before. That move, there's a lot of learning going on. I think it's going to be fun. It's going to be interesting to see where our teams end up. Everybody keeps asking me, "Well, how are they going to do?" I was like, "Well, I don't know, I didn't scout those teams." We'll see when we get there, we'll just play and see how things go.
CD: What is the most valuable lesson you've learned over your 25 years working in college athletics?
TC: The most valuable lesson. I would say to step back and take a deep breath. There's a lot of times that we get hung up on a lot of things and get really agitated. I was always one that we're going to go forward; if there's a roadblock, we're going to knock it out of the way and just keep right on moving.
CD: You were talking about the wins and losses earlier too.
TC: Exactly. I learned to step back, let's see. Usually if there's a problem, it's always somewhere in the middle. That's one of the biggest lessons I've learned. Somebody's having this problem and they're saying this; it's usually somewhere in the middle. Taking that deep breath, stepping back, giving yourself time to gather information, that kind of stuff. That and watching people enjoy the journey of what they do. I learned that a lot from my kids, my daughter played several different sports growing up, my son played basketball and baseball growing up, my daughter played down here, and my son played down here; watching them enjoy their journey of what they did – as a parent, when you take that AD hat off, and you watch them as a parent. That part, just seeing the friends they made and the interaction they got to have. Watching the student athletes, I'm focusing on that a lot more now than I used to. Watching the journey. The playing time and all that kind of stuff, at the end of the day, it's really not that important. Go out and compete, work hard at what you do and compete, and do the best you can. Then after that, go focus on your craft, get your degree and what you're going to do in life, and enjoy that part of it. I think that is probably the two biggest things that I've looked at over the years and been able to step back a little bit.
CD: Thank you for your commitment to Thomas More athletics and taking the time to sit here and answer all of our questions.
TC: I appreciate it, Carlos. Thanks for having me.