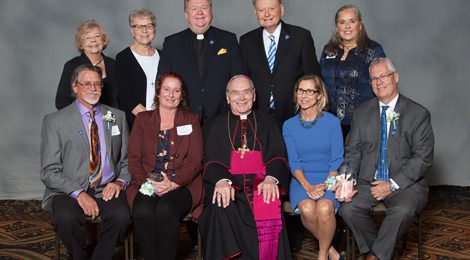 Thursday evening, Sept. 27, marked the 23rdAnnual Bishop William A. Hughes Awards Dinner held by Thomas More University at the Drees Pavilion in Covington, Ky. Two couples, Casey (Thomas), J.D. '81, and Mark Guilfoyle, J.D., and Stephanie Renaker-Jansen and Richard Jansen, were recognized as this year's awards recipients.
The Bishop William A. Hughes Award was established in 1996 to honor those who have made significant contributions to Catholic higher education. Those chosen for this award are nominated by the Awards Committee and then approved by both the president of Thomas More University and the Bishop of the Diocese of Covington, who is also the chancellor of TMU.
Mark Guilfoyle, J.D. is a partner at DBL Law. Mark chaired the Board of Catholic Charities and served on the Kentucky Council on Postsecondary Education and the NKU Foundation Board of Trustees. He has been active with the Alliance for Catholic Urban Education since 1998, currently chairing ACUE's Development Board. Casey Guilfoyle, J.D., graduated from Thomas More in 1981. Casey has chaired the board of Covington Latin School, the 2018 Diocesan Parish Annual Appeal, and has been an active volunteer with the St. Vincent de Paul Society since 2009. She currently serves as president of the Central District (Kenton County) Council. In 2013, Casey and Mark were honored with the Marcella Strategier "Angel of Hope" Award from Catholic Charities.
Stephanie Renaker-Jansen and Richard Jansen own and operate Reminiscent Herb, Farm, Nursery & Landscaping, Inc. Over the past 34 years, they have been involved in large and small scale nonprofit projects through their business. In 1998, while working on a number of financial projects with her father, Dr. George Renaker (long time northern Kentucky physician), Stephanie helped to establish The George A. & Dolores E. Renaker Charitable Foundation, Inc. and currently serves as CEO. Since its establishment, the Foundation has been a great source of support for local nonprofit entities including Thomas More University.
Below is a photo gallery from the event: