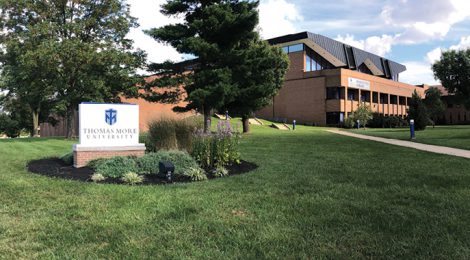 The Thomas More College Board of Trustees announced today that the College will officially become Thomas More University effective Oct. 1, 2018.  Kentucky's Council on Postsecondary Education formally granted university status to the College in July.  While full implementation of Thomas More's name change will take place over the coming 2018-2019 academic year, the College will roll out its new identity today as the College wraps up a series of events that have taken place throughout the past week to commemorate the 50thanniversary on its Crestview Hills campus.
The new university designation celebrates the evolution and success of the College, and it positions Thomas More to leverage its expanding academic offerings, including new graduate programs in ethical leadership studies and athletic training, as well as an array of online programs. The transition to university will necessitate a new organizational structure by creating three distinct colleges and one new institute: College of Arts and Sciences, College of Business, College of Education and Health Sciences, and Institute for Ethical Leadership and Interdisciplinary Studies.
The College's breadth of academic programs has been enriched by recent growth in its physical facilities.  This fall, Thomas More opens a new residence hall on its campus, a new STEM Outreach Center at its Biology Field Station on the Ohio River, and it will further expand its campus footprint with the new Center for Health Sciences (in partnership with St. Elizabeth Healthcare) and a Performing Arts Laboratory both located in Edgewood within walking distance of the campus core. The College has also witnessed significant growth in its endowment, donor contributions, co-curricular programs, and enrollment, welcoming the largest incoming class in the school's history this fall.
"This is a landmark event, and we believe it is the right time in our history to assume the university moniker," said Thomas More Acting President Kathleen Jagger. "In 2021, we will mark our centennial anniversary, and this transition to university is the first in a series of strategic moves we are making to position Thomas More for its next century of work."
Jagger notes that the new designation will enhance the school's expansion, marketing, and branding efforts as it seeks to position itself, its students, and its faculty on the global stage. Jagger explained that the term "college" in many places around the world actually refers to high schools. "Our new identity as Thomas More University should translate into greater credibility on the international stage for both our students and for those students from other countries who might want to choose an education here."
"The Board of Trustees is proud to share this momentous announcement with our community," said Marc J. Neltner, chairman of the Thomas More College Board of Trustees. "As Thomas More continues to innovate, our commitment to our students remains steadfast. Thomas More University will continue to provide the exceptional, values-based education that has given us our reputable status as a Catholic institution grounded in the liberal arts, while offering new, expanded professional and integrative academic programs."
Photos from sign unveiling: