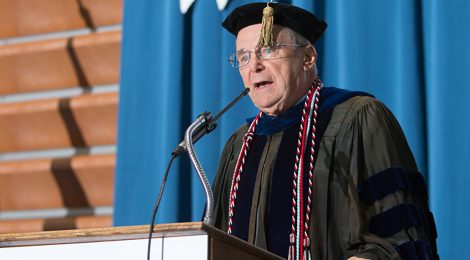 Thomas More University held its 50th Anniversary Academic Convocation on September 29 in the Connor Convocation Center. The Academic Convocation was prominent among the celebratory events surrounding the 50th anniversary of the dedication of Villa Madonna becoming Thomas More College.
The original dedication celebrated the beginning of a new era. It took place on Sept. 28, 1968, with remarks from significant college figures which included Monsignor John F. Murphy, then president of the College, Bishop Richard H. Ackerman, then chancellor, and Judith (Middendorf) Marlowe '69, Ph.D., president of the 1968 Student Council. The original event was also honored with a surprise, keynote address from President Lyndon B. Johnson.
The 2018 Convocation also marked the beginning of a new era for the institution as Thomas More transitions to a University. The Convocation was presided over by Acting President Kathleen Jagger, Ph.D., M.P.H., and included an invocation by Rev. Gerald E. Twadell, D. Phil., KHS; a welcome from Chancellor Most Reverend Roger J. Foys, D.D.; greetings from Student Government Association President Taylor Walz, Chair of Thomas More Faculty General Assembly Jerome J. Langguth, PhD., alumna and Chair-elect of the Board of Trustees Judith Marlowe '69, Ph.D., and alumnus and Chair of the Board of Trustees Marc J. Neltner '85. The event included a keynote address by Raymond G. Hebert, Ph.D., long-serving and beloved Thomas More University professor. The University also presented an honorary degree to Gary P. Zola, Ph.D., executive director of the Jacob Rader Marcus Center of the American Jewish Archives at Hebrew Union College – Jewish Institute of Religion (HUC-JIR).
Hebert presented his vision for Thomas More transitioning to Thomas More University, which included a nod to the institution's rich history, and his hope for the University's future as it overcomes the current challenges in higher education and meets the emerging needs of today's community and world, as well as looking forward to meeting the needs of future students' passions and dreams.
"Fifty years ago, in this moment, it was the President of the United States addressing his vision of Thomas More College," said Hebert. "Like him, I came from Washington, D.C. He stayed for two and a half hours, and I've stayed four and a half decades and dedicated my professional life to TMC and the northern Kentucky community."
Hebert's legacy began when he joined the Thomas More community in 1975 as a faculty member for the fall semester. Since then, Hebert has filled many roles within the College, including dean of summer session, chairperson of both history and the expanded history, international students, and political science departments, interim dean of student affairs, vice president of academic affairs/dean of the college, director of James Graham Brown Honors program, director of the Gemini program, as well as coordinator of many study abroad programs. He most recently took on the role of executive director for the TMU Institute for Religious Liberty. Alongside his duties as executive director, he currently holds positions as dean of the college emeritus and professor of history.
In 1968, Thomas More College selected Dr. Nelson Glueck, then President of HUC-JIR, to be the recipient of the new College's first honorary degree. This tradition was sustained as Gary P. Zola, Rabbi, Ph.D., was awarded the first honorary degree to be conferred as Thomas More University. Jagger said that Dr. Zola was chosen to receive the honor due to his "dedication to the principles that are the foundation of our nation" and for modeling "the ethical leadership needed to address the concerns of our time."