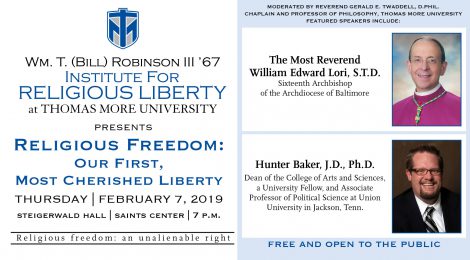 CRESTVIEW HILLS, Ky. – On Thursday, Feb. 7 at 7 p.m., the Thomas More UniversityWilliam T. Robinson III Institute for Religious Liberty (IRL) will host The Most Reverend William Edward Lori S.T.D. and Hunter Baker, J.D., Ph.D., for a lecture titled "Religious Freedom: Our First, Most Cherished Liberty."
"Religious Freedom: Our First, Most Cherished Liberty," this year's title of the annual lecture series held by the IRL, will take place on Thomas More's Crestview Hills campus in the Saints Center.
The event is free and open to the public.
The archbishop, a Louisville, Ky. native, was recognized for his role as an emerging leader on the Catholic Church's response to the sexual misconduct crisis when he was appointed to the United States Conference of Catholic Bishops Ad Hoc Committee on Sexual Abuse. He was instrumental in drafting the landmark Charter for the Protection of Children and Young People. In 2005, he was elected supreme chaplain of the Knights of Columbus, a position he continues to hold.
On Sept. 29, 2011, Archbishop Lori was appointed chair of the newly formed Ad Hoc Committee for Religious Liberty to address growing concerns over the erosion of freedom of religion in America and was installed as the sixteenth archbishop of Baltimore on May 16, 2012.
Baker serves as dean of the College of Arts and Sciences, is a university fellow, and associate professor of political science at Union University in Jackson, Tenn. His work has been endorsed by Robert P. George, Russell Moore, David Dockery, John Mark Reynolds, and others. He is the winner of the 2011 Novak Award conferred by the Acton Institute and has lectured widely on religion and liberty.
In addition to his work at Union University, Baker serves as an associate editor for the Journal of Markets and Morality and as a contributing editor for Touchstone: A Journal of Mere Christianity. He is also a research fellow of the Ethics and Religious Liberty Commission and co-founded the publication, The City, in 2008.
The William T. Robinson III Institute for Religious Liberty (IRL) serves to advance the American concept of religious freedom as an unalienable right and the protection of this right for all people. It was established in 2015 after several local businesses and educational leaders, including representatives from Hebrew Union College, discussed the need to celebrate and educate others about the constitutional privilege and right to freely worship and practice religion.
---
-PHOTOS FROM THE EVENT-