CRESTVIEW HILLS, Ky. – Want to get to know more about people within the Thomas More community? We did, too! That's why TMU is introducing the Saints Spotlights – a series that lets students, alumni, faculty, staff, and friends of the University tell us a little bit more about themselves! Up this week, TMU Women's Basketball Coach Jeff Hans.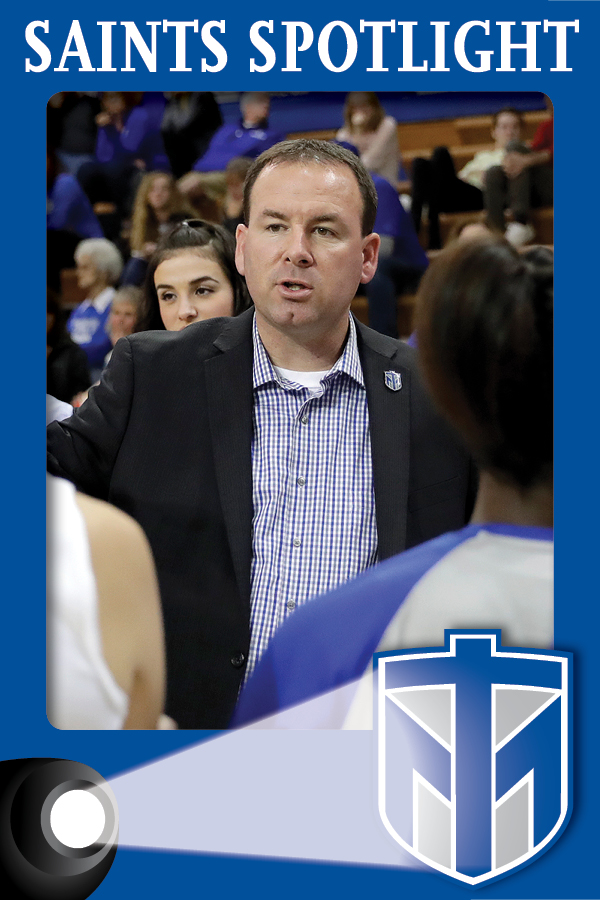 TMU: What is your background and coaching experience?
Coach Hans:  I have spent the last 20 years as a head coach or assistant coach at just about every level.  The opportunity to be an assistant at NCAA Division I, II, and III institutions really helped prepare me for the opportunity to be the head coach at Thomas More.  Those experiences allowed me to work with a variety of coaches and see how to build championship cultures.
TMU: What did the championship seasons teach you about coaching?
JH: I learned a lot from our players during the championship seasons.  It was amazing to accomplish that for our players because of all the hard work and dedication they gave to each other.  Trust is very important to a successful team, and they learned to trust each other on and off the court.  Seeing that culture come together was special.
TMU: What brings athletes to TMU?
JH: Our student-athletes come to Thomas More because they want to get a great education and have a passion to compete at a high level in the sport they love.  The small classes and attention our professors give our students help them be successful in the classroom. Athletically, the students know the coaches are going to push them to be the best player they can, but also balance their personal life.
TMU: When it comes to individual athletes and teams, how do you define success?
JH:  Of course we want to be successful with wins and losses, but there is a lot more to our profession.  I define our team's success at the end of the year and knowing that we played our best and continued to get better each day.  Also, making sure that our team positively represents Thomas More in the community.
TMU: What are some of your favorite things about coaching at TMU?
JH: The people that I get to see and work with on a daily basis.  It is great to have our students on campus and see them going to class.  Most important are the faculty and staff at Thomas More. Those relationships are what make it easy to come to work.
TMU: What do you want to do once you wrap up your coaching career?
JH: When I decide to stop coaching, I will spend time with my family and enjoy a few hobbies (golf – if I'm still able to play).  I would like to have a place on a lake!
Know a member of the TMU community that we should feature? Contact Rebecca Stratton at strattr@thomasmore.eduor Ben Petracco at petracb@thomasmore.eduto nominate someone.