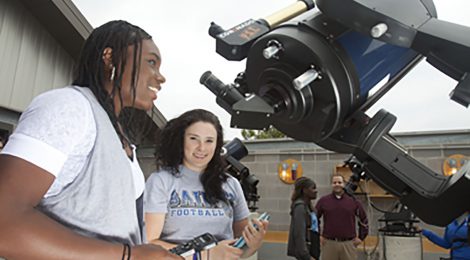 The Thomas More University BB&T Observatory was recently awarded a $62,785 grant from the NASA Kentucky Space Grant Consortium.
"This grant is a great opportunity for us to expand our research efforts at the BB&T Observatory," said Wes Ryle, Ph.D., director of BB&T Observatory.
The grant will provide out-of-this-world opportunities for Ryle and two TMU students, including a meeting of the American Astronomical Society in St. Louis in June where TMU students will present their work and a trip to NASA Ames Research Center, located near San Francisco, in order to meet with a NASA collaborator and tour the facility.
"In addition to faculty support, the grant is able to provide research stipends for a couple of our undergraduate physics majors. Being able to travel to a NASA facility and work with NASA collaborators is a phenomenal opportunity for students attending a small, liberal arts university. Hopefully, this award can serve as a jumping-off point for larger projects in the future."
Ryle has served as the TMU campus representative for NASA Kentucky for the past ten years. Thomas More is an affiliate member of the organization.
The Observatory's proposal was titled "Determination of Fundamental Parameters for Massive Eclipsing Binary Systems" and focused on binary star systems where two stars orbit one another instead of being a single star like the sun.
"If these binary systems are aligned just right, we may be able to detect an eclipse as one star passes in front of another. By monitoring the brightness of the system while the eclipse occurs, we can make predictions about the properties of the two stars, such as their mass, radius, and temperature.  These properties are very difficult to measure precisely and they are vital to theoretical models for how stars live, die, and interact with the cosmos."
The grant will run during the 2019 calendar year.
The astronomical BB&T Observatory at TMU is providing Thomas More students and the local community with a broadening glimpse into the wonders of our universe. The exciting frontiers of planets, stars, and faraway galaxies — and all the other distant wonders of the skies — are within reach of the state-of-the-art telescopes, cameras, and computers that comprise the Observatory facility.
The Observatory will be hosting open house events open to the public on Saturday, Feb. 9, Saturday, March 16, and Saturday, April 13. For more information, click here.
Media Contact: Rebecca Stratton, strattr@thomasmore.edu , 859.344.3309