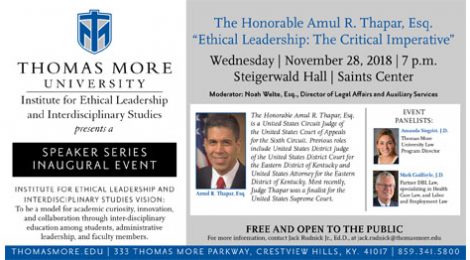 The Thomas More University Institute for Ethical Leadership and Interdisciplinary Studies will host The Honorable Amul R. Thapar, Esq. as the keynote speaker for the Institute's inaugural event on Wednesday, Nov. 28 at 7 p.m. The event will be held in the Saints Center on TMU's campus.
During the event, "Ethical Leadership: The Critical Imperative," Judge Thapar will discuss the importance of upholding moral principles, the significance of practicing good ethics in the workplace, and how these practices directly correlate to one's successes. He'll also examine the importance of fostering ethical habits in the classroom, leading students to thrive after graduation in the workplace.
The event is free and open to the public.
The Honorable Amul R. Thapar, Esq. is a United States Circuit Judge of the United States Court of Appeals for the Sixth Circuit. Previous roles include United States District Judge of the United States District Court for the Eastern District of Kentucky and United States Attorney for the Eastern District of Kentucky. Most recently, Judge Thapar was a finalist for the United States Supreme Court. He received the Daniel K. Inouye NAPABA Trailblazer Award in 2015. That same year, he also received a Green Bag award for an opinion he wrote, Wagner v. Sherwin- Williams Co. Civil No. 14-178-ART (E.D. Ky. Apr. 29, 2015). He teaches at the University of Virginia School of Law, Vanderbilt Law School, and the Northern Kentucky University Chase College of Law.
The event will include Amanda Siegrist, J.D., TMU law program director, and Mark Guilfoyle, J.D., partner at DBL Law, as panelists and will be moderated by Noah Welte, Esq., TMU director of legal affairs and auxiliary services.
The Institute for Ethical Leadership and Interdisciplinary Studies is new to the institution as a result of the university transition in October 2018. The Institute houses one of the newest and fastest growing, signature programs – Ethical Leadership – along with other interdisciplinary programs; and it fosters collaboration across academic disciplines. Ethical values and the tenets of ethical leadership establishes the foundation for all program development. Currently, the Institute houses interdisciplinary studies, such as the laws major, undergraduate, graduate, and certificate programs. The Institute offers students the ability to explore and design academic programs across multiple disciplines and provides an infrastructure for groups to collaborate, innovate, and inspire research and service development.