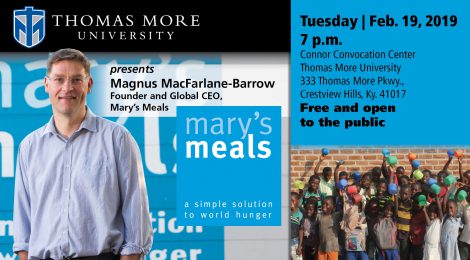 CRESTVIEW HILLS, Ky. – Thomas More University announces that Magnus MacFarlane-Barrow, founder and CEO of Mary's Meals, is to speak on campus Tuesday, Feb. 19. This event is free and open to the community and will begin at 7 p.m. in the Connor Convocation Center.
Magnus MacFarlane-Barrow is the founder and CEO of the global child hunger charity, Mary's Meals. He was named as one of TIME magazine's 100 most influential people in the world for 2015, and in 2010, he was praised as a CNN hero for his role in founding and running the organization. MacFarlane-Barrow has also met with Pope Francis on behalf of Mary's Meals and has dined with Queen Elizabeth.
The former salmon farmer from Argyll in Scotland founded Mary's Meals in Malawi in 2002 after he met a young woman called Emma who was dying from AIDS. She was sitting on the mud floor of her hut surrounded by her children. When MacFarlane-Barrow asked her 14-year-old son, Edward, what his dreams were in life, his stark reply was: "To have enough food to eat and to go to school one day." This was a key part of the inspiration that led to the Mary's Meals campaign.
Mary's Meals, which began feeding 200 children in one school in Malawi in 2002, now reaches 1,425,013 children with a daily meal in their place of education in 18 countries, including Malawi, India, Kenya, Lebanon, South Sudan, Haiti, Syria, Ethiopia, and Zimbabwe. By providing a daily meal in a place of education, Mary's Meals encourages chronically hungry children into the classroom – often for the first time – where they can gain an education that can provide a route out of poverty.
The founder will not only be speaking at the evening event open to the community, but he will engage one-on-one with students in classes during his visit.
"I am amazed at what has been accomplished in Magnus's life to date," said TMU Chairman of the Board of Trustees Marc J. Neltner. "He had a deeply religious experience as a young adult that led him to serve others through charitable work, delivering aid to Bosnian war survivors. He later began helping people in Africa, which led to providing food through Mary's Meals. I think his charitable model is ingenious."
The TMU community seeks to raise $9,500 to benefit Mary's Meals, feeding 500 children for one year. Students, faculty, and staff are also participating in book clubs, reading and discussing MacFarlane-Barrow's book, "The Shed That Fed a Million Children," which reached the UK's prestigious Times and Sunday Times bestseller list immediately after its release.
It costs just $19.50 to feed a child for a whole school year through Mary's Meals. The charity is committed to keeping its costs low and spends at least $.93 cents of every $1 donated on its charitable works.
"Mary's Meals serves an immense purpose for so little money, and all with the community's buy-in. This allows the served communities to lift themselves out of poverty. Almost anyone in the US can afford to feed at least one child every year. I have never seen a better or more efficient charitable model. We can't wait to meet him in person."
"The international mission of Mary's Meals and its founder, Magnus MacFarlane- Barrow, aligns perfectly with the mission of TMU to 'challenge students of all faiths to examine the ultimate meaning of life, their place in the world, and their responsibility to others' by feeding children globally while they are in school, in accordance with Catholic Social Church teaching: subsidiarity, solidarity, the dignity of the human person, and the universal destination of goods," said TMU Director of Campus Ministry Andrew Cole.
Find out more about Mary's Meals at www.marysmealsusa.org
For more about the event, visit thomasmore.edu.
###
Media Contact: Rebecca Stratton, strattr@thomasmore.edu