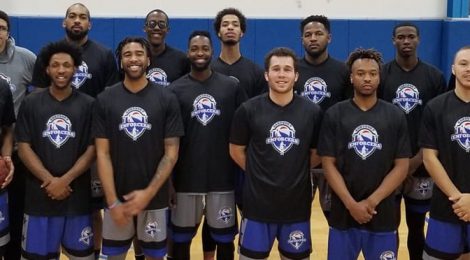 CRESTVIEW HILLS, Ky. – Thomas More University and the Kentucky Enforcers team up to announce the official 2019 home of the semi-professional basketball team's upcoming third season – TMU's Connor Convocation Center. The season will kick off on March 16.
"The Kentucky Enforcers are proud to announce the partnership with TMU," said Kentucky Enforcers Head Coach Dustin Driskell. "We are so excited to be able to call the Connor Convocation Center home and look forward to the upcoming season."
The team is making the move into Kentucky after playing their last two seasons at Cincinnati Christian University.
"The Enforcers plan to not only represent the tristate and TMU with the utmost professionalism, but we also plan to bring awareness to local organizations and activities around the community with several volunteer events like a Slam Dunks for Health on Feb. 24 at Sports of all Sorts, which is free to the public. Come support the Enforcers."
Thus far, there are seven games on the schedule for the Enforcers' third season. All games will take place on Saturdays at 7 p.m.
"We are thankful for this partnership with the Kentucky Enforcers and the opportunity to continue our efforts to support local athletics," said TMU Athletic Director Terry Connor.
Tickets will be available at the door or on the team's website at kentuckyenforcers.com. Tickets are $10 for adults, $5 for students and senior citizens, and free for children under five. Thomas More students gain free admittance with a valid student ID. Military discounts are also available.

The Kentucky Enforcers are a member of the North American Basketball League (NABL). The Enforcers began in 2016 and played two seasons in the American Basketball Association (ABA), accumulating a record 33 wins and 10 losses. The roster is comprised of 14 well-rounded players who have various levels of collegiate and international experience.
###
MEDIA CONTACT: Rebecca Stratton, strattr@thomasmore.edu, 859.344.3309