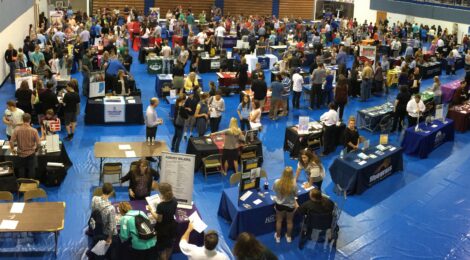 CRESTVIEW HILLS, Ky. (Sept. 29, 2022) — Northern Kentucky University and Thomas More University are partnering to host the 2022 NKY Regional College Fair on Tuesday, Oct. 11, 2022, at the Connor Convocation Center on the campus of Thomas More University.
Representatives from over 50 colleges and universities will be on site and available to answer any frequently asked questions from prospective students, their parents, and members of the community. The goal of this event is to assist high school students in northern Kentucky, Greater Cincinnati and southeast Indiana with the college search process.
At the NKY Regional College Fair, students can learn about application and admission processes, financial aid, academic programs, majors, and more. This event has attracted over 1,000 students in previous years.
What: 2022 NKY Regional College Fair, hosted by NKU and Thomas More University
When: Tuesday, Oct. 11, 2022, from 6 p.m. to 8 p.m.
Where: Connor Convocation Center, Thomas More University, 333 Thomas More Parkway, Crestview Hills, Ky. 41017
For more information on the NKY Regional College Fair, click here.
For more information about Thomas More University, visit www.thomasmore.edu.
For more information about Northern Kentucky University, visit www.nku.edu.
###
About Thomas More University
For 100 years, Thomas More has created a university for the student who wants to Be More, Do More, Seek More, Win More, Achieve More, and Create More. Since its founding in 1921, Thomas More has provided a mission-driven, liberal arts education that is based in the Catholic Intellectual Tradition. Students learn to harness the power of human reason to solve problems and discover truth, which allows them to begin the journey to become the person they were created to be. Entering into the second century, it's time for More. Serving more than 2,000 students, Thomas More aspires to be the premier Catholic university in the Cincinnati/Northern Kentucky region, to build up the excellent ranking for ROI in Kentucky (#1 – 2021 MSN Money, #2 2022 Georgetown University study), and share with this generation the transformative power of the Thomas More experience. To find out more, visitthomasmore.edu.
About NKU
Founded in 1968, NKU is an entrepreneurial state university of over 16,000 students served by more than 2,000 faculty and staff on a thriving suburban campus nestled between Highland Heights, Kentucky, and bustling downtown Cincinnati. We are a regionally engaged university committed to empowering our students to have fulfilling careers and meaningful lives. While we are one of the fastest-growing universities in Kentucky, our professors still know our students' names. For more information, visit nku.edu.
MEDIA CONTACT: Lyna Kelley, director of communications and PR, kelleyl@thomasmore.edu, 859.344.3309