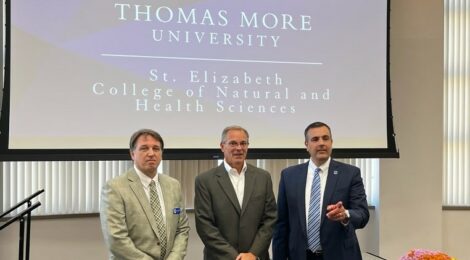 CRESTVIEW HILLS, Ky. (Sept. 30, 2022) — On Friday, Sept. 30, 2022, Thomas More University officially unveiled its first named college, the St. Elizabeth College of Natural and Health Sciences. The naming of the college is not transactional in nature, rather intended to recognize the long-standing partnership between the two diocesan institutions. "In naming the St. Elizabeth College of Natural and Health Sciences, we are solidifying the partnership of two mission-driven institutions that are committed to serving the local community," says Joseph L. Chillo, LP.D., president of Thomas More University. "This partnership continues to create innovative programs and opportunities for our students and the community. St. Elizabeth works to help make a high-quality, Catholic liberal arts education at Thomas More University a reality for some of our nursing students, while also giving them experience and opportunity for a promising career at one of the largest and best healthcare organizations in northern Kentucky and the greater Cincinnati region."
A ceremony was held to celebrate the college naming. Senior leadership from both organizations were present at the announcement ceremony held in the University's Saints Center. The event saw remarks from President Chillo, Joe Christensen, Ph.D., dean of the St. Elizabeth College of Natural and Health Sciences, and Garren Colvin '86, president and chief executive officer of St. Elizabeth Healthcare.
"On behalf of our St. Elizabeth associates – past, present and future – we are honored by this recognition. At St. Elizabeth Healthcare, we believe that our community, the region, the Commonwealth, and the nation should have access to world-class care throughout every stage of life. Education is critical to making this a reality, and we are dedicated to advancing the educational support and experiences that will prepare students for the healthcare fields and paths that they will take after graduation," shares Garren Colvin, President and CEO of St. Elizabeth Healthcare.
St. Elizabeth Healthcare currently offers Thomas More nursing students financial support of up to $5,000 per year for four years with guaranteed employment at the hospital for those who agree to a two-year work commitment after graduation. St. Elizabeth also filled entire cohorts of Thomas More's Registered Nurse (RN) to Bachelor of Science in Nursing (BSN) accelerated program with working nurses who sought to grow their professional skills and expand their credentials. "St. Elizabeth Healthcare has always allowed us access to clinicals at all hospitals," says Lisa Spangler, Ph.D., department chair of the Thomas More University School of Nursing. "St. Elizabeth hires student nurses to work as Patient Care Assistants (PCAs), transporters, etc. With every graduating class, 50-70% of our graduates go to work at St. Elizabeth."
For more information about Thomas More University, visit www.thomasmore.edu.
For more information about St. Elizabeth Healthcare, visit www.stelizabeth.com.
###
About Thomas More University
For 100 years, Thomas More has created a university for the student who wants to Be More, Do More, Seek More, Win More, Achieve More, and Create More. Since its founding in 1921, Thomas More has provided a mission-driven, liberal arts education that is based in the Catholic Intellectual Tradition. Students learn to harness the power of human reason to solve problems and discover truth, which allows them to begin the journey to become the person they were created to be. Entering into the second century, it's time for More. Serving more than 2,000 students, Thomas More aspires to be the premier Catholic university in the Cincinnati/Northern Kentucky region, to build up the excellent ranking for ROI in Kentucky (#1 – 2021 MSN Money, #2 2022 Georgetown University study), and share with this generation the transformative power of the Thomas More experience. To find out more, visitthomasmore.edu.
About St. Elizabeth Healthcare
St. Elizabeth Healthcare operates six facilities and more than 172 primary care and specialty practices throughout the Northern Kentucky, Southeastern Indiana and Greater Cincinnati region. Sponsored by the Diocese of Covington and a member of the Mayo Clinic Care Network, St. Elizabeth is a mission-based organization committed to improving the health of the communities it serves, providing more than $108 million in uncompensated care and benefit to the community each year.
MEDIA CONTACT: Lyna Kelley, director of communications and PR, kelleyl@thomasmore.edu, 859.344.3309