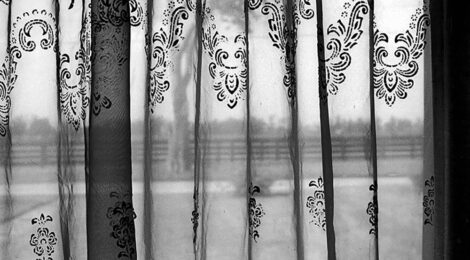 CRESTVIEW HILLS, Ky. (Sept. 27, 2022) — Thomas More University is set to host The HomePlace by photographer Sarah Hoskins as part of the 2022 FotoFocus Biennal. FotoFocus, a Cincinnati-based nonprofit organization created to celebrate and champion photography, returns for its sixth and largest Biennial to date, encompassing more than 100 projects in a month-long celebration of photography and lens-based art at participating venues across Northern Kentucky, Greater Cincinnati, and Dayton and Columbus, Ohio. The event features more than 600 artists, curators, and participants—the largest of its kind in America.
"Now, even into our sixth Bienniel with FotoFocus, it always amazes me the quality of exhibitions that we can bring to our campus thanks to the support we receive from FotoFocus," says Elizabeth Neal, associate professor and director of Thomas More's Eva G. Farris Art Gallery. "I am excited that our community has this amazing opportunity and hope our students, faculty, and staff have a chance to attend the gallery talk and opening reception to meet this amazing photographer."
Thomas More's 2022 FotoFocus Biennial exhibit features The HomePlace by Lexington-based photographer Sarah Hoskins. The HomePlace is an ongoing series of gelatin silver prints documenting "homeplaces," that originated from African American settlements that sprang up around horse farms in Kentucky's Inner Bluegrass Region. These villages, or hamlets, were originally inhabited by freed slaves who were needed to work on the area farms. Today, many of the residents are descendants of the free men and women who founded them. Hoskins writes, "The Homeplace is comfort. The place you can go back to no matter how many years have passed. It will always hold something familiar, something safe and will always welcome you back no matter how long or why you have been away."
The exhibit runs from Oct. 13-Nov. 3, 2022, in the Eva G. Farris Art Gallery which is located in the Benedictine Library on Thomas More University's Crestview Hills, Ky., campus. There is an artist's lecture on Oct.13 at 3 p.m., followed by the formal gallery opening with reception and an opportunity to meet Hoskins from 4-7 p.m. that evening. The exhibit is part of Northern Kentucky feature week by Fotofocus and also runs in conjunction with Homecoming programming at the University. In addition to the gallery exhibit opening reception, Thomas More hosts a Bourbon Tasting at the Boone County Distilling Co. in Florence, Ky, on Thursday evening. Friday, Oct. 14, features a 50th anniversary luncheon for the class of 1972, and the Athletic Hall of Fame Induction ceremony in the evening. Homecoming events run through Saturday with an alumni tent party beginning at 11 a.m. and football kicking off at 1:30 p.m. as the Saints take on Cumberland University in Griffin Plaza.
For more information on FotoFocus, visit https://www.fotofocus.org/.
For more information on this exhibit, visit https://www.photographypreservation.org/sarah-hoskins.
For more information about Thomas More Homecoming events, visit: https://www.thomasmore.edu/info-for/alumni/upcoming-events/
For more information about Thomas More University, visit www.thomasmore.edu.
###
About Thomas More University
For 100 years, Thomas More has created a university for the student who wants to Be More, Do More, Seek More, Win More, Achieve More, and Create More. Since its founding in 1921, Thomas More has provided a mission-driven, liberal arts education that is based in the Catholic Intellectual Tradition. Students learn to harness the power of human reason to solve problems and discover truth, which allows them to begin the journey to become the person they were created to be. Entering into the second century, it's time for More. Serving more than 2,000 students, Thomas More aspires to be the premier Catholic university in the Cincinnati/Northern Kentucky region, build upon its excellent return on investment (ranked #1 among private universities/colleges in Kentucky by MSN Money in 2021 and ranked #2 for long term gain in Kentucky by a 2022 Georgetown University study) and share with this generation the transformative power of the Thomas More experience. To find out more, visit thomasmore.edu.
MEDIA CONTACT: Lyna Kelley, director of communications and PR, kelleyl@thomasmore.edu, 859.344.3309