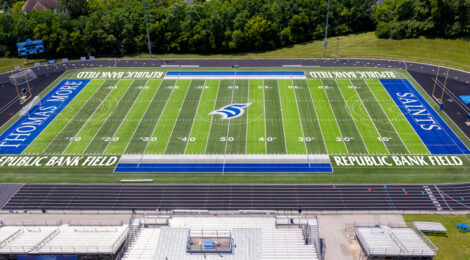 CRESTVIEW HILLS, Ky. (Oct. 12, 2021) — On Oct. 16, 2021, during the Saints 1:30 p.m. Homecoming football game, Thomas More University announces that the turf athletic field adjacent to Griffin Plaza will now be named Republic Bank Field, in recognition of an investment from Republic Bank & Trust Company and the Republic Bank Foundation to support the University's Second Century Campaign: It's Time for More.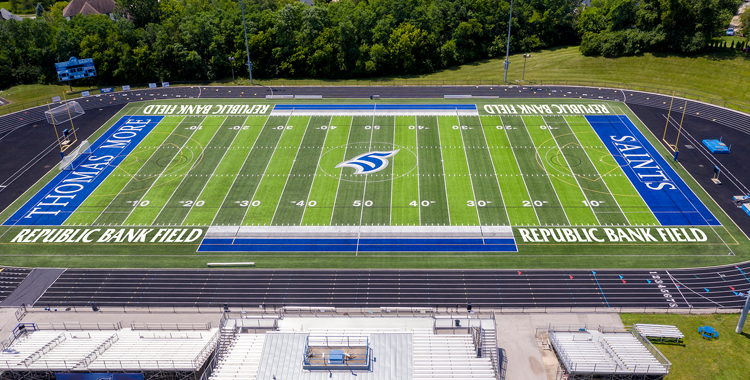 "We are grateful for our partnership with Republic Bank and for the generosity of the Republic Bank Foundation. Their generous investment in our students is emblematic of the bank's strong commitment to leadership, service, and education in the greater Cincinnati region," says Thomas More President Joseph L. Chillo, LP.D. Republic Bank Field is home to seven of the University's 28 intercollegiate athletic programs including football, men's and women's soccer, men's and women's lacrosse, men's and women's track & field, and rugby. 
Learn more about Thomas More Athletics
Republic Bank has been the official bank of Thomas More University since 2016. The bank also sponsors the University's Institute for Career Development and Graduate School Planning, a signature program within the Thomas More Success Center. "As we have launched the most ambitious fundraising campaign in University history, it is an incredible feeling to know that we have such strong philanthropic support from one of our most trusted partners in Republic Bank," says Vice President for Institutional Advancement Kevin Reynolds, Ed.D.
"We are proud to continue to partner with Thomas More University with their long history of academic and athletic excellence," says Tom Saelinger, Market President for Northern Kentucky and Ohio for Republic Bank. Jason Payne, Managing Director of the Northern Kentucky Market for Republic Bank, and a 2015 graduate of the Thomas More Master of Business Administration program adds, "We couldn't be more excited to be affiliated with the Saints athletic program as they step into the next chapter. Republic Bank Field is a signature opportunity for us to support Thomas More!"
###
Thomas More University provides students with something much more than job training. Graduates are prepared for any career. But they leave prepared for much more.They are exposed to the very best thought, literature, art, and music. They learn to harness the power of human reason to solve problems and discover truth. Most importantly, they have the chance to begin to become the person they were created to be. This is the power of the liberal arts in the Catholic Intellectual Tradition at Thomas More University. Our students come here looking for more. And that's exactly what we offer. Here our students take that opportunity and…Make It More. Learn more at thomasmore.edu.
About Republic Bank: Republic Bancorp, Inc. ("Republic") is the parent company of Republic Bank. Republic Bank currently has 42 full-service banking centers throughout five states: twenty-eight banking centers in eight Kentucky communities – Covington, Crestview Hills, Florence, Georgetown, Lexington, Louisville, Shelbyville, and Shepherdsville; three banking centers in southern Indiana – Floyds Knobs, Jeffersonville, and New Albany; seven banking centers in six Florida communities (Tampa MSA) – Largo, New Port Richey, St. Petersburg, Seminole, Tampa, and Temple Terrace; two banking centers in two Tennessee communities (Nashville MSA) – Cool Springs and Green Hills; and two banking centers in two Ohio communities (Cincinnati MSA) – Norwood and West Chester. Republic Bank offers internet banking at www.republicbank.com. The Company has $6.2 billion in assets and is headquartered in Louisville, Kentucky. The Company's Class A Common Stock is listed under the symbol "RBCAA" on the NASDAQ Global Select Market.
###
MEDIA CONTACT: Lyna Kelley director of communications and PR, kelleyl@thomasmore.edu, 859.344.3309