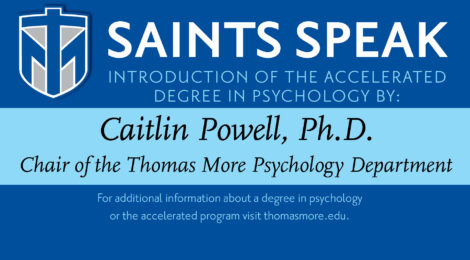 Submitted by Caitlin Powell, Ph.D., Chair of the Thomas More Psychology Department
The Thomas More University Psychology Department recently added a fully online accelerated program to their offerings. This program is designed for adult learners who would like to complete a degree and provides community members with an opportunity to experience a high quality accredited online program. Students can transfer up to 90 credit hours, and the program is designed to meet students where they are to quickly finish their degree. A degree in psychology is incredibly flexible and can open many doors – after all, psychology is the study of the human mind, thought, and behavior. No matter what field you are interested in or what career path you choose to walk, a firm understanding of how people think, how they learn, what motivates them, and how to manage stress is critical. Additionally, a degree in psychology provides a foundation in research methods and data analysis – crucial skills for evaluating the veracity of content in our increasingly digital age. Graduates of Thomas More's psychology program have gone on to careers in social work, counseling, law enforcement, medicine, market research, and human resources, just to name a few.
Department Chair Caitlin Powell, Ph.D., weighed in on what makes this program stand out, "Students can sometimes get lost in online programs, especially at bigger institutions. This program focuses on our department's strengths – small classes, one-on-one mentoring, strong local connections with area graduate schools and employers, and a firm foundation in Catholic Liberal Arts."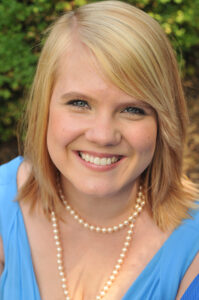 As a part of the program initiative, the Psychology Department was excited to hire former alumna Lauren Kleitz '12 to join the faculty. Lauren is an expert in online education, has advanced degrees in psychology and customer analytics, and consults regularly with online programs to improve their outcomes. As a representative of Thomas More, Lauren will be attending the EDUCAUSE Showcase, an educational technology conference that provides information on the latest tools and resources available for teaching through the use of IT.
According to Dr. Powell, "Lauren is a real asset to our department – we're so pleased she can bring her expertise to bear as we launch this new program. Her background, both as an alumna and as a specialist in online education, makes her an excellent fit to ensure we offer a program that represents the spirit of Thomas More."
Lauren says, "As an alumna of the program, joining the Psychology Department at Thomas More feels like a homecoming for me. I am honored and humbled to teach alongside the men and women who inspired my passion for the field and, I say this with all sincerity, made me the psychologist, instructor, and person that I am today. I only hope that I can carry on the department's legacy of excellence in research and instruction that develops the whole student: mind, body, and spirit."
Since our founding as Villa Madonna College 100 years ago, Thomas More has been committed to ensuring that all people had the ability to receive a college education on their terms. Many of the first students took classes part-time or in the summer. The Digital Graduate and Professional (DGP) program is the modern translation of this work to increase affordable access to high-quality education in line with our mission as a Catholic Liberal Arts institution, and this new undergraduate degree in psychology adds a versatile option to students.
The psychology DGP students will gain many benefits in being at Thomas More; they will be mentored by the faculty in the department, will be eligible for departmental scholarships, will have opportunities to present their research at regional conferences, and will be able to take advantage of the professional development resources through the Republic Bank Institute for Career Development and Graduate School Planning (ICG). Thomas More students leave the psychology program with a high placement rate in graduate programs, as well as a high rate of employment; last year, a majority of graduating seniors were accepted into graduate school and doctorate programs.
In addition to a new fully online DGP program, the Thomas More Psychology Department is working on innovative teaching solutions in Open Education Resources (OER) to provide low-cost textbooks and software to students; a recent pilot program in general psychology has proven to be successful, and future semesters will see additional courses in the program adopting OER resources.
As Thomas More celebrates its centennial, the Thomas More Psychology Department is looking ahead to the future of higher education, and the next 100 years!
________________________________________________________________________
To receive information on the accelerated degree in psychology or to sign up to begin classes on Jan. 10, 2022, CLICK HERE.
________________________________________________________________________
For additional information on the use of Open Education Resources at Thomas More, CLICK HERE for an article by professor Maria C. Garriga, Ph.D.