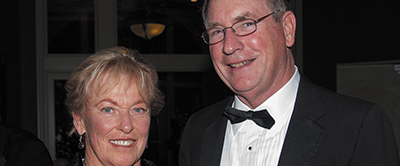 "We believe that supporting education is important for a variety of reasons. We've been successful due to the solid foundation we've been given from our Thomas More College education, and we want to give the same opportunity to others. We enjoy the sense of connection we feel to Thomas More College through giving, and we are consistently reminded that our gift is making a difference in the lives of students. Each year as students graduate, we like to think that we helped them along their journey. 
 "We have both been active in the life of the College since graduation, including a variety of alumni and development activities such as being members of the Monsignor Murphy Legacy Society. Ted has served on the Board of Trustees and as its Chair and has received the Bishop Hughes Award. We believe in the College's mission and its ability to transform lives. 
"Thomas More College also holds a special place in our hearts because we met there and will soon celebrate our Golden Wedding Anniversary!
"The opportunities for today's students have increased due to all of the College's new initiatives, which makes it all the more important for supporters to commit to the College's future."
– Marlene (Geiman) Robinson '65 and Ted Robinson '63