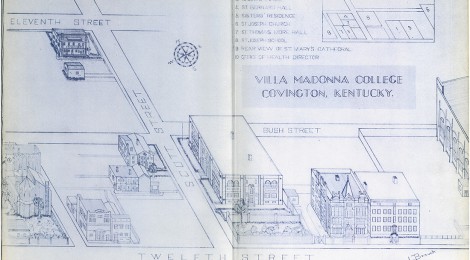 Thomas More College is an institution rich with history. From the years 1921–1968, the College, known then as Villa Madonna College, built the foundation for what is now TMC. In this inaugural column, Moreover talked with Tom and Joyce Ginney, who graduated from VMC in 1952 and 1954 respectively and later became sweethearts.
Living close by in Edgewood, Ky., they remain connected to Thomas More College by volunteering in Institutional Advancement and attending campus events. Their daughter Monica is the Director of Alumni Relations and is also an alumna. Four of their children attended Thomas More College. Ties to VMC/TMC run deep on both sides of their family.
Tom and Joyce shared happy memories about their time on the College's Covington campus. Tom graduated with a bachelor's degree in history, and Joyce graduated with a bachelor's degree in English and secondary education. They shared memories of their favorite professors: Sr. Agnes Margaret, Sr. Camille (who was "difficult but good"), Fr. Deye (an "excellent history teacher"), and Sr. Mary Albert. They commented, "We had some of the best teachers ever." Villa Madonna College had the highest percentage of faculty with terminal degrees of any college/university in the region at the time; all of the sisters had Ph.D.s.
When Tom and Joyce were students, tuition was $75 per semester. They noted that students were expected to perform and maintain a high grade point average. If a student's grades started to slip, "(The professors) watched out for us," said Joyce.
Tom and Joyce gave a breezy glimpse into 1950's campus life. Covington was very safe, and campus buildings were close together. Most students came to school by bus, but some had cars. "It wasn't a far walk from place to place," Joyce explained. They reminisced about the buildings where they studied: Bernard Hall, Aquinas Hall, Cabrini Hall, and Thomas More Hall (on top of the old firehouse), to name a few. One of the buildings featured an inviting back porch, resulting in the creation of the "Back Porch Sitting Society." At any point in time, eight to ten students would gather daily to discuss politics and solve the world's problems.
There were no residence halls; students were expected to locate their own accommodations if they did not live in the area. Friends who visited campus from Xavier or UC were jealous that the VMC students had four bars within a two-block radius, including "Bob's Bar" (before it became the bookstore) and "Reckers." Tom and other students helped create a cafeteria on the second floor of a campus building in the early '50s and so gained a reprieve from grabbing meals in the neighborhood bars.
Social life played a big role in the college experience, with the majority of students belonging to the sorority or fraternity. Each class took turns hosting monthly dances, including the Thanksgiving Ball and Spring Prom. Intercollegiate athletics for the College were temporarily halted at the start of the Korean War with the institution of the armed forces draft. Yet despite the numerous social opportunities, students in the '50s took their studies seriously, just as students do today.
Click here to view a video segment of the Ginney's interview.