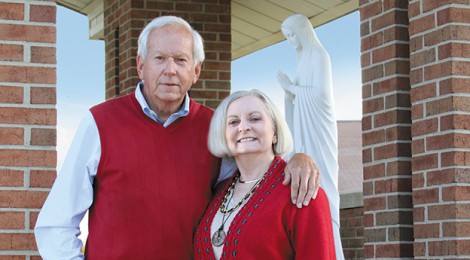 TMC has fostered many relationships–and romances–through the years. For Rita (Hurm) and Jerry Bahlmann, theirs began before classes even started, while in line registering for the fall semester their freshman year at Villa Madonna College. Rita recalled that day: "We met in line at registration, then we walked to our homes from 12th Street in Covington to Fort Thomas, talking all the way. And we've been talking ever since."
Rita and Jerry were married at St. Thomas Church in Fort Thomas, Ky., on Sept. 5, 1964. They currently live in Columbus, Ohio, where they raised their two children, Ellen and Mark. (Ellen and her husband, Jim Noonan, have four children and Mark and his wife, Jill, have one daughter.)
Their life journey together has taken them a long way from 12th Street in Covington, but they haven't strayed from the values and life lessons they learned as students at VMC. Both Rita and Jerry look back on those days with endearment, describing their time in college as "character-forming." Their classes were challenging, their teachers inspiring, and the work ethic instilled in them by their parents prepared them for managing their time and their goals. "We never doubted that we had to do the work. This was instilled in us by our parents; that is just what you had to do, so you did it," Rita explained. While they both enjoyed socializing with new friends and developing their courtship, they valued the opportunity to learn. "We spent a lot of time in the library," said Rita, who was on academic scholarship the last three years at VMC. Both of them worked in addition to going to classes, studying, and participating in activities. The Bahlmanns came away from their college experience not only with hard-earned degrees and each other, but with long-lasting friendships with classmates with whom they've enjoyed connecting throughout the years. In addition, they perfected their card game. "We still play bridge, a skill we honed at the Student Union on breaks between classes," Rita said.
Rita was born and raised in Newport, Ky., moving to Fort Thomas when she was 16. Her family was committed to providing their children with a Catholic education. "My parents wouldn't think of sending me anywhere other than Villa Madonna," she said. Jerry was born in Buffalo, N.Y., but his family moved to northern Kentucky when he was very young. During his junior year at VMC, money was tight, so Jerry withdrew from classes and took a job teaching eighth grade students at St. Dominic School in Delhi, Ohio. He took classes at VMC at night and during the summer and was able to rejoin his classmates during his senior year, graduating on time with his college sweetheart.
Rita also dipped her feet into the teaching profession as a senior when she taught German at Covington Catholic High School. She laughingly recalled that time, painting the image of a young female college student trying to teach a class of high school senior boys how to speak another language. "That was an experience-and-a-half," Rita said. Although it ended any thoughts of a career in teaching, Rita said the German language stuck with her, and she credits her instructors for encouraging her with the opportunity. "Fifty-one years later I'm still singing in a German choir," Rita proclaimed. She was also active in chorus at VMC. "My 44 years singing with The Columbus Damenchor has given me the opportunity to participate in two concert tours in Germany, Austria, and Slovakia, as well as many cities in the United States," she added.
In addition to singing and studying, Rita was a cheerleader for the basketball team all four years at VMC and a member of  Alpha Lambda Mu sorority. Graduating with a Bachelor of Art in English, she put her writing skills to good use at Procter and Gamble as a technical writer in the Consumer Services Department. After her children left for college, she served as office manager for a retina surgeon and retired from that position in 2001.
Jerry earned a Bachelor's Degree in Philosophy from VMC and a law degree from Northern Kentucky University's Chase College of Law. He was hired by the Ohio State Bar Association and eventually led the Ohio Ethics Commission as director. He landed at Battelle Memorial Institute in Columbus, Ohio, where incredible advances in technology were being developed, including bar code scanning capabilities and the photo copying process. The organization employed 22,000 people at the time and was buzzing with energy surrounding new discoveries in technology and science. "It was an exciting time to be at Battelle," he said, recalling the company's negotiations with licensing the photocopy technology to a little, under-the-radar company that later changed its name to Xerox. He explained that its new name, that began and ended with the same consonant, was simply poking fun at Kodak, the company that originally turned down the photocopy licensing.
At Battelle, Jerry gained significant experience in the legal issues faced by technology- and science-based industries, corporate governance issues, and legal issues facing nonprofit entities. He served as senior vice president, general counsel, secretary, and co-director of Battelle's European Operations, during which time he lived in Geneva, Switzerland. "That was a great experience for me," Jerry said. During his time at Battelle, he also completed an advanced management program at Harvard Business School, which allowed him not only to advance his career but also to spend time with their son who was attending Babson College near Boston at the time.
After retiring from Battelle, he accepted a position serving as an attorney with Porter, Wright, Morris & Arthur law firm in the Corporate Department. There he now enjoys a more flexible schedule and is able to devote time to additional interests, including motorcycle trips and serving on the Board of Trustees for Thomas More College. "I spent 16 years on the Board of Trustees at Capital University in Columbus, so I thought that experience might be helpful in my role at Thomas More."  Jerry bought his first motorcycle (a Harley Davidson) at the age of 65 and has taken several long trips, including a 4,300-mile journey from Columbus to Colorado and New Mexico, all the while staying true to his promise to drive only on back roads, eat in non-franchise restaurants, and stay in bed-and-breakfast establishments along the way.
The Bahlmanns' journey is certainly inspiring. They've enjoyed exciting opportunities to make an impact on others in Columbus, within the TMC community, and beyond. As college students just starting to carve a path for themselves, they meandered through the challenges of affording a quality education. Achieving their academic goals and developing a drive to succeed were fueled by the courage inspired in them by others, in addition to the self-motivation to work hard. They later impressed upon their own children the same values they were raised with and developed as young adults at VMC. "We've asked each other many times if either of us ever thought we would be where we are today. But we've learned that if you work hard, things come along your way," Rita said. "There's serendipity in life, for sure, but it presents itself to you in a variety of ways. You're the one who has to make the decisions," she elaborated.
While the Bahlmanns graduated with the ambition to find "their place" in the world, they still maintained a sense of taking pride in what they did and in working hard for it. They also held true to what they referred to as a "responsibility to give back." Since graduating, Rita said they've never missed a year of giving to the college's annual fund. "Even if it was only $25 back then, we gave it. We've always felt a connection to the College, and we feel we have a responsibility for giving back to its annual fund," she explained. The Bahlmanns have taken that responsibility a little further in recent years. They successfully spearheaded their class' effort to raise $63,000 in 2013, calling upon classmates to jointly contribute that much in honor of the year they graduated.
Their Advice to TMC Students
When asked what they might advise TMC students to focus on to succeed, Rita was encouraging: "It's more of an individual undertaking than anything. You have to have the courage to keep going. You get that courage from others, whether its teachers at the elementary level or in college." She emphasized that young adults should pick out the people they know along the way who offer support and encouragement and "keep those tiny pieces together" to serve as inspiration.
"I would say that 99 percent of young people don't have a clear cut path. The future is just never that clear," Jerry said. "You've got to have confidence in your own ability. You also need to study the people who have plowed the ground before you."