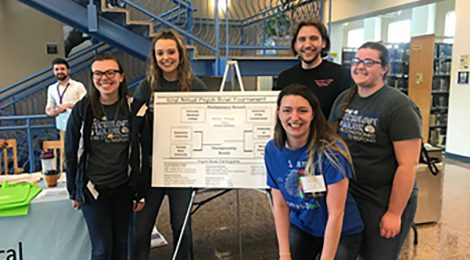 CRESTVIEW HILLS, Ky. (April  17, 2019)—On March 30, Thomas More University psychology students won the Kentucky Psychological Association (KPA) State Championship, which was held at Asbury University in Wilmore, Kentucky. This year's win marks TMU's fourth Psych Bowl state championship.
The KPA sponsors The Psych Bowl each year at the Annual Spring Academic Conference. The conference offers a one-of-a-kind experience for graduate and undergraduate students to present their research in peer-judged competitions, attend workshops, develop real-world skills, and network with fellow students in all areas of Kentucky.
The Psych Bowl is a Jeopardy-style psychology competition. This year's conference, "Why Psychology," featured psychology's unique approach to the social sciences. The conference also aimed to distinguish psychological services from other approaches in mental health treatments.
Each year, up to 10 Kentucky colleges and universities compete. This year the students participating from TMU were Abigail Albrinck, Austin Knox, Karlyn McCoy, Natalie Meader, and Alyssa Miller.
"I could not be prouder of my team for all the hard work I know that they had put into this competition," said Alyssa Miller, TMU student. "This win truly does represent the strength and dedication of the faculty members and students who are a part of the psychology department here at Thomas More University."
The competition began in 1987. Thomas More won the competition in 1996, 1998, 2011, and 2019. The team also won second place in the competition 10 times since 2000.
"Thomas More's Psychology Bowl team demonstrated enthusiasm, grace under pressure, and a truly impressive grounding in psychological theories and principles during their competition," said Caitlin Powell, Ph.D., psychology professor. "Their positive attitudes, teamwork, and camaraderie made the experience enjoyable, and their amount of preparation was evident in their resounding victory against the second-place finisher, University of Louisville."
Thomas More University is the Catholic liberal arts university of the Diocese of Covington, Kentucky. At TMU, we challenge students of all faiths to examine the ultimate meaning of life, their place in the world, and their responsibility to others. Through our integrated and traditional undergraduate, graduate, and certificate programs, we are inspiring innovation for a better tomorrow. Learn more at thomasmore.edu.
###