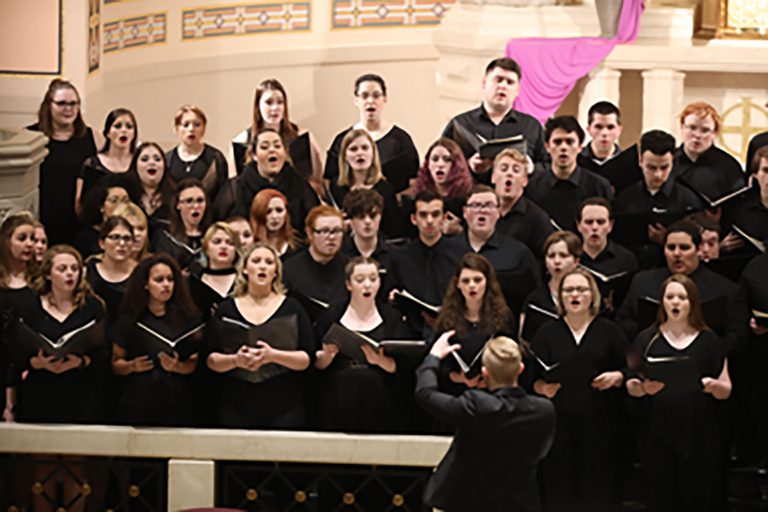 CRESTVIEW HILLS, Ky. (April 11, 2019) — Thomas More University Choral Activities will present "Cathedral Classics," their spring concert, on Sunday, May 5 from 7:30 – 8:30 p.m. at Blessed Sacrament Parish in Fort Mitchell, Kentucky.
"We are very excited to present this program of sacred music with the TMU Concert Choir, TMU Chamber Choir, and St. Timothy's Episcopal Church Choir in the wonderful sanctuary of Blessed Sacrament Catholic Church," said Director of Choral Activities Daniel Parlsey.
Student and voice faculty soloists from the University will be also performing during the evening concert. General admission is $5 and TMU students gain free admission with a valid student ID. Doors open at 7 p.m.
Parsley joined TMU in January 2018 as a professor before taking on the full-time role of director of choral activities this past December. Prior to the University, he served as the worship arts coordinator and director of choral activities at Faith United Methodist in North Canton, Ohio and participated in ethnomusicological research in West African musical traditions, becoming a published research fellow in Ghana through the Edward Brueggeman Center for Dialogue. Most recently, Parsley served as the assistant director and choral conducting fellow for the Cincinnati May Festival, where he prepared choruses for the Cincinnati Symphony Orchestra and Cincinnati Pops.
In addition to his work at TMU, Parsley enjoys an active career in the Midwest as a conductor, scholar, church musician, clinician, and professional chorister. He is currently the music in worship chair for the Ohio Choral Directors Association and serves as director of music at St. Timothy Episcopal Church in Cincinnati, associate conductor for Cincinnati's Music Sacra, and faculty for the Kentucky Institute of International Studies Salzburg study abroad program. He's an active member of the American Choral Directors Association, ChorusAmerica, American Guild of Organists, and the National Association for Music Education.
Parsley's current research interests lie in the sacred music of 18th-century Venetian composer Baldassare Galuppi and the contemporary sacred music of Scottish composer James Macmillan, hence why Galuppi's work will be featured during "Cathedral Classics."
"You will experience a varied program, including standard choral classics like Franz Schubert's 'Mass in G,' as well pieces such as Baldassare Galuppi's 'Dixit Dominus,' a rarely heard masterwork for treble voices and string orchestra," said Parsley. "We are happy to also feature student and faculty vocal soloists alongside an orchestra of tristate professional musicians. We hope you might join us in a wonderful evening of 'Cathedral Classics' for a new take on these wonderful choral masterworks."
A Cincinnati native, Parsley is currently enrolled in the Doctor of Musical Arts in choral conducting program at the University of Cincinnati-College Conservatory of Music. His previous education includes a Master of Music in choral conducting from Bowling Green State University and a Bachelor of Music in voice performance and Bachelor of Art in international studies from Xavier University.
Parsley has studied conducting under Robert Porco, Brett Scott, Earl Rivers, Mark Munson, and Tom Merrill, and has appeared in recent conducting masterclasses with Duain Wolf, John Alexander, David Hayes, Eric Whitacre, Rodney Eichenberger, and Cesar Leal. His passion for choral arts extends beyond conducting. He has performed with many choruses himself as a professional singer, including the Cleveland Orchestra Chorus, Cincinnati May Festival Chorus and Youth Chorus, Toledo Opera, Tuscia Opera Festival in Viterbo, Italy, and the Berkshire Choral Festival. As a conductor of symphonic choral literature, Parsley has most recently prepared choruses for John Morris Russell, Gerhardt Zimmermann, James Meena, and GiordanoBellincampi.
In March, Parsley was selected as one of four finalists for the 2019 American Choral Directors Association National Graduate Conducting Competition, the premiere professional choral organization in North America. The competition was held in Kansas City and occurs every two years. Parsley was selected out of hundreds of applicants across the country. He was named a semifinalist in January and advanced as one of four finalists in the competition held during the 2019 National Conference.
For more information, photos of past TMU Choral Activities concerts, or to stay up-to-date on Choral Activities happenings, visit their Facebook page.
Thomas More University is the Catholic liberal arts university of the Diocese of Covington, Kentucky. At TMU, we challenge students of all faiths to examine the ultimate meaning of life, their place in the world, and their responsibility to others. Through our integrated and traditional undergraduate, graduate, and certificate programs, we are inspiring innovation for a better tomorrow. Learn more at thomasmore.edu.
###
MEDIA CONTACT: Rebecca Stratton, director of communications and PR, strattr@thomasmore.edu, 859.344.3309