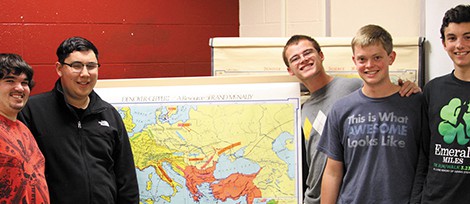 Thomas More College has been awarded the 2014-2015 Best Chapter Award from Phi Alpha Theta for Division I, which is comprised of applicants from colleges with less than 3,000 students. Phi Alpha Theta is an honor society for students and professors of history with over 350,000 members and 860 local chapters. The organization recognizes students with outstanding academic achievement and promotes the study of history. Each year, Phi Alpha Theta presents Best Chapter Awards to those chapters that excel in promoting the mission of the honor society on the local level. 

Dr. Graydon Tunstall, Executive Director of Phi Alpha Theta, congratulated Thomas More College's chapter on this achievement. "This is a highly coveted award among our chapters. Lambda Sigma is establishing itself as a leader within the Phi Alpha Theta organization, and I am confident that this success will continue." 

The chapter has won this award for the past two years; last year's president was Kaylan Hart and Holly Beckemeyer was the president the previous year. Kelsey Hinken is the current president for the 2014-2015 school year. 

The Lambda Sigma chapter of Phi Alpha Theta is open to academically qualified students and has 10 members. The chapter is led by Dr. John Cimprich, who has been with the College since 1986. He has served on Phi Alpha Theta's National Council, Advisory Board and Paper Contest Committee. He has participated in a variety of public history projects, most significantly as a consultant for the Fort Donelson National Battlefield. 

"As the advisor, I merely facilitate the great things that the students are doing. I am proud of our students as well as the success of our chapter," said Dr. Cimprich. 

The Lambda Sigma chapter has frequently achieved national recognition, including a number of Best Chapter awards. They sponsor speakers, organize field trips, organize study abroad opportunities and arrange for students to present papers at regional and national conferences each year. 

History is a top program of study at Thomas More College. Throughout the past 10 years, 100 percent of Thomas More's history majors who applied have been accepted into graduate school.

Phi Alpha Theta shares the same founding year, 1921, as Thomas More College (formerly known as Villa Madonna College).