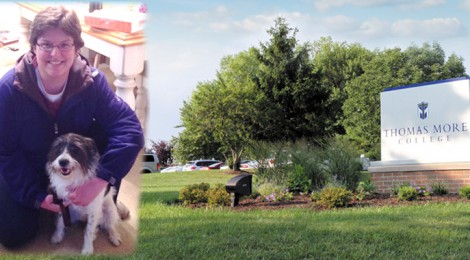 Thomas More College alumna Melanie Anderson '01 has been awarded the prestigious South Central Modern Language Association 2013 Book Prize for her critical study, The Beloved Paradise: Spectrality in the Novels of Toni Morrison. The award will be announced at the SCMLA conference in Austin later this month. 
Anderson completed her Ph.D. in English from the University of Mississippi in 2009. She has taught at various institutions including a summer course at Thomas More College, and is currently an Assistant Professor of American Literature at the University of Mississippi. Some of her current courses include American and African-American literature and Literary Criticism. She has been very active in the South Central Modern Language Association in recent years.
Dr. Melissa Bailar, President of SCMLA, had this to say about Melanie's achievement: "The South Central Modern Language Association's book award committee unanimously recognized the outstanding scholarship and clear argumentation in Melanie Anderson's book, Spectrality in the Novels of Toni Morrison. One of four contenders for the prize, Anderson's book stood apart for its clarity and nuanced reading of ghostly figures haunting all of Morrison's oeuvre. This focused work raises larger questions about race, memory, and the healing of trauma while adding a new dimension to understandings of Morrison's fiction."
The South Central Modern Language Association (www.southcentralmla.org) is comprised of members from Texas, Oklahoma, Tennessee, Louisiana, Arkansas, and Mississippi, but has recently included members from across the United States and abroad.  Their mission is to enhance involvement in scholarship, teaching, and research in the modern languages and literatures.
This organization is affiliated with the Modern Language Association, based in New York City. Founded in 1883, the Modern Language Association of America provides opportunities for its 28,000 members to share their scholarly findings and teaching experiences with colleagues and to discuss trends in the academy. For more than a century, members have worked to strengthen the study and teaching of language and literature.
For more information about Thomas More College's English program, please visit www.thomasmore.edu/english.