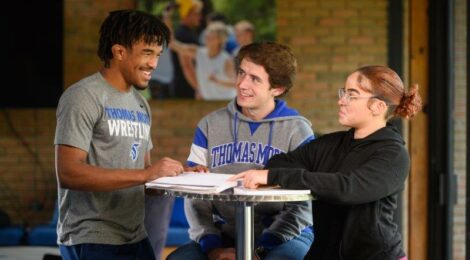 CRESTVIEW HILLS, Ky. (Sept. 26, 2023) — The Thomas More University Dr. Anthony '65 and Geraldine '66 Zembrodt Center for Entrepreneurship and Innovation in partnership with Fifth Third Bank announces the Fifth Third Bank Fast Pitch Competition. Taking place Oct. 3, 2023, on Thomas More's Crestview Hills, Kentucky campus, the competition features undergraduate students pitching new ideas, growth potential for existing businesses, as well as community growth models.
The Fifth Third Bank Fast Pitch Competition has attracted a diverse range of students from all majors eager to make their mark in the business world. This reflects the growing interest and enthusiasm for entrepreneurship among Thomas More University students. "We are thrilled to host this pitch competition," says Jeni Al Bahrani '05, director of the Zembrodt Center for Entrepreneurship and Innovation. "It is inspiring to witness the creativity and determination of our students as they present innovative business ideas and real-world problems they would like to solve. We are grateful for the support of Fifth Third Bank for making this event possible. Their commitment to fostering entrepreneurship and supporting the next generation of business leaders plays a crucial role in the event's success."
The pitch competition serves as a testament to Thomas More University's dedication to empowering its students and preparing them for success in the business world. A panel of entrepreneurial leaders from the region will serve as judges for the competition, including Brianna Dzurickso, director of funding & impact at Main Street Ventures, Patrice Brooks, senior human resources generalist at Kroger, Vashti Chatman '23, chief people & culture officer of The Mars Agency, and Jeremy Faust, vice president and director of operational sustainability at Fifth Third Bank.
"We are proud to sponsor the Fifth Third Bank Fast Pitch competition at Thomas More University," said Kim Halbauer '00, regional president, Fifth Third Bank-Kentucky. "Thomas More and its Zembrodt Center for Entrepreneurship and Innovation are preparing today's students to be successful leaders in tomorrow's workforce. The essential skills being developed will be an asset to any company—including Fifth Third—as we look for the region's best and brightest to join our company and help us fulfill our purpose to improve lives and the well-being of our communities. We wish all the students the best of luck as they pitch their ideas."
The Fifth Third Bank Fast Pitch Competition is free and open to the public. To RSVP for the event, please visit tmuky.us/ZCEIpitch.
For more information about Thomas More University, visit www.thomasmore.edu.
###
About Thomas More University
For 100 years, Thomas More has created a university for the student who wants to Be More, Do More, Seek More, Win More, Achieve More, and Create More. Since its founding in 1921, Thomas More has provided a mission-driven, liberal arts education that is based in the Catholic Intellectual Tradition. Students learn to harness the power of human reason to solve problems and discover truth, which allows them to begin the journey to become the person they were created to be. Entering into the second century, it's time for More. Serving more than 2,000 students, Thomas More aspires to be the premier Catholic university in the Cincinnati/Northern Kentucky region, build upon its excellent return on investment (ranked #1 among private universities/colleges in Kentucky by MSN Money in 2021 and ranked #2 for long term gain in Kentucky by a 2022 Georgetown University study) and share with this generation the transformative power of the Thomas More experience. To find out more, visit thomasmore.edu.
MEDIA CONTACT: Lyna Kelley, director of communications and PR, kelleyl@thomasmore.edu, 859.344.3309