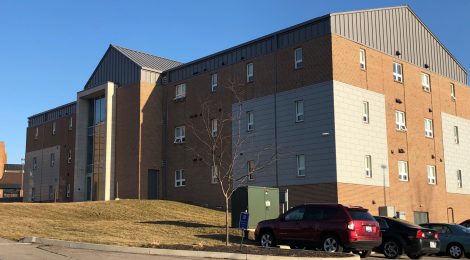 Sr. Margaret Stallmeyer '68, C.D.P., the 13th president of Thomas More, left a legacy of service, integrity, and faith-driven inspiration on the institution upon her departure in 2013.
Born in Dayton, Ky., Sr. Margaret is the eldest of six children. Her siblings can recall stories of how even as a child she was always coming up with ways to teach them things. Upon earning her degrees at Villa Madonna College, plus a master's degree in education from Xavier University, the calling to teach became a reality as she gained a role as teacher and later as an administrator at Our Lady of Providence Academy and Newport Central Catholic High School. Following a degree in cannon law from the Catholic University of America in Washington, D.C., and service across the Northern Kentucky area, Sr. Margaret embarked on her journey as president of Thomas More in Dec. 2004. During her nine-year tenure, the institution became financially stable, added degree programs, increased enrollment, and enabled more institutional aid offerings.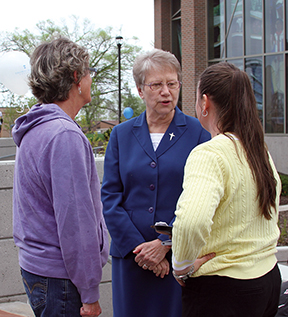 During her years in the presidency, Thomas More underwent major renovations to the library, science labs, Biology Field Station, and what is now Griffin Plaza. Her dream of a free-standing chapel was also realized with the dedication of Mary, Seat of Wisdom Chapel, located at the heart of campus. Upon her departure, she created the Sr. Margaret Stallmeyer President's Access Grant, which was established to permanently endow and fund scholarships for deserving students.
This upcoming summer, Sr. Margaret's love and faith-inspired vision will once again be revealed through the renaming of Renaissance Hall to Sr. Margaret Stallmeyer Hall. Renaissance Hall, the campus' newest residence hall, was established in the fall of 2018. The traditional-style residence hall can house up to 100 students. The unveiling of the new name will take place during the President's Giving Society event in July.
The naming of the building to the Sr. Margaret Stallmeyer Hall honors the impact the alumna, president, and servant leader had on Thomas More and physically etches her legacy into the foundation of the campus. The naming is made possible due to a gift made by the Stallmeyer family in her honor. As July approaches, more details will become available.