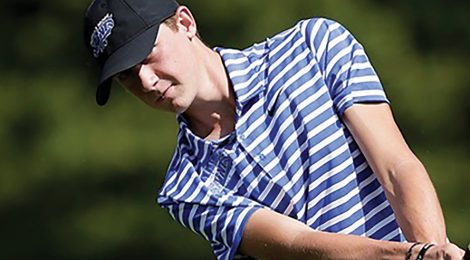 In a year unlike any other, the Saints went up against quite possibly the most challenging opponent to date – the COVID-19 pandemic. A year ago, in March 2020, as the University transitioned to remote learning, coaches quickly shifted to the new protocols and regulations. From team practices to competitions, the past year has looked anything but "normal." Despite the challenges, the Saints overcame obstacles and achieved great success along the way.
We approach a round of golf with 'one shot at a time' and we approach COVID with 'one day at a time,' while maintaining optimism for both that we are going to prevail," said Rachel Brown Hyde, head women's golf coach. Coaches like Brown Hyde have had to switch things up when it comes to communication, style of play, and motivating their team.
Only two sports were able to compete in fall 2020 – cross-country and golf – due to the protocols set in place by the National Association of Intercollegiate Athletics (NAIA) and the University. The remaining fall teams were pushed back to a start date of February 2021. This meant 30 teams would compete during the spring semester. Thus, managing the safety and well-being of nearly 660 student-athletes while reserving fields, courts, pools, and facilities to ensure the sports schedule would exist for our student-athletes and coaches was quite the undertaking.
Nonetheless, coaches and student-athletes pivoted, making the most of their season and the circumstances while abiding by significant health and safety protocols, which included extensive COVID-19 testing, quarantine, and isolation. Despite these difficult and challenging protocols set in place, the Saints saw tremendous success. Here's what coaches had to say about the experience:
"Our season has gone as good as it possibly could go during this pandemic," said Sydney Moss '16, assistant women's basketball coach. "Our young ladies have done a great job of understanding that if they want to compete and play a full season than they must be responsible and do what they need to do to stay healthy/safe."
The women's basketball program has had a great season in their second year in the NAIA (22-1), making their way to the no.1 spot in the NAIA and Mid-South Conference (MSC) rankings. They clinched the MSC regular season title and secured a spot in the National NAIA Tournament, making it to the championship game.
"Winning is hard enough during a normal season," said Justin Ray, men's basketball head coach. "Having to deal with the coronavirus and the protocols has been an immense challenge. But it's been a great lesson for our guys in dealing with adversity and moving past things out of their control."
Men's basketball placed third in the MSC regular season and received votes in the NAIA rankings. Senior Luke Rudy surpassed 1,000 career points in their game against Martin Methodist on January 30. Sophomore Reid Jolly won Mid-South Men's Basketball Player of the Week twice this year.
"COVID has posed many unique challenges for a sport with as much contact as wrestling," said Jason Russell, head wrestling coach. "Thanks to the great leadership within the athletic department and school administration, we have been able to complete a full season and will compete in the national championship tournament this weekend (March 6)."
The men's wrestling program finished fourth in the MSC Championship Tournament on February 20 and qualified four wrestlers for the national championship: first-year Shay Horton, sophomore Ryan Moore, junior Wilder Wichman, and first-year Daulton Mayer. Transfer sophomore Ryan Moore won MSC Wrestler of the Tournament and first-year Daulton Mayer won MSC Freshman of the Year. Sophomore Cameron Baird was awarded Champion of Character and three wrestlers earned Academic All-Conference: sophomore Dylan Mosher, first-year Matthew Lewis, and first-year Shay Horton.
"What I am most proud of at Thomas More University is how our athletes are dealing with some difficult hurdles in order to compete and yet they are still working hard to prepare for competition," said Michele Colangelo, head men's and women's bowling coach. "The disappointment of canceled events has not kept them from making the best of a difficult situation and showing that they are true champions."
"The season has been challenging with everything we have to adjust to; however, we are just getting started," added Jeff Hill, head men's and women's track and field coach. "Our best is yet to come!"
This year will go down in playbooks as one of the most strenuous and difficult by far. What started as a challenging opponent – the COVID-19 pandemic – has reminded all our student-athletes that adaptability and resilience are key factors to achieving success on and off the field.