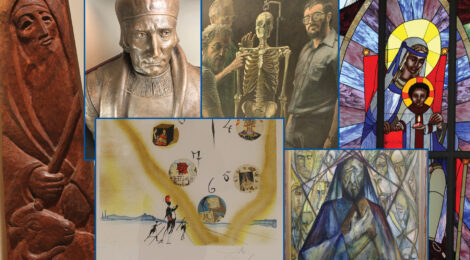 Anytime I have an opportunity to travel about the Thomas More campus I consider it a chance to experience the rich visual history that has been growing steadily through the years. It is only natural that, as the University approaches 100 years in existence, that pieces of that history have become tangible. Thomas More has been blessed, through the generosity of alumni and friends, with an ever expanding permanent collection which includes work created by local, regional, national, and international artists. These pieces are intertwined with the history of the University and, as long as we chronicle those stories, are visual reminders of the earlier years.
When I first began my tenure as a staff member in 2012, I loved seeing the artwork and artifacts that grace various places on campus. I had so many questions about the who, why, and when of these pieces. Now I have an opportunity to tell some of those stories because, as the years have passed, I have met key witnesses in the telling of these tales. In honor of the coming Centennial in fall 2021, an initiative has been launched that aims to achieve that goal. I have only scratched the surface but am pleased to introduce the first installments of this ongoing project.
We'll follow the current episodes chronologically and a few historical facts are included to gain perspective in the timeline of the artwork's appearance. Additional episodes will be released in no particular chronological order as the stories present themselves in an amazingly organic manner with each interview that I perform. I thank the students, alums, former and current faculty and staff, and friends of the University for sharing their knowledge and subjecting themselves to my questions. I would also love to hear from you, dear Thomas More friends, if you have a unique story to tell about the Art@ThomasMore.
1. Stained Glass Window from Aquinas Hall 

If you have lived in an older house in downtown Covington, you likely have seen some of the beautiful stained glass that is often part of their architecture. These windows were located above door frames and large street-facing picture windows and were sometimes quite elaborate. As soon as I saw the glass window built into the wall on the lower level of the Saints Center, I knew that this campus was not its original home. Where did it come from? While looking through old Moreovers, I discovered that information in a story submitted by Dr. Daniel Schadler '70. To hear an interview with Dr. Schadler about how the window got from Aquinas Hall to the Saints Center, visit tmuky.us/aquinas. To read the original article, visit tmuky.us/schadler.
History from the Covington campus – Villa Madonna College originally began its existence in Crescent Springs in a classroom provided by Villa Madonna Academy in 1921 (seven postulants made up the first class). It was in 1929, when sponsorship changed from the Benedictine Sisters to the Diocese, that all classes officially moved to Covington to be more centrally located as the normal college was now open to the three Religious orders. Reverend Thomas McCarthy, president from 1945-49, was instrumental in aquiring Aquinas Hall to be part of campus in fall of 1946. This helped alleviate the growing pains associated with going co-educational. Fall enrollment in 1946 included 224 total students.
2. Madonna Statue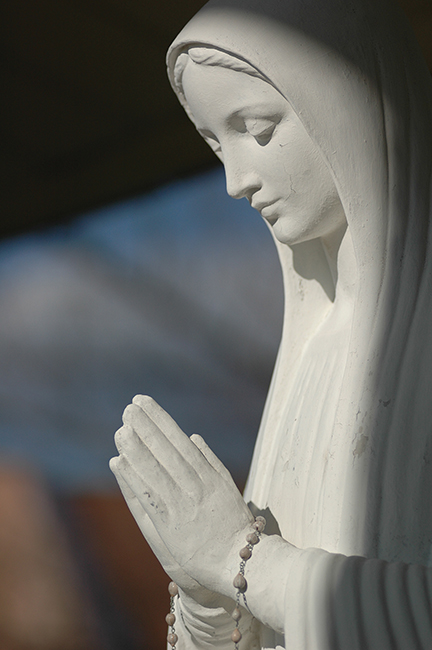 This centerpiece on Thomas More's Crestview Hills campus was originally donated to Villa Madonna College by the class of 1954. The statue was located in the garden next to the main administration building on 12th Street in Covington and utilized for May Crownings, daily Rosary, and commencement photos throughout the years. When the College relocated to Crestview Hills, the Madonna was brought to the new campus. It was 10 years before the current grotto was designed and built. Sister Evelynn Reinke '62, SND, and Dr. Mark Zalla '83 were kind enough to help fill the gaps in the story of this beautiful symbol of the University's dedication to the Catholic Intellectual Tradition with a nod to its Benedictine roots which originally dedicated the school to the Mother of Jesus. To hear this episode of Art@ThomasMore, visit tmuky.us/madonna.
History from the Covington campus – The Madonna Statue was bequeathed to VMC by the class of 1954 and resided in a place of honor in the green space next to the main administration building. Monsignor John Murphy was president (1951-71) at the time.
3. The Good Shepherd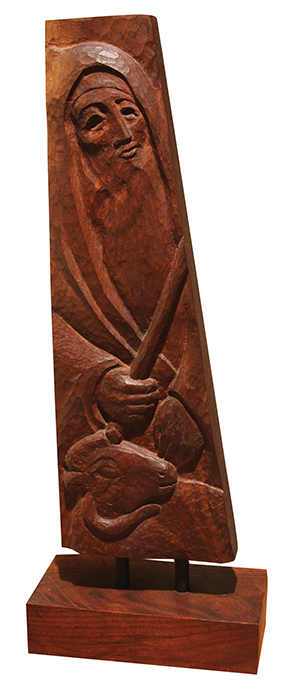 I remember Bernard L. Schmidt '58 (Bernie) as my sculpture professor while attending Edgecliff College (formerly Our Lady of Cincinnati and currently a part of Xavier University). He was a huge teddy bear of a man with deeply expressive eyes and an intense love of art. Imagine my surprise when I discovered he was a Thomas More alumnus and several of his pieces have a presence on campus. Monsignor Gerald Twaddell, D.Phil., made me aware of this beautiful wood carving that Bernie completed while he was a faculty member at Thomas More in the '70s. It is only fitting that a sculpture of the Good Shepherd be located in the reconciliation room in Mary, Seat of Wisdom Chapel. Bernie was an accomplished artist and you can find his sculpture displayed throughout the Northern Kentucky and Greater Cincinnati region. To hear the Art@ThomasMore episode which features this sculpture, visit tmuky.us/goodshepherd. To read a remembrance honoring Bernie Schmidt's life which appeared in Moreover after his passing in 2013, visit tmuky.us/schmidt.
History at the Crestview Hills campus – After graduating from VMC in 1958, Bernie Schmidt was a student assistant for renowned sculptor Ivan Mestrovic. He earned a Master of Art and Master of Fine Arts degree from the University of Notre Dame. According to Bernie's timeline attached to the back of this sculpture, he was a lecturer at Thomas More from 1967-68 and returned as assistant professor of art in 1970. His tenure at the University lasted until 1978. Richard DeGraff, Ph.D., served as president (1971-78) during the majority of his time as a faculty member.
4. "Portrait of Emiliano Zapata"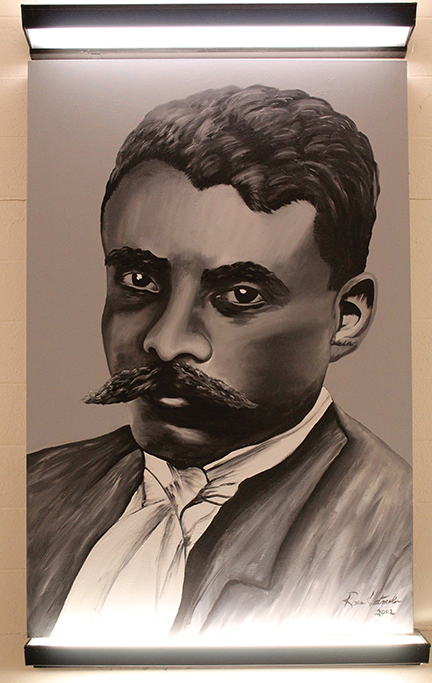 This impressive, and imposing, black and white painting is in the stairwell between the first and second floors of the academic building. As soon as you enter the stairwell the juxtaposition of white and black in the features of this man captures the eye and attention. Every time I went through that stairwell I wondered, "Who is this person?" Professor James Camp knows exactly who this man was and the lasting influence he had on the Mexican people as he fought for social justice during the Mexican Revolution. Camp commissioned this piece and it was a bonus to find out it was created by Thomas More alumna Rose Hatmaker '02. To hear the story behind this painting and about Rose's other artwork, visit tmuky.us/hatmaker.
History at the Crestview Hills campus – Faculty member James Camp, Ph.D., came to Thomas More in 1998 and has chaired the Sociology Department since 2000. His specific interests are in Latin American culture and Mexican-U.S. relations. These ties inspired him to commission this piece of art. He established and continues to champion the Border Studies program which includes student trips to El Paso, Texas/Cd. Juarez, Chihuahua, to serve and learn in the field. He began his tenure under Reverend Monsignor William Cleves who was president from 1993-2001. 
5. The Ketteler Collection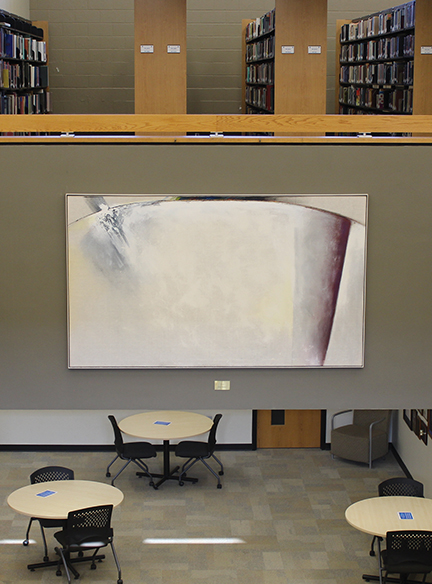 Tom '64 and Janet Ketteler love art and are avid collectors. Their private collection included oils, acrylics, and multimedia pieces that were purchased from local and regional artists while they lived in Columbus, Ohio. They personally met and followed many of the artists whose work they procured. When the Kettelers left Columbus for the sunny skies of Florida, the University became the beneficiary of selections of their large format artwork as it was necessary to downsize their contemporary collection. In all, 11 pieces by five different artists were donated to Thomas More and have a home on the walls of the Benedictine Library. Artists represented include Kirk Hughey, Ruth Bercaw, Mitzi Prince, Stefan Georg, and Brad Campbell.  To hear the interview for this episode, visit tmuky.us/ketteler. 
History at the Crestview Hills campus – The collection of artwork curated by Tom and Janet Ketteler was gifted to Thomas More in the winter of 2004, just as Sister Margaret Stallmeyer '68, CDP, (2004-2013) began her tenure as president. The pieces were a perfect fit and beautiful addition to the large walls of the library.
FUTURE EPISODES
As more episodes of Art@ThomasMore are completed, they will be posted to more.thomasmore.edu. It is my hope that they inspire you to join the entire Thomas More community in fall 2021 as the Centennial celebration begins. It's a 100-year celebration and you are invited to be a part of it! 
If you have a story to share about artwork on campus, please contact Judy Crist at 859-344-3443 or email cristj@thomasmore.edu.