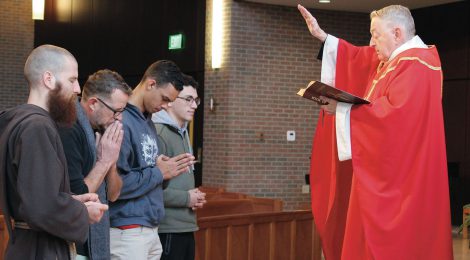 Over the 2018 Christmas holiday break, in response to the current migrant/border security crisis, James Camp, Ph.D., with students Michael Thompson '21, Brother Alphonsus Mary '19 (AKA Ryan Timossi), Jakob Jones '22, and Dakota Murray '21 journeyed to the Mexico/US border to serve and learn. They traveled to El Paso, Texas, and for a week assisted in the procedures required to process what on a normal week can be as many as 2,200 persons arriving into the US via the Mexican border at just one arrival point. They truly experienced the reciprocal nature of serving and learning. Camp explained, "Experience after experience, these server-learners laid the foundation for bridges of unity and human dignity." Following are the reflections of Dakota and Jakob: 
Reflection from Dakota: 
"During the time leading up to our trip, many thoughts of what we would be doing had been racing through our minds. Dr. (James) Camp told us that it would be intense and to be prepared for constant work each day. Of our group, Jakob and I were known to the group as the lesser of the Spanish speakers. Brother Alphonsus had spent a few years in Italy, which has a language similar to Spanish, and along with Michael and Dr. Camp could speak conversationally. As for Jakob and I, our brief study of the language made us less equipped to speak to the immigrants and refugees at the houses. As a result, our responsibilities would be different than the rest of the group. 
"Heading into El Paso from Alamogordo, New Mexico, we still didn't have much of a clue what we would be doing but when we came into view of the city, Dr. Camp gave us a crash course of what our duties would include. It was very exciting heading into downtown El Paso, knowing the kind of work we were about to do and what good it would bring to so many people. The first morning in El Paso was memorable and difficult for each of us. Each day was organized in much the same way starting with a morning shift and then moving on to an evening shift in the late afternoon, typically around 3 p.m. 
"The difference in activities among the group began right away. Jakob and I were tasked with 'behind the scenes' work. The first day at Annunciation House began with us sorting through donations. The organization gives each migrant toiletries to use during their stay and for their continued travel. To do so, donations must be received – and they receive these donations in abundance. To efficiently dispense these items to the seven to ten sites that serve the migrants, they must be organized. For several hours we separated toothpaste, shampoo, conditioner, lotion, deodorant, etc., into containers. In addition to toiletry donations, clothing was also given in abundance. A majority of the migrants staying at the shelter sites bring nothing with them. Giving them an extra pair of clean underwear and socks is very important. For the guests who stay at Annunciation House (a more long-term residency), entire wardrobes are available through a clothing bank in the basement. We spent a lot of time organizing donations. 
"The second half of the week's morning shifts were spent organizing a Santa Shop for parents to pick out gifts for their children. That took place in Casa Teresa, which was also our group's living quarters for the duration of the trip. Not seeing other people most mornings, with the exception of each other, was difficult. We felt as if we weren't making an impact or providing real help, but before the week was out we realized our jobs were just as important as those of the other members of our group. To keep an organization going, the behind the scenes work must be done.
"Because of their Spanish speaking skills, Brother Alphonsus, Michael, and Dr. Camp transported migrants to the airport or bus stops, where they would leave El Paso to join family located in other areas of the states. The responsibility of the hotels and shelters the migrants stay in, is to give relief, comfort, and food before sending them to join family. The majority stay for about two days, while some leave within a few hours. It was incredible to hear the experiences members of our group had with the migrants as they walked with them through the airport or a greyhound bus station, giving directions on what to do in Spanish. It was hard, sometimes, to hear the stories these migrants told with some having been kept in detention facilities for upwards of two weeks. Michael estimated that he took several hundred trips to the airport, with mornings being more hectic than evenings."
Reflection from Jakob:
"As Dakota said, there were two shifts to our days and while Dakota described the morning, there's a whole other half that needs to be spoken for. The evening shift, for most of our crew, was spent at the Soluna Hotel, one of the Annunciation House sites. This hotel is used by volunteers from Annunciation House to basically run a travel agency. We would perform intake for the migrants right off the bus from the detention center, get them in contact with their family in the US, and provide toiletries. We would assign them a room and provide any extra toiletries that they needed. The phone call they made was to let their family know it was okay to buy a bus or plane ticket so that they could finally reconnect with family in the US in the coming days.  
"This was very impactful to me because the people we were helping were so thankful to have their own room, to be able to shower without a timer, to have a chance to brush their teeth, and put on a new pair of underwear and socks. The thought of them being reunited with their families was a major reason the work never became boring or tedious. While for Dakota and me there may have been a language barrier, the migrants we were helping knew our intentions were good and were happy to converse with us, even if it was as short a conversation as, 'Hola! Como estes?' 
"Once we had provided the people with rooms and got them in touch with their families, we would order food to be brought in and feed them in the hotel's cafeteria. For me, the prayer before the meal might have been the most impactful thing about the trip. As prayer was being said by one of the volunteers, there was a joining of hands among all the migrants and volunteers, and the crying would begin. The presence of Christ in that moment was the clearest that it has ever been in my life with everyone praising and thanking God for the endurance, strength, and hope that he had given to the migrants and their families. With the conclusion of prayer, the feasting began, with Dakota, Michael, and I, along with other volunteers from the organization, passing out food to the migrants. 
"Their thankfulness for our help was never underappreciated. Every migrant that I served looked me straight in my eyes and said "thank you." While this may not seem like much, it was eye-opening to see how grateful these people truly were towards all the volunteers. After dinner, our nights usually continued with one last trip to the airport or bus station to drop migrants off to head out of El Paso and towards their new life in the states. Every night when we got back to our resting place, we reflected on the emotional and physical journeys we had endured that day." 
___________________
One alumnus shares with Moreover the lasting impact of his border studies trip
My name is Matt Clark. I graduated from Thomas More in 2011 with a bachelor's degree in criminal justice and an associate degree in sociology. I am currently a full-time firefighter and paramedic for the City of Norwood, Ohio, and a member of the Hamilton County Police Association SWAT team. I am writing to share a story that I feel TMU and Dr. (James) Camp would appreciate. 
My four years spent at Thomas More were filled with dedication to academics, championships in athletics, and experiences that will stay with me forever. Specifically, the Border Studies program that I went on in the spring semester of 2011 was more than a class credit and has continued to make an impact on my life to this day in unexpected ways. Aside from the realization of global and national epidemics of poverty, social injustices, and deprivation, we saw firsthand that core values, such as love and faith, form the solidarity needed to survive. 
The interaction between each of us and the people that we helped, recently made an impact on my life and some of our residents locally.  I was working at the firehouse and we had an emergency call for a woman who was ill. While en route to the scene, dispatch notified us that they were having difficulty communicating with the patient due to a language barrier. Upon arrival, we walked into the home to find a woman surrounded by her family clenching her stomach and screaming in pain. The scene was very chaotic as the children were crying in fear for their mother's health and the husband was trying to console everyone. Using the Spanish and the skills I learned on the border, I was able to interact with them and determine the best treatment for the patient while building a sense of trust with the family. Because of my understanding of their culture and the compassion they felt as I worked my way through interpretation, I was able to mediate the situation and treat the patient. 
The confidence I had in my ability to effectively communicate with the family is a direct reflection of the experience I had on the border with Dr. Camp's program. While everyone else was searching for the English-to-Spanish app on their phones, I was able to create that personal interaction. As simple as it sounds, the lack of fear I had to give my best attempt at communication at a personal level and not through a device showed the family that they were not alone in this situation and there was a common ground between us. I share this story because I think that it is important for students to continue to have experiences outside of the classroom and be able to see other cultures. I hope that the programs in Mexico and Jamaica continue for many years to come. 
Education that cannot be measured by a test but is measured by valuable life experiences, confidence, and core values has been proven to be the education that lasts for a lifetime. 
Thank you,
Matt Clark '11